In February, Indiana Dunes National Lakeshore officially became Indiana Dunes National Park.
It's now the first national park in the Hoosier State and the country's 61st national park.

"Certainly what we've seen is once our name changed, there have been a huge number of people who have contacted us, and they are looking at Indiana dunes, in some cases for the first time," says Park Spokesman Bruce Rowe.

That includes a photographer who stopped publication on a book about all the national parks, so he can make sure the newest park Indiana Dunes was included.


Even with a cool and wet spring, 126,000 more people visited Indiana Dunes between January and May of 2019 compared to the same time in 2018.

"We knew it was going to be somewhat of a big deal, but we didn't realize of big of a deal it was going to be to some folks in the public," says Rowe.

Efforts to make area a national park began more than a century ago, but the story of the dunes goes back to the ice age, after massive glaciers carved out the great lakes, the dunes started forming, thanks to windblown sand.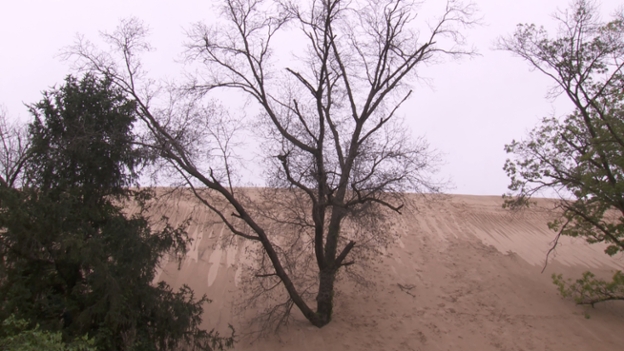 "The prevailing winds here are from the north, so a lot of that sand gets carried to the southern end of the lake, some of it ends up on the beach," says Rowe.

Over time, that's how the dunes are formed, some of them nearly 200 feet high. As the shore line receded over the centuries, older dunes became a habit for a wide variety of plants.

"We have some of the greatest botanical diversity literally in the country, right here on 15,000 acres an hour east of Chicago."
Bruce says there may never been a national park here if it were not for the foresight of conservationists decades ago.

"All these natural areas probably would have been lost either to industrial development, residential development or other commercial use."

Rowe recommends people call ahead if they plan on camping at the park this summer because demand is high.
Correction: A previous version of this story said Governor Eric Holcomb convinced President Trump to sign a bill creating Indiana Dunes National Park. The president actually signed an Omnibus bill that included a provision creating the park.