Monroe County Community School Corporation will resume in-person learning for all students Sept. 8 despite the ongoing coronavirus pandemic.
The school board approved a new reentry plan at its meeting Tuesday night that attempts to address several concerns parents and teachers made earlier this month.
READ MORE: MCCSC Pushes Start Date Back A Week, All Schools Will Start Teaching Online
Board member Sue Wanzer said coming into the meeting she expected the district to continue its online instruction.
"By no means was this an easy decision," Wanzer said. "I thought I was coming in here to say 'let's keep our schools closed' until I heard the reports."
The district formed a metric committee made up of several local health and education professionals to establish specific COVID-19 metrics for school closures.
By taking the seven-day rolling average of positive cases in Monroe County, the metrics committee will assess each week if it's safe enough to send kids to school.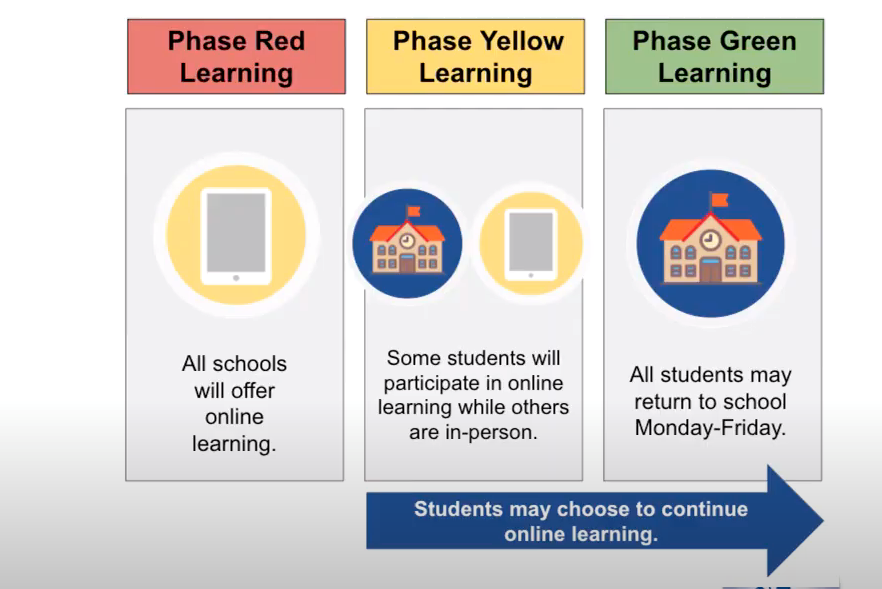 If the average is less than 5%, the district is in the "Green Phase" and is open for students. A 6-9% average is the "Yellow Phase," which means students are both in-person and online part of the week. And if the positivity rate reaches above 10%, the whole district will shift into the "Red Phase" where everyone moves back to online learning.
Parents who do not want to send their kids back to school will still be provided with an online learning option.
"We have put a lot of thought into this," Dr. Scot Moore at Riley Physicians Pediatrics said. "I think all of that has been done as well as it can be, and it's time to have them come back to school."
Assistant Superintendent Andrea Mobley said the schools will be following strict safety guidelines to help prevent the spread of the virus.
"Given the data, and knowing the ability and capacity for MCCSC to socially distance by moving desks six feet apart, our mask policy, and all the other plans that've been discussed tonight, if there is a district that can open safely, MCCSC can do that," Mobley said. 
The district will begin in-person instruction Sept. 8 in the Yellow Phase. 
The metric committee will continue to monitor the local positivity rates closely along with the Monroe County Health Department.
If the data remains below the 5% threshold, MCCSC will move into the Green Phase Sept. 21.
For the latest news and resources about COVID-19, bookmark our Coronavirus In Indiana page here.