President Donald Trump says the new preliminary agreement with China will — in his words — massively benefit farmers. 
The deal includes larger purchases of US soybeans and other farm goods, and Hoosier farmers are hoping China can meet those targets.  
Don Lamb farms several thousand acres of corn, wheat, and soybeans near Boone County. He's taking a wait and see approach but he thinks the new China trade deal offers him and other farmers additional stability. 
"For me to say, yeah, I know the pieces are in place to make this a good deal, I can't," he admits. "Am I optimistic? Yes, and I appreciate the efforts that are being made to make it happen."
An unseasonably wet spring paired with decreasing trade opportunities with China pushed prices to their lowest in decades.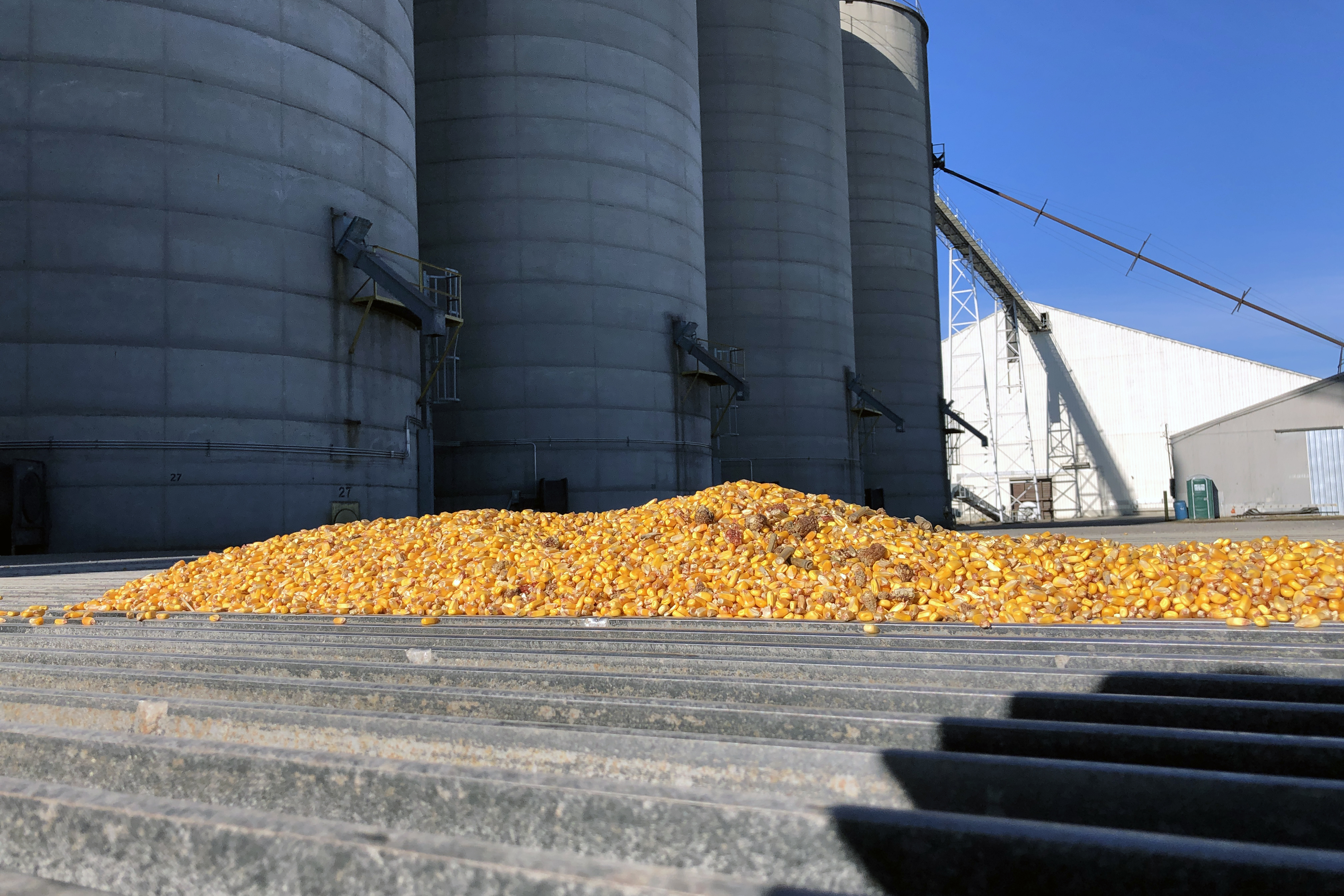 Theoretically, news of the deal should help. That's because the deal includes a commitment from China to purchase $40 billion of farm goods each year. 
The problem is, some are skeptical whether it will happen or not, and as a result, markets have stayed mostly flat.
"I think the initial reaction to that is kind of surprised there isn't a more positive reaction in the markets," Lamb says. However, he admits, "the reality is we still haven't sold products and China still hasn't bought them and until that happens we really can't expect there to be much of a move in the market."
Some farmers also stand to benefit from the new the United States-Mexico-Canada trade agreement though in a less significant way.  
The U.S. Senate voted in favor of USMCA last week and President Trump is expected to sign the measure soon.
Both deals are a good thing for the president's re-election campaign as he works to shore up support from his base. 
Lamb says he believes farmers will continue to stand by Trump and his trade policies.
"We're always optimistic and also from a farmer's perspective we know that we don't know all of the details, and so we really just have to trust who we're working with to be putting those details in place," he says.  
But those who study trade policy say the deal isn't likely to have significant effects on businesses or farmers. That's largely due to the deal's lack of enforceability and how it handles conflict if a party fails to uphold its portion of the deal.
Andreas Hauskrecht is a clinic professor at Indiana University's Kelley School of Business. He's studied trade policy and Asian markets for years, and says this deal falls short of many other trade agreements.
"In any other trade agreement, you have a clear dispute settlement mechanism," he says."It's the core of the trade agreement is to say there will be problems, there will be conflicts, there will be different opinions, now how do we address this conflict?"
The president hailed the deal on Twitter, saying it was "by far, the greatest and biggest deal ever." 
Hauskrecht isn't convinced -- he believes it has more to do with the election than trade.
"All other tariffs stay in place," he says. "The uncertainty stays in place. It is questionable to force Chinese to buy American agricultural products, and because the uncertainty a lot has moved to other countries." 
Hauskrecht believes the deal won't deliver immediate benefits either and says the likelihood of either nation backing out is high.
"I doubt this will really have a significant impact," he says. "For sure not in 2020."
Experts say estimates show Hoosier farmers export about 30 percent of the state's annual soybean harvest to China.
Manufacturers Happy, But Desire Additional Action 
After two years of uncertainty surrounding President Trump's trade war with China, some manufacturers in Indiana, including Columbus-based Cummins, see this "Phase 1" trade deal as a step in the right direction.
"I think it is a win," says Cummins' Director of International Government Relations Shannon Heider. "This summer things got a little heated between the two countries. It was not going in the right direction. We were threatening tariffs on each other every day. This certainly de-escalated everything and got everyone back at the table to discuss."
The new deal, passed last week, secures a pledge from China for nearly 80 billion dollars in new manufacturing purchases. It doesn't call for new taxes, but still leaves $360 billion in tariffs in place. 
While Heider says Cummins is pleased with the steps the Trump administration has taken with Phase 1, she says the tariffs that are still in place will continue to make things difficult.
"It not only makes it more difficult for us to access that supply chain, but it also makes our products more costly, right?" she says. "And again, if we're competing with international, mainly European and Asian competitors, they're not having to incur the same cost that we are."
That's why they hope Trump will begin to reduce some of those tariffs if and when the two sides begin discussing a Phase 2 of the deal.
"He [President Trump] makes a lot of noise and does some unilateral action, and then escalates the situation to bring people to the bargaining table," says IU associate professor of political science William Kindred Winecoff. "And then he tries to bargain them into a more advantageous position."
Winecoff says Trump's previous negotiating tactics make Phase 2 hard to predict. 
"He hasn't actually been able to negotiate much," Winecoff says. "He's ended up relatively close to the status quo. And so essentially, he's created a heightened bargaining situation and not actually been able to leverage that into substantial gains."
He says the tariffs in place will continue to drive up prices for many Chinese imports and goods produced in the United States. 
"I think the more complex world that we live in today means that a better trade strategy would be to not treat goods as simple goods that are produced entirely in one country," Winecoff says. "But instead to think about the disaggregated nature of trade and production in the contemporary economy."
There's no timeline for when China and the U.S. will wrap up their trade discussions; until that happens, Trump's tariffs will remain in place and many issues with the deal will remain unresolved.
U.S. Treasury Chief Steve Munchin this week responded to rumors that the deal would be done by November's presidential election, saying there's no deadline for the Phase 2 discussions.
The Associated Press contributed to this story.