Suzann Owen has been taking all the proper precautions since the coronavirus pandemic hit the U.S.
"I'm home to stay," the 81-year-old said, "and we'll wait and see when this passes. But I'm watching a lot of CNN and streaming a lot. My life is very simplified."
She hasn't stepped foot in a grocery store since March and her calendar's completely clear for the rest of the year. But she's concerned that after months of doing everything by the book, that won't be enough with thousands of students now back in Bloomington.
"I fully expect Indiana (University) to shut down at some point," she said. "I think it's gonna happen. I live in a neighborhood that has a lot of student parties. That will be a bit of a measure on whether or not there is a shutdown. But I'm really fearful."
Social media posts from this week have already shown students throwing caution to the wind and partying in close quarters. IU's official Twitter account said the university was working to identify the students present at the party in the video below, and would be handing down suspensions.
Wow... @IUBloomington social distancing at it's finest. Get the contact tracers ready, they're going to be busy in a week pic.twitter.com/BbJhRS0c8v

— Ryan Cutshall (@r_cutshall) August 19, 2020
Indiana University's fall semester starts Monday, and IU will join institutions such as Purdue, Notre Dame and Indiana State in offering at least some in-person classes. Notre Dame shifted to a temporary online-only schedule just a week after opening, citing a spike in coronavirus cases.
With students coming back for the first time in nearly five months, IU has updated how school will look during a pandemic. And it starts with testing students as soon as they move in.
"Anyone who's negative, of course, move right in," Dr. Aaron Carrol, IU's director of surveillance and mitigation for the COVID-19 pandemic, said during a news conference last week. "Positives, though, will be asked either to return home where they would need to isolate because we believe it's likely they're infected. Or if that's not possible, they're safe to enter isolation housing."
The university spread out move-in over two weeks, with no more than 1,500 students a day moving into university housing. To encourage social distancing, most rooms are now for one tenant. University officials say the reopening of McNutt, Foster and Teter residence halls will allow for enough living space with the change. They were closed last year because of mold.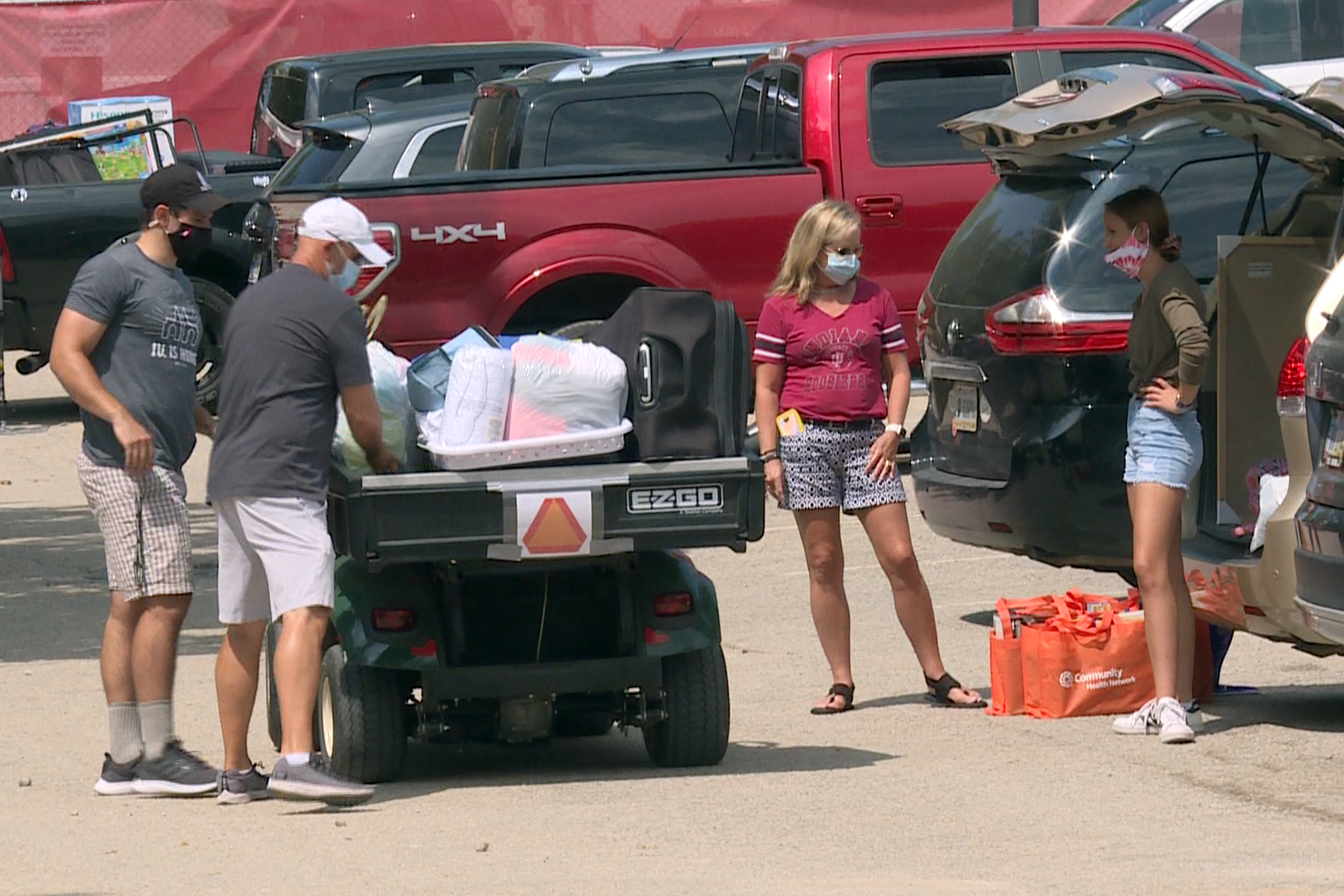 "We had to rethink every single square foot of our facilities and how they could be utilized in the safest and healthiest manner possible," Luke Leftwich, IU's director of Residential Programs and Services, said.
But the university still has thousands of off-campus students to test. Students who aren't tested by Sunday will have their services interrupted; according to IU Spokesperson Chuck Carney, that includes not being able to log in to their online learning site, Canvas.
Tejas Hullur is a junior studying entrepreneurship and innovation at the Kelley School of Business. He took his COVID test, which came back negative, and is ready for his first all-virtual semester of college, thanks to IU's hybrid in-person/online class schedule.
"I actually personally like the Zoom classes a little bit more, because I can almost go on my own speed," he said. "I can rewind if I need to; I can fast forward to double the speed."
When it comes to classes on campus, everyone is required to wear masks. Students and staff have received their own cloth masks from the university. Officials say hundreds of thousands of disposable surgical masks will be available, as well.
"We will have those in dispensers in all the major buildings' entrances, so if you forgot yours, or left it someplace else, you can pick one up," said Kirk White, who heads the university's COVID-19 Response Unit. "Because we expect everybody to have one on."
Classes that are held in person will have fewer students to allow for desks to be spread out, and passing periods have been lengthened. Carney says the average Hoosier student will be taking 1.9 classes in person or partially in person. The business, chemistry, music, public health and mathematics departments have the most students enrolled in in-person classes, in that order.
Students will be sent home after Thanksgiving and complete the rest of their classes online to try to keep them away as the flu season rolls in.
University officials have come up with a plan for continuing testing. After completing all on-arrival testing, the university will move to surveillance and screening using saliva tests.
"We'll be testing students, faculty and staff quite regularly throughout the semester, in order to try to find areas where there might be hotspots where infections might be more prevalent," Dr. Carroll said. "But more specifically, also to find those who might be infected and don't know it and isolate them or put them into quarantine so that they are less likely to infect others."
The Ashton Residence Center, which has 560 rooms, will act as isolation housing this year for those who have tested positive for the virus.
IU officials hope surveillance testing will help prevent outbreaks, and as the fall semester progresses, they'll get a testing lab up and running at IU Bloomington, with two more in Indianapolis.
"It's our hope that within a week or so, depending upon how things go, we'll have at least one of these labs up and running with the ability to do a significant number of tests," Dr. Carroll said. "With our overall goal hopefully of getting to test all students – at least on campus students – at least once a week, and then all faculty and staff regularly."
In the end, though, young people are currently driving the spread of the virus. IU and the entire Bloomington area are relying on the thousands of students returning for fall classes to follow the community responsibility statements they have been required to sign in hopes of preventing an outbreak.
For the latest news and resources about COVID-19, bookmark our Coronavirus In Indiana page here.