As COVID-19 spreads throughout the United States, health officials are encouraging Americans to get extended supplies of their prescription medications.
But Gov. Eric Holcomb's announcement on Monday for Hoosiers to shelter in place has radically altered life across Indiana.
"We're being told to have anywhere from a month to a couple months of a prescription," says IU professor Kosali Simon, who also edits the Journal of Health Economics. "That is very necessary. But at the same time people feel uncertainty about what the rules are about whether they can get access to those medications."
READ MORE: Can I Go For A Walk? Here's What A 'Stay-At-Home' Order Really Does
And if Hoosiers are supposed to hunker down – how are they supposed to get their prescriptions?
That was Jan Davis' concern.
"We're [Davis and her husband] doing what everyone else is doing," she says. "We're staying home. Both of us are over 65, so we are not going to the store any more than we have to."
One of the first things the Davises did was check which of their prescriptions were getting low.
"Last year, when we went to Florida – we are on Medicare and we wanted to get our prescriptions ahead of time because we went there for a few months," she says. "And they told us we could not do that."
Many insurance companies are lifting some of those barriers. The American Pharmacists Association has encouraged them to do so, and the America's Health Insurance Plans has a list on its website of which insurance companies are doing what.
"Even if you thought in the past that your insurance was not going to cover a 90-day fill, now many are, so you should go and not let that be a barrier," Simon says.
The type of medicine you're prescribed will determine what kind of extension you can get – if any. Even with insurance companies lifting restrictions, more controlled substances will still carry 30-day caps.
If your prescription has a limit, president-elect of the Indiana Pharmacist Association Lynn Thoma says you can try asking your insurance company to override the restriction. And if that can't happen, mail order or delivery could be alternatives.
"Mail order would be an actual package that's coming in the mail, and that's going to take a little bit more time for that to arrive because you gotta put the order in, the pharmacy has to prepare it and then mail it out," she says. "Whereas delivery, you can call the pharmacy and they could fill your prescription and deliver it to your home that day."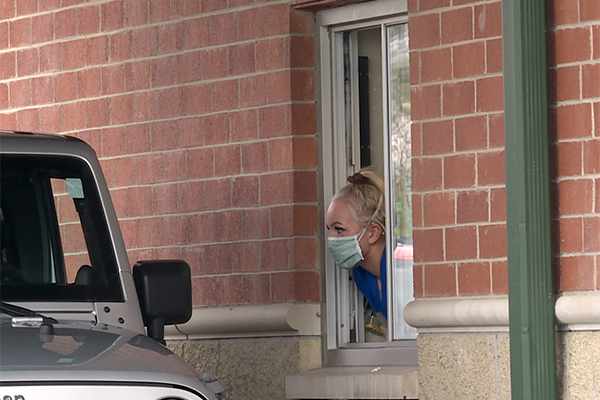 Thoma says if you still have to go to the pharmacy to fill your prescription, using the drive-thru or curbside pickup can help keep you – and pharmacy workers – safe.
For those who might have trouble paying for the extended prescriptions or do not have health insurance at all, she says many pharmacies have lists of generic drugs at lower prices.
"Use coupons when they're applicable," Thoma says. "A lot of our pharmacies have $4 lists for 30-day prescriptions, $10 for 90 days. So utilizing those resources as best they can."
Simon says keeping on top of your prescriptions is not only important for your own health, but also helps keep pressure off the healthcare system during this uncertain time.
"If people are not maintaining their maintenance medications, then they're at risk of needing to go to need emergency care and that's just going to tax the system even more," she says.
Health workers encourage those with prescriptions to get just enough to hold them over, so pharmacies don't run into supply issues down the road.
For the latest news and resources about COVID-19, bookmark our Coronavirus In Indiana page here.