People are continuing to look for ways to help, as social distancing continues and COVID-19 continues to affect the community.
Multiple questions to our City Limits page are asking about how to volunteer or help during the health crisis.
City of Bloomington Volunteer Network
Lucy Schaich, director of the  Bloomington Volunteer Network, says many organizations have changed the way they operate to avoid risk of spreading infection.
"That's kind of the tricky thing with the community wanting to know how to help," she says. "A lot of the organizations that would have said, 'Yes, we'll take you on as a new volunteer,' can't do that right now. This is just a different kind of situation."
Schaich says that, though the process may have changed, there is no shortage of ways to help out.
A great place to start is the Volunteer Network's Volunteer Response for COVID-19 page online, she says. Options range from virtual volunteer opportunities to hands-on activities, such as running errands for people. 
Schaich says the choices will let you find opportunities based on your abilities. 
Food Train Volunteers, Fabric Facemask Drive, and Notes to Seniors are among those listed on the website.
Community Wish List
Another important option  is the Volunteer Network's Community Wish List, posted year-round.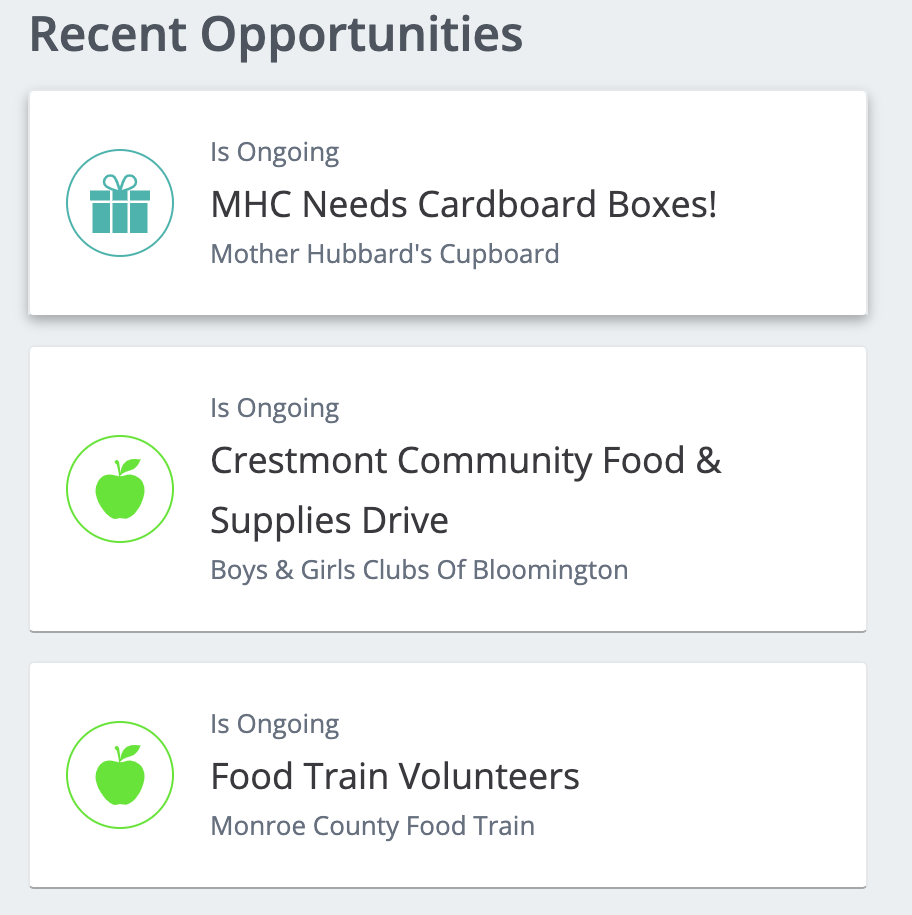 Right now, one section lists  where local social service, cultural, environmental, and animal welfare organizations have immediate needs. Special instructions are included for how to submit donations while social distancing. These also include Amazon wish lists. 
"That's a safe way to support nonprofits right now. That way you can support them with exactly what they need,'" she says.
Looking For Help
Schaich says people looking for help for the first time should start with Helping Bloomington Monroe, a resource and referral network. 
You can search the network for organizations ready to help with your situation, she said.
Monroe County Area Mutual Aid For COVID-19 Group
Schaich says since the pandemic started, one way the community has responded to meet specific individual needs is through the Monroe County Area Mutual Aid For COVID-19 group. 
The group has a Facebook page with almost 5,000 members at this point. Abby Ang is one of the group's organizers and a moderator of the Facebook page.
Ang says the page is intended to connect individuals with the resources they need and to offer direct support when possible. 
"We really try to cover a wide range of areas," Ang says. "We're dealing with a huge range of challenges that people are coming up against."
The group has a master document of resources on food insecurity, voluntary assistance needs, monetary assistance needs, and others. 
Ang says that those who want to request assistance or offer help can use a form designed by No Space For Hate and Monroe County Area Mutual Aid For COVID-19. You can also reach out via the group's email address mutualaidmoco@gmail.com. 
Monroe Mutual Aid doesn't want to duplicate what existing organizations are doing, but rather wants to support them by bridging gaps.
For example, food pantries such as  Mother Hubbard's Cupboard are in need of boxes to package food. Ang says members of Monroe County Area Mutual Aid For COVID-19 have been trying to find boxes and maintain a steady supply . 
Schaich says that in a time where some organizations are limited in what kinds of help they can receive from the community, organized efforts such as Monroe County Area Mutual Aid For COVID-19 have played an essential role in helping individuals quickly.
What Not to Do
Both Schaich and Ang say it's important to be mindful of how you're trying to help during the pandemic.
If you have volunteered to run errands for people,  Ang says it's essential that you follow social distancing protocols.
Ang adds that many people requesting help do not feel comfortable sharing all of their information, so it's important not to pass judgments on any person's needs. 
Schaich adds organizations are trying to keep their workers healthy so they can keep operating.  
That's why Schaich emphasizes the importance of calling before showing up anywhere to offer help. 
"Make an appointment or have a conversation about how to help," Schaich says. "Forcing your help on anybody at this point in going to hurt more than it's going to help."
For the latest news and resources about COVID-19, bookmark our Coronavirus In Indiana page here.