Plans to move forward on replacing Bloomington's Fourth Street Garage are delayed until August.
The plan commission met Monday night to vote on the garage's site plan. After hours of presentations and public comment, the commission moved to delay the vote.
Nick Kappas, Brad Wisler, and Joe Hoffman voted yes. Susan Sandberg, Neil Kopper, Flavia Burrell, and Beth Cate voted no.
They didn't get the required five votes to pass, so by default, the commission will still hear the project again in August.
Debate centered on garage design and concern the plan calls for building on property that's under dispute with the landowner.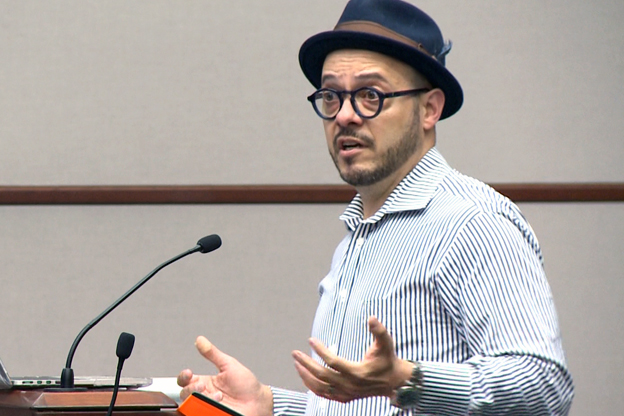 Juan Carlos Carrasquel of Juan Sells Realty owns the property the city is trying to acquire through eminent domain. He spoke during the public comment period and says the petition is illegal since he hasn't given permission for the city to build on his land.
"A minute ago you heard the city say this is a special circumstance, oh ok, the rules apply for us, and there's another set of rules that apply to the city, is that what it is?" Carrasquel says.
City code stipulates, "Applications for any petition, permit, or process...shall include...Signed, written consent of owner if other than applicant..."
The design is a 6-story garage with 510 parking spaces and just more than 11,000 square feet of retail space on the ground floor facing Walnut Street.
It also includes electric charging stations, solar panels, a designated drop off and rideshare zone, bike racks, and two exterior public restrooms.
Commission member Brad Wisler says that typically a project of this scale would have several hearings, especially if introduced by a private developer.
"I think we have to try to make something that is unique, that is different, that stands out, and doesn't feel like just a big monolithic parking garage," Wisler says.
The $18.5 million revenue bond approved by city council in April funds the acquisition, demolition, and construction of a new garage. That includes $200,000 in public art that has yet to be selected.
READ MORE: Bloomington City Council Votes 5-3 To Demolish, Rebuild Fourth Street Garage
Commission member Joe Hoffman says the role of the plan commission is not to approve the replacement of the garage – that's been decided by the city council. Their job is approve the site plan.
"If we reject a site plan that's been put before as a proposal, we must explain what changes could be made so a site plan would be approvable for that use," Hoffman says. 
If Carrasquel's property is not acquired by the city, a new petition would need to be filed for review and approval. No timeline was given on when litigation would be complete.
After months of debate, the city voted to demolish the structure after finding out that repairing the garage would cost more than projected.
City officials hope to complete construction of the new garage in 2020.