Early this spring, parts of the Midwest saw record flooding. With climate change, Indiana's winters and springs are only going to get wetter. 
The Purdue Climate Change Research Center says by the middle of this century, we could see up to 20 percent more rain in those seasons, likely leading to more flooding. But like many people living in Midwestern states, few Hoosiers have flood insurance.
Deb Guffey and her husband Ray own Brown County Tire and Auto Service in Nashville. This February marked the third time their shop has flooded in the past 10 years.
Outside, employees tried to lift a customer's car out of the water and onto a tow truck. Inside, Guffey says the water in her office was more than four feet deep.
"It came so fast," she says. "We tried to unplug what we could and my secretary and I, Jessica, got shocked. So finally she just grabbed my arm, she said, 'We've got to get out of here.'"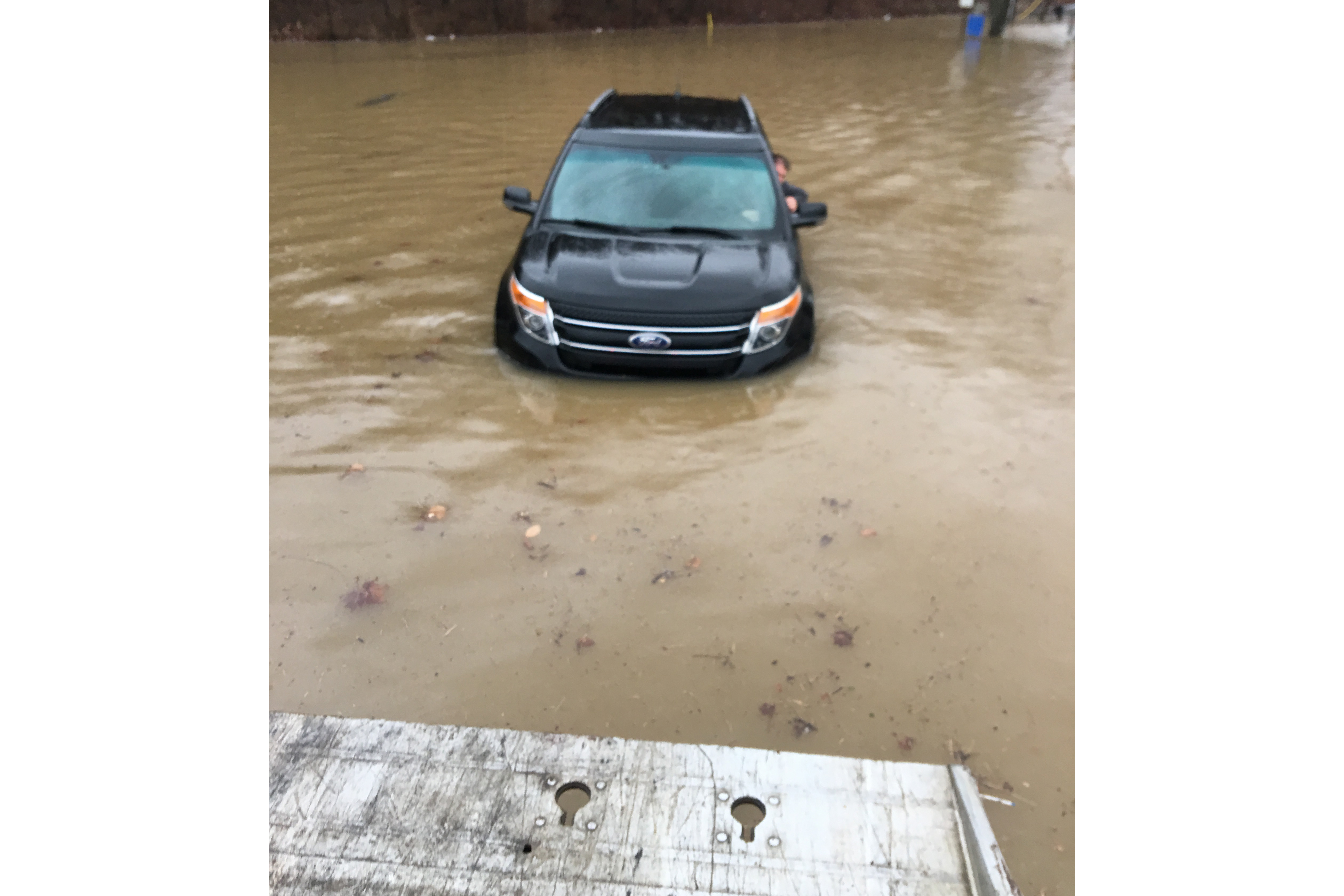 Now the Guffey's are moving the shop to the south side of town to, hopefully, escape the flooding.
"It's either that or close up," says Guffey.
The Guffey's shop sits just inside the floodplain, but right now they don't carry insurance.
Most homeowners insurance policies don't cover flood, so you have to purchase it through the federal government. As of two years ago, a little more than 23,000 properties in Indiana were covered under the National Flood Insurance Program — that's less than 1 percent of households and businesses in the state.
James Sink is the Region 5 flood insurance liaison for the Federal Emergency Management Agency or FEMA. He says historically about 20 percent of flood damage claims would come from outside the floodplain — but that percentage is growing as rain patterns change.
"So just because someone doesn't live inside of that special flood hazard area, does not mean that they're not at risk for flooding. Low risk does not mean no risk," Sink says.
Mark Stines thought his house on a cliffside would be safe. He lives just a few miles down the road from Brown County Tire and Auto. In 2001, heavy rains washed soil out from underneath the house and it dropped three feet — sliding close to the cliff's edge. About all that's left is a footprint.
"Off to the left used to be the living room, which everyone in the family liked because it had a cathedral ceiling and we had a basketball goal inside," Stines says. 
Now Stines has a new house on a hill nearby, but away from the cliff.
"You know, I talked to my insurance agent before and, 'Well you don't need flood insurance, you're up on a hillside.' I said that's what I think, but that's what happened to the original house," he says. 
So how do people find out if they should buy flood insurance? One way is to look at federal floodplain maps. Unfortunately, those maps are often out of date — especially with the changing climate.
David Knipe with the Indiana Department of Natural Resources helps create Indiana floodplain maps for FEMA. He says FEMA is supposed to update its maps every five years, but Congress has to approve the funding to do it — so it ends up being more like every five to ten.
Knipe says the process to publish these maps with FEMA takes two years at best. Even if floodplain maps were more current, he says they're only meant to show risks from rivers and streams. 
"However there's also risks that aren't mapped with these maps. More localized flooding that you'd see like in a neighborhood from a large downpour," Knipe says.
Knipe says we're seeing that kind of flooding more often.
Take for example, two neighborhoods outside Columbus. Amanda Burdine and her neighbors in Armuth Acres and North Cliff suspect drainage tiles from nearby farm fields are sending water into their homes and yards during heavy rains.
This spring, Burdine's home had standing water for more than 30 days.
"You have no ability to take showers, wash your clothes, go to the restroom," says Burdine. "There were people who had to be taken out of the neighborhood in trucks by family members and didn't come back for two or three weeks."
After the last flood in 2015, Burdine fixed the damage to her basement where her two oldest daughters sleep and bought two pumps to try to keep the water down. It totalled $25,000.
"In January we paid off that debt and then we got flooded in February," Burdine says.
Most Hoosiers qualify for flood insurance even if they're not in a floodplain. But not everyone can afford it.
James Sink with FEMA says the average premium in Indiana is just over a $,1000 a year. That's about the same amount the average Hoosier pays for home insurance.
Most people who own a home in an area that floods would want both. This leaves residents like Amanda Burdine feeling stuck.
"We just don't know what to do next because we don't know what's going to happen the next time it rains. Do you fix it and cross your fingers? Or do you not fix it and prepare for what will happen again?" she says.
David Knipe with the DNR says the agency is working with FEMA to find ways to more quickly update floodplain maps. Until then, residents will have to decide if the peace of mind that comes with flood insurance is worth the cost.
Indiana Environmental reporting is supported by the Environmental Resilience Institute, an Indiana University Grand Challenge project developing Indiana-specific projections and informed responses to problems of environmental change.