Large works of art, architecture and design are on display throughout Columbus as part of this year's exhibition.
Organizers of Exhibit Columbus asked artists and designers to use the city's rich design heritage to explore the relationship between good design and community. Daniel Martinez is a professor at the J. Irwin Miller Architecture Program, he thinks a lot about how design can foster or hinder a sense of community.
"With students we talked about creating a kind of experiential threshold. That would serve as this stitch or this link between the community that we are now based in and this modernist iconic building," Martinez says.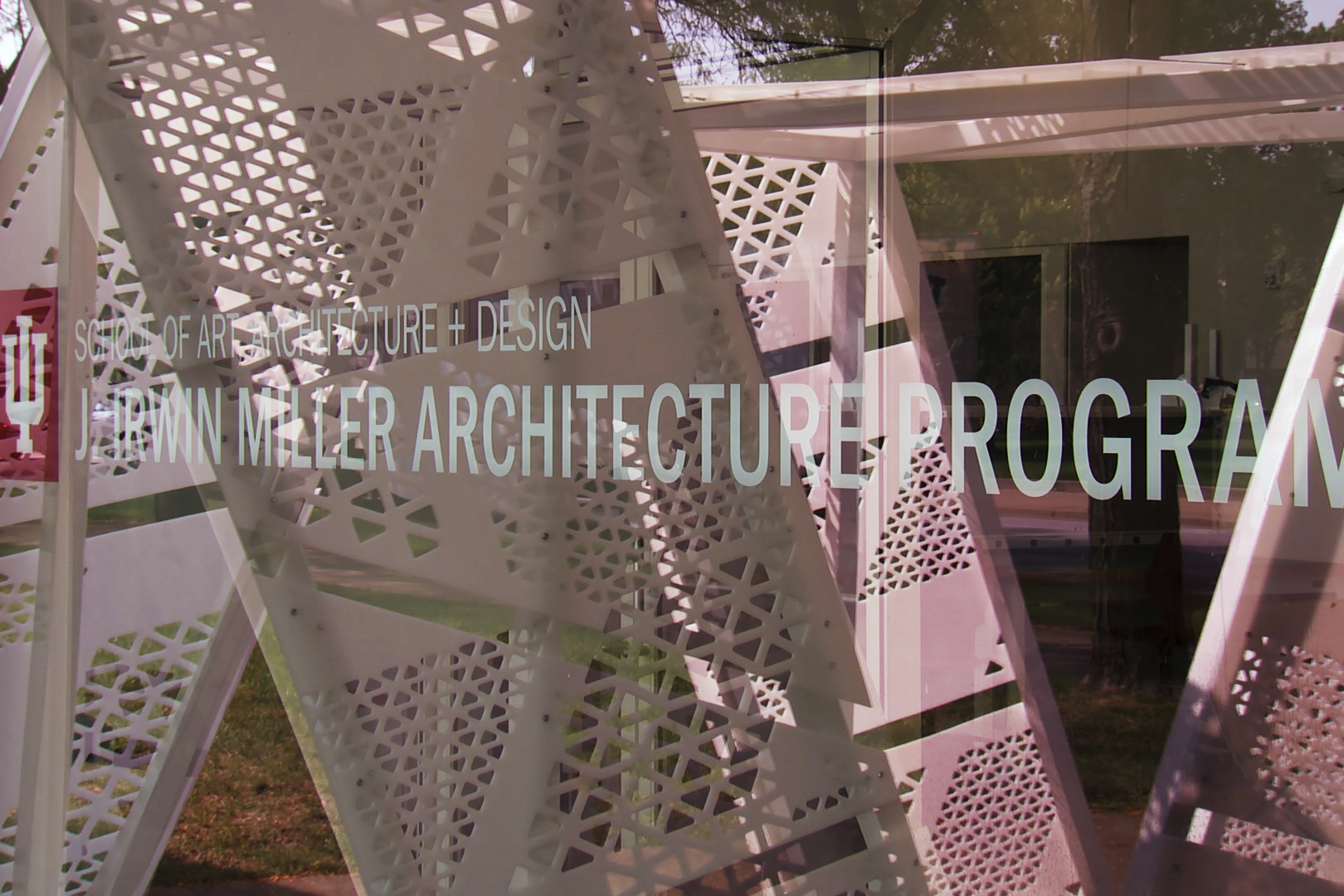 The piece he made with Etien Santiago "Entry Portal" is meant to draw the community into the somewhat stark former newspaper building that's now home to Indiana University's architecture program. It's the kind of thing people think about in Columbus and it shows. Anne Surak, is the Artistic Director of Exhibit Columbus she says this year's exhibit uses the city's history to emphasize the importance of design.
"In this exhibition we selected participants, architects and designers from around North America who really believe in the value that good design can have in improving people's lives and making cities better places to live," Surak says.
This is the fourth year of Exhibit Columbus. It alternates every year between a symposium and an exhibition of ambitious designs. And this year it's an exhibition that includes big ideas like a 30-foot-tall curtain hanging of the side of the city's run-down but beloved Crump Theatre, designed by artist Paola Aguirre.
"She invited people through a series of prompts to write a love letter to the Crump Theatre behind us, which is the oldest art deco theater in Indiana. And through that process people distilled their words into graphic images," Surak says. 
It's one of many exhibits that brings big architectural ideas together with the city of Columbus and the state of Indiana.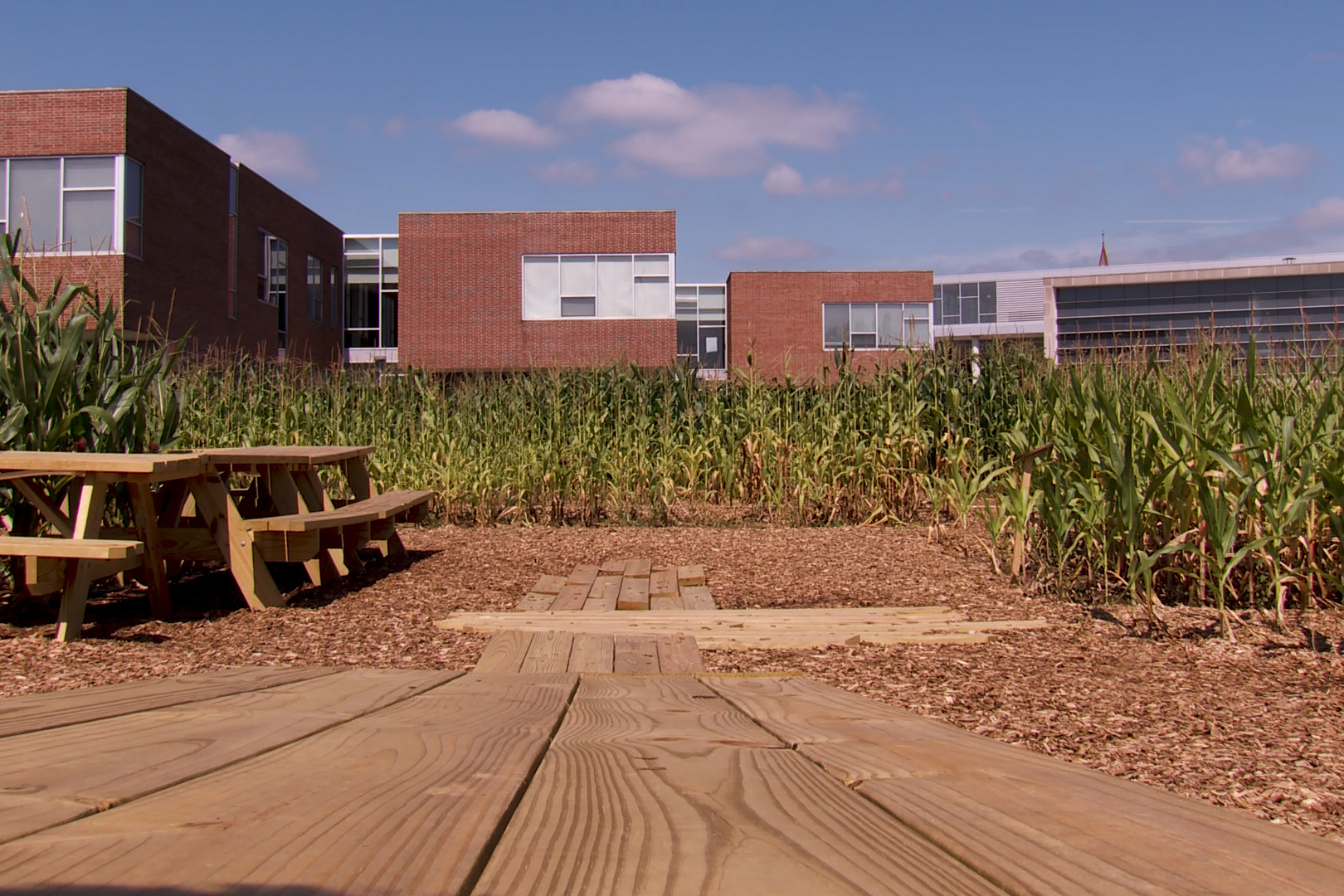 Ten thousand ears of corn are planted just outside Central Middle School, right in the middle of town. the exhibit uses Indiana's vast fields of corn to educate students about the relationship between agriculture and food-especially in the heartland.
"You can see in the middle of the field right over here is a small patch sort of enclosed in the design and that represent the small amount of corn that is actually used for human consumption in the world," Surak says.
Augmented picnic tables provide a space for play and can function as an outdoor classroom, while signs scattered around the space lend context to the importance of local agriculture to the global economy.
On the city's bustling Washington Street you'll find a funky autism-friendly interactive sculpture, a collection of work that ties together good design, local activism and the global bee crisis in interesting ways.
But if you just want to see striking design and innovative materials, head to the North Christian Church, where a soaring carbon fiber tower reinterprets the church's famous spire in a futuristic and organic way.
Exhibit Columbus brings people in from all over the country. But Surak says it's the engagement of Columbus natives she appreciates the most.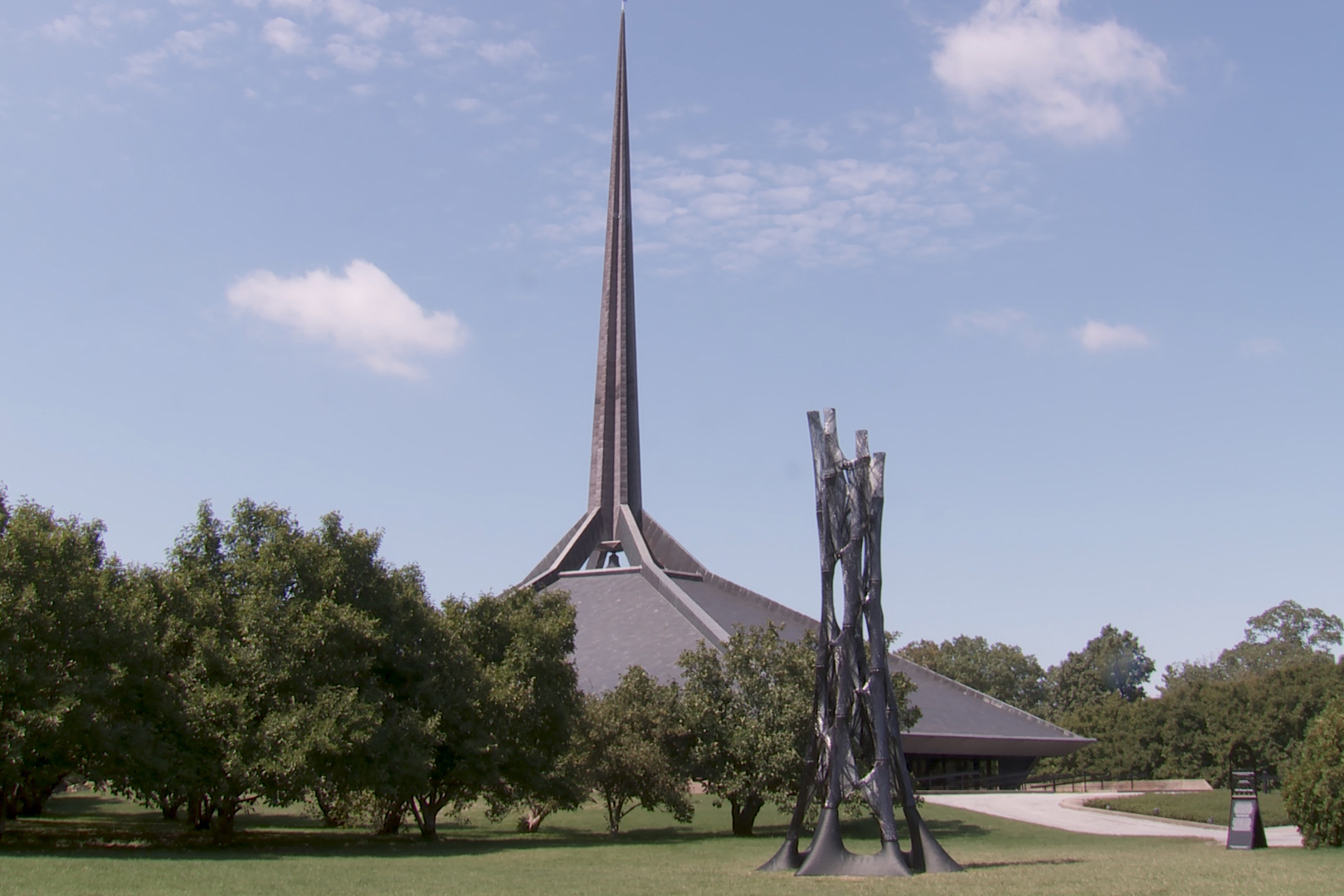 "I think that's one of the more rewarding things is hearing all the different people that live here that know so much about all the installations and can tell others about it," Surak says.