While indoor movie theaters remain closed due to the pandemic, one Indiana drive-in theater is making your flick fix on the big screen a reality once again.
The Centerbrook Drive-In Theater in Martinsville normally opens in March, but since the coronavirus, owner and operator Tyler Tharpe says the season was pushed back. While the theater can accommodate 550 cars, only 275 cars a night will be admitted while trying to practice safe distancing.
Tharpe says, "We're having everybody park every other space at the moment and we're waiting to see how this pans out and we may we'll see how it goes so hopefully by mid-July when the new movies start coming out again we hope to be at full capacity but we're just going to play it day to day or week to week."
Unfortunately, due to social distancing, going into the lobby to browse and buy popcorn, candy and soda is no longer an option.
The theater started a new procedure for snacks and drinks and Tharpe says it's working out well.
"We're ordering outside we've made a makeshift window and you can order outside on one entrance and go around to the other side to pick up," he says.
Many people suggested that they open in March because a drive-in theater was seemingly the perfect social distancing environment.
"I was hearing all along that this is the perfect social distancing spot but I was just a little apprehensive to open because you still have to go to the restrooms," Tharpe says. "So that's why we limit one person at a time to the restrooms but I think it's important to get out."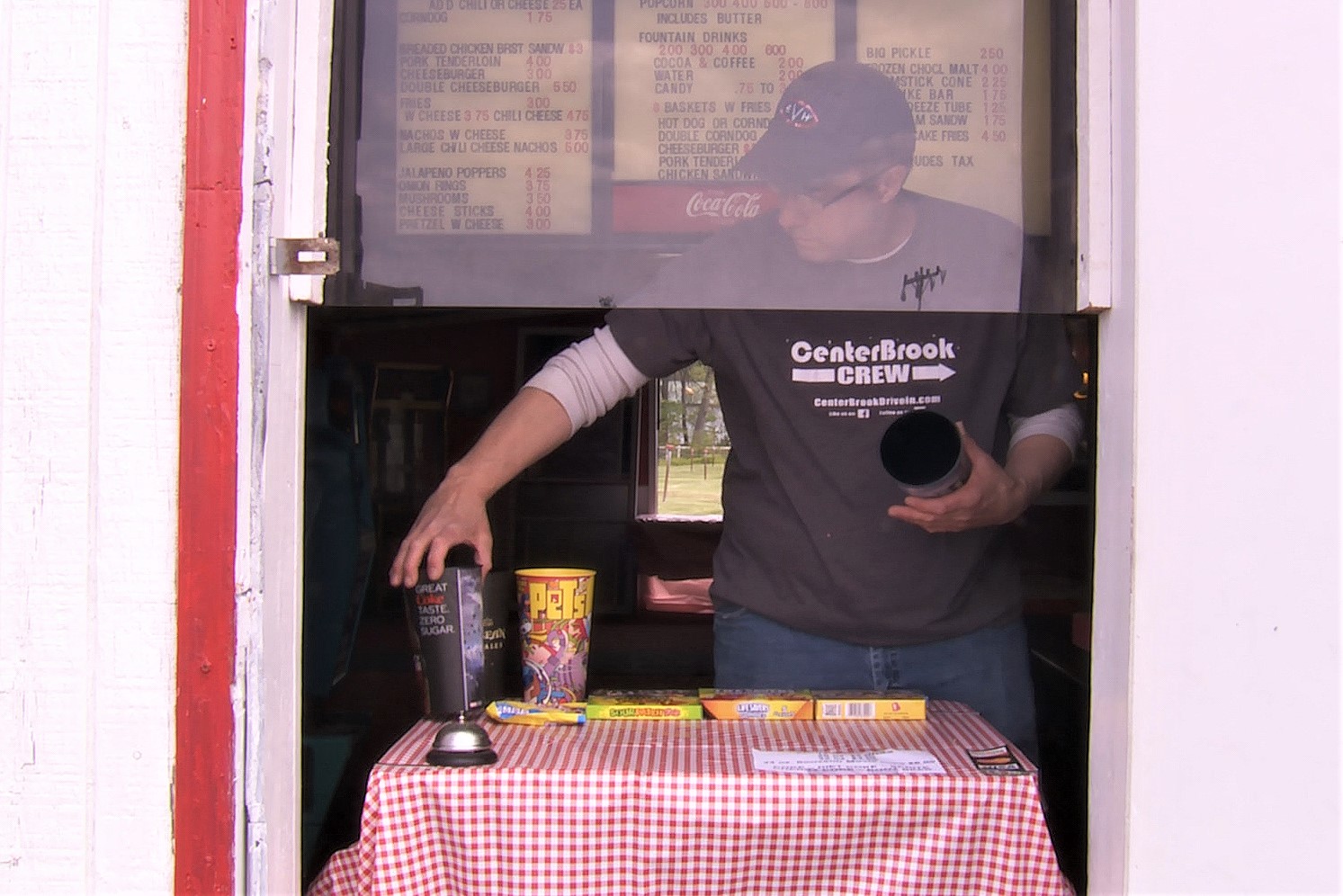 The six-week delay affected the theater's income substantially.
"Six weeks and I still have utilities that we pay every month and mowing started about a month before we opened so it was a really good thing that we got to open last weekend," Tharpe says.
Tharpe applied for a paycheck protection loan through the government's small business relief package and was approved.
"That started last week and I have to use the funds by June which is really going to be a big help and most likely looks like it will cover May and June payroll," he says.
Tharpe says he has a plan to make up for the financial loss caused by the delay in opening.
"I'm going to try to go a little longer this year. We will probably go through November we usually close the first week of November so we might go through November into December with Christmas movies, which I've always wanted to do," he says.
The theater's official opening date was last weekend and Tharpe says it was probably his favorite weekend in the six years he has owned the theater.
"It's just great being here and seeing people even if they are standing six feet apart ordering from the concession window. It's just nice to see people out and about and enjoying themselves. It's just the greatest feeling."
Centerbrook Drive-In is located off Highway 67 between Centerton and Brooklyn in Martinsville. It is celebrating its 70th year in continuous business since May of 1950.
And if you go this weekend, you'll see a double feature: Sonic the Hedgehog and Jumanji: The Next Level. Gates open at 8 p.m. and the movies start at dusk.