Kailtin Hossom approached Bradford Woods after she got a grant from the USDA to look at whether goats would be good at managing invasive species.
"Being a land owner myself we struggled with invasive species on our own property. So just kind of brainstorming solutions there --kind of what can I do on my own property. It snowballed from there," Hossom says. "I worked with goats before in my other job so I know they were really good at eating plants so I just kind of married the two things together."
Bradford Woods is Indiana University's 2,500 acre outdoor center in Martinsville. Clay Chafin, director of Bradford Woods, says there are many spots that are difficult for crews to get to with weedeaters and handcutters.
"The campus here is quite a few acres and there's not many flat spots. There are a lot of hidden rocks and stones and then through the years it has gotten overgrown so to have an employee get in there it might not be as easy for them as it would be for a goat," Chafin says.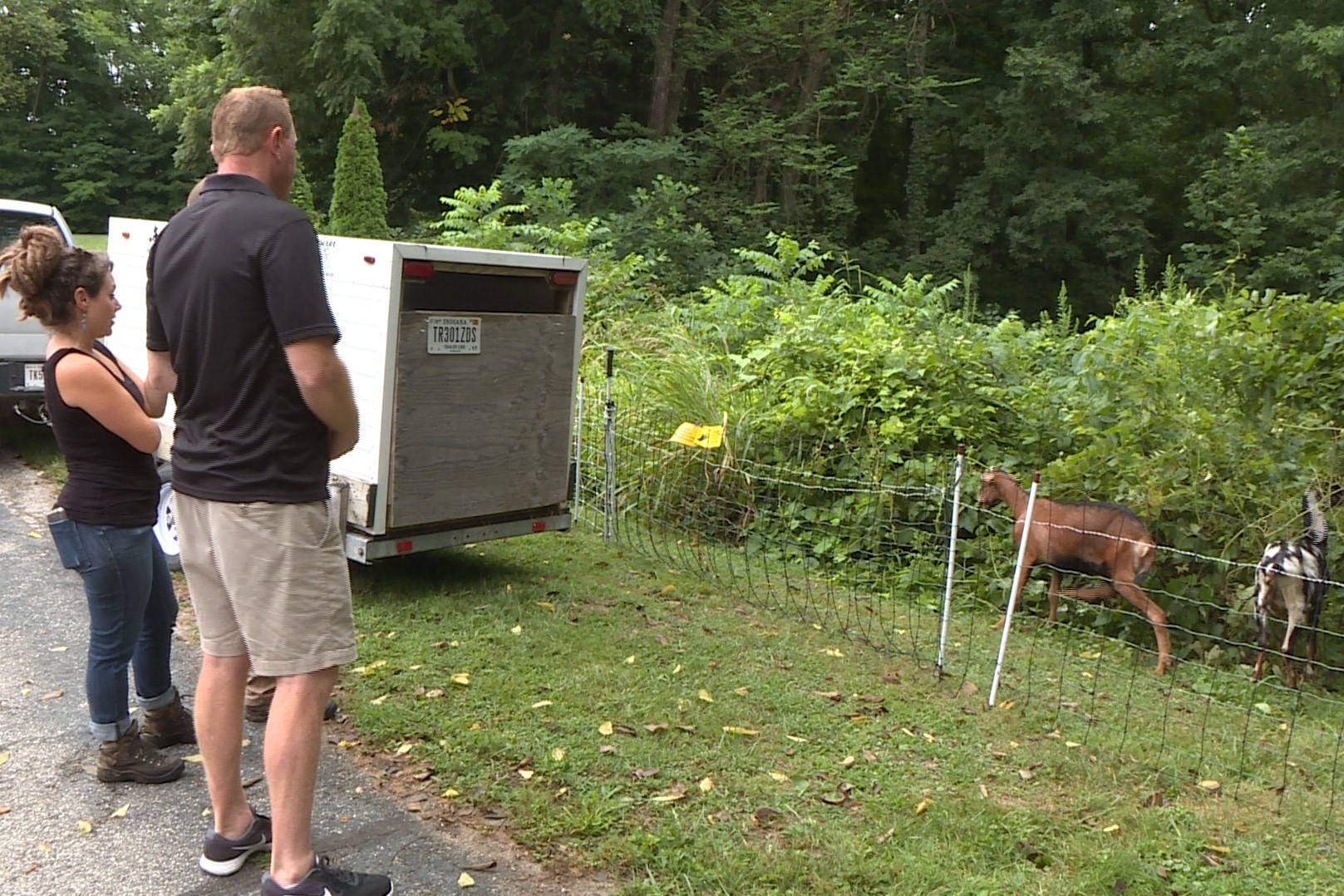 Hossom is documenting what plants the goats will eat, how quickly they eat them, and what regrowth will look like.
She lets the goats graze in a fenced in area then takes photos each week to document how much progress they've made.
On a recent weekday the goats were in a spot that was about 1/5 of an acre and Hossom said with a dozen goats it would take three to four days to clear the area.
They're not great lawnmowers but they're great vegetation management," Hossom says. "They like to eat woody shrubs 6 feet and under." 
Later the goats will graze the spot again and Hossom will document which plants regrew and which were eliminated.

"It will take time. It will take multiple grazings to eradicate these plants but if you are committed to using goats or some other method rather than chemicals they can make it happen over time."
The other part of the grant is figuring out whether it could be a potential business opportunity.
"So seeing what's the market like and what sort of business challenges there might be in doing something like this." 
Hossom's grant lasts for two years so next year she'll repeat the entire process and also look at the impact on other plants.
Hossom got the grant in February and has since joined forces with an Iowa company called Goats on the Go to create a small business. It's tagline: "Herds for Hire."