Questions about coronavirus have dominated the news again this week, so we've compiled some information gathered from various sources for this week's City Limits story.
Staying away from big crowds and practicing good hygiene are the most common tips for protecting yourself.
Ana Bento is a professor in the IU School of Public Health, Department of Epidemiology and Bio Studies. She says some people may be carrying the virus and not realize it. She says it's very likely some people aren't going to the doctor because they don't feel any symptoms, but are indeed infected.
Bento says though the illness is something to be concerned about, all but a very few people recover from it. Still, she urges people to be cautious if they go out.
"If events are not cancelled, people should exercise their best judgment if they want to go to an event, where if they don't take the absolute most precautions, there is a level of risk," she says.
Bento also urges people to stay calm.
"Panic is the enemy of an emerging virus situation, so I would encourage people not to get panicky," she says.
Panic or prudence, some people have gobbled up various products they believe they'll need to stay safe and comfortable through an outbreak.
READ MORE: Bloomington Hardware Seeing Mass Purchases Of Dust Masks, Respirators
Kristi Hill, manager of Bloomington True Value Hardware, showed us some empty shelves that previously held dust masks, respirators and other similar products.
"We are out of everything," she says. "We have a couple of replacement filters here. But that is all and we will be getting some more in but not a lot. The only thing we do have left are the regular dust masks."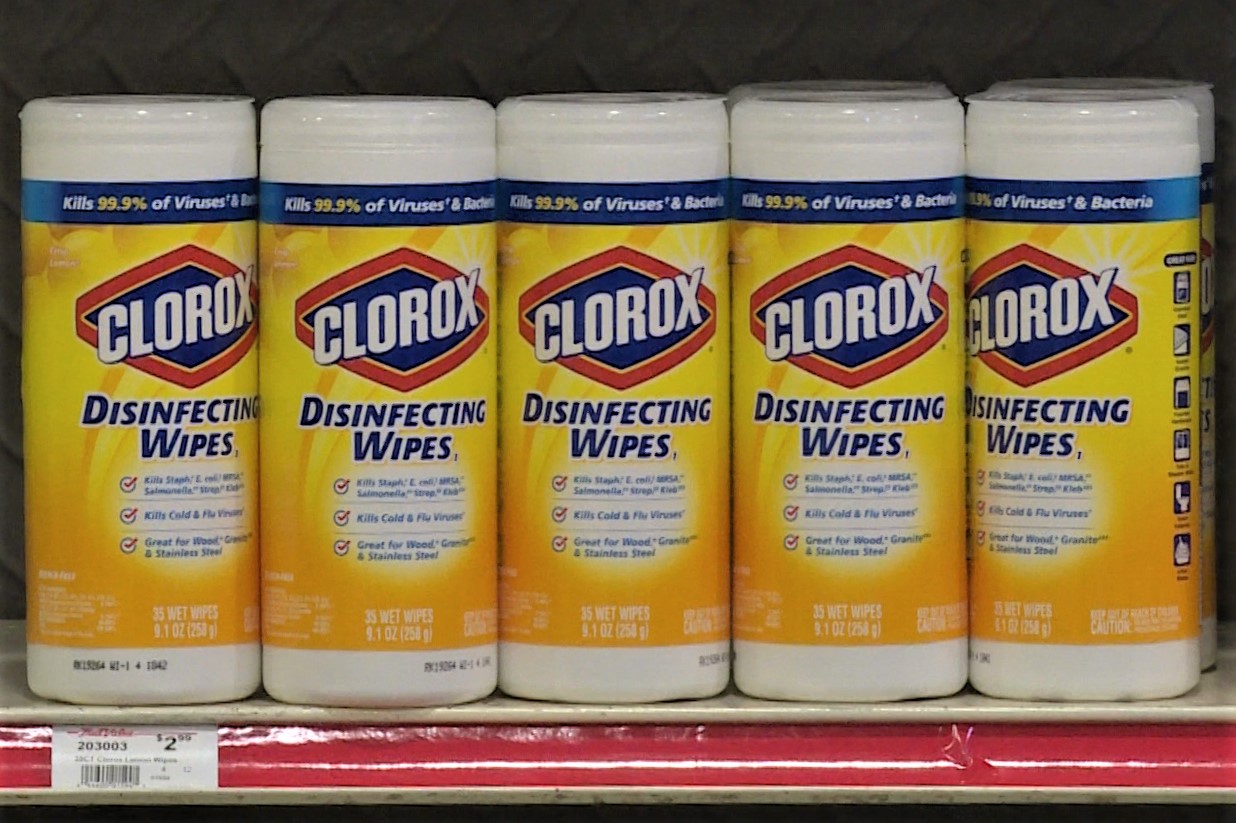 She says even with deliveries three times a week, masks and respirators were selling out before they hit the shelves. So were other products.
"Clorox wipes, Lysol wipes, sprays – that's another thing I have seen our warehouses are out of. I know I was looking at just a regular old eight-ounce hand sanitizer this morning," she says. "They were negative 1000 on it."
Stores also have to take extra steps to keep shoppers safe. A listener asked City Limits specifically about Kroger.
READ MORE: Kroger Beefs Up Sanitation Practices Amid Coronavirus Panic
"We do have some directions that have gone out to the stores to make sure they're doing proper hygiene and cleaning, and making sure the store environment is as pristine as it can be," says Kroger spokesman Eric Halvorson.
Guidelines include deli and bakery workers changing their plastic gloves more frequently, cashiers wiping down self-checkout kiosks and credit card readers and employees sanitizing carts. More sanitizer and disinfectant wipes have been put around stores for customers to use.
Many schools and universities are closing or taking learning online. With spring break approaching, Indiana State Health Commissioner Kris Box encourages students to stay home and avoid contact while they are out of school.
"This is not a spring break where everybody runs out and goes to the mall, go to the movies," she says. "We really need, if we are going to have this work, to have these individuals social distance. Which means you go home. The point of this is to kind of socially distance children and other individuals."
But some workers simply can't stay home.
Curt Durnil of the Indiana State Police and Bloomington Fire Chief Jason Moore say their departments get regular updates on best practices and undergo constant training to be ready. Moore says people who call 911 can help by sharing as much information as possible.
"Communication is always key," he say. "If you think you have it, we can give you a mask, we can mask up, provide extra protections for our employees. But realistically, everyone has to kind of do their part to make sure an illness like this from becoming something like a pandemic. Don't be afraid to overshare if we're there responding to a medical emergency on your behalf."
As for the wild swings in the financial markets, Jeremy Zeichner of Charles Schwab says it's best to take a deep breath.
"Don't panic based on short-term market events," he says. "This is what markets do. This is not unusual. This is how they operate.
READ MORE: Financial Consultant Says Coronavirus-Induced Market Panic Will Wane
"It's always a good time to reevaluate whether your plan still makes sense to you. … Don't make decisions based on what the market's doing. You shouldn't make decisions based on the markets being way up, or the markets being way down. Make decisions based what's going on to you and your life."
He also says extend your time horizon – consider how your investments have done the last 12 months rather than the last two weeks.
Our community is changing, from closing businesses to traffic and road construction to affordable housing, and we see the impact of these changes all around us.
We want to know: What questions do you have about how the Bloomington of tomorrow will impact your work, your personal life, your community and your future?
Here's how it works: You submit a question you'd like us to explore about how Bloomington has changed over the past few decades, what you want to see for the city in the future and how ties with IU continue to shape the community.  
So: What do you wonder about how Bloomington is changing and how it impacts your life?
Interested in an ongoing conversation how Bloomington is changing? Join our Facebook group!