Major changes to Bloomington Transit's bus routes will have to wait until at least January 2021. 
Bloomington Transit's Board of Directors unanimously voted over Zoom Tuesday night to postpone consideration of proposed route changes to a later date, with their implementation no sooner than January of next year. 
READ MORE: Bloomington Transit Delays Route Changes, Ups Precautions Amid COVID-19 Pandemic
"We're running a [limited] Saturday schedule now, and what the future holds in terms of service is quite unknown at this point," Bloomington Transit General Manager Lew May says. "And as we look ahead to 2021, there are a lot of question marks out there."
The biggest question mark for the future is funding. And according to the transit board, budget impacts caused by the coronavirus are expected to be significant.
May says transit's INDOT funding, passenger revenue, income tax revenue and federal gas tax revenue are expected to take hits. Plus, nobody knows if IU will be back to in-person classes this fall, so student revenue could plummet.
"We don't know what our budget impacts are going to be long-term," May says.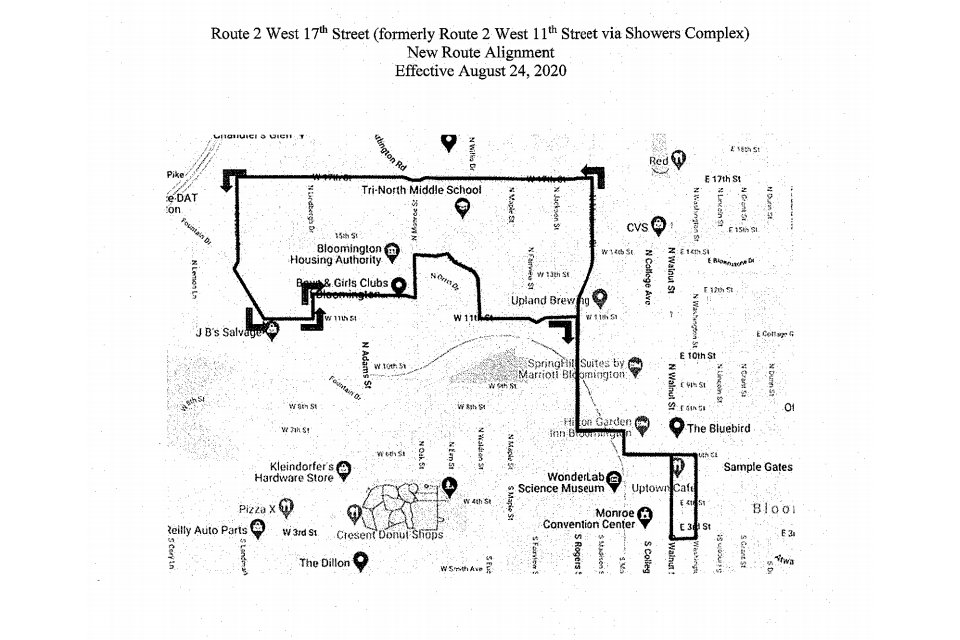 The board did approve one change, though, to Route 2 West. The updated route still covers a large portion of the current Route 2; the changes "minimize one-way and out-of-direction service for the majority of riders along the route."  The change will go into effect no sooner than August 24 and will have no budget impact.
Bloomington Transit has been working since 2018 to realign its bus routes.
According to May, ridership has gone down in recent years, so transit began a "route optimization study" to see how routes could be realigned according to demand. BT then held a series of meetings last year to get input from the public and began proposing and adjusting the changes this year.
"Originally, we were planning to seek final approval from the board tonight for the service changes so that we could move forward with implementation in August of this year," May says. "But of course, with all the developments over the last six weeks or so with COVID-19, that has brought many impacts to Bloomington Transit."
If most students don't come back in the fall, May says the ridership survey might have to be redone.
Bloomington Transit ridership fell by 34 percent in March and is down about 7 percent on the year. May says he fully expects for ridership to continue dropping in April and the coronavirus' impact on Bloomington Transit will be "significant and long-lasting."   
Bloomington Transit did not receive a grant to fund a proposed nighttime "microtransit" service for areas of the city that do not have bus routes. May says one of the small benefits of the delay is that it will give Bloomington Transit more time to discuss possibilities for the possible microtransit service.
For the latest news and resources about COVID-19, bookmark our Coronavirus In Indiana page here.