For the past few months, Indiana University students have been helping 14 cities in the state to do greenhouse gas inventories. The idea is for cities to look at which sectors emit the most gases that contribute to climate change and try to make them greener. 
Vic Kelson is the director of City of Bloomington utilities. He shows Savannah Rodrigue — the IU student doing Bloomington's greenhouse gas inventory — around a booster station. It helps the city pump water out to where it's needed.
"Now, this booster station uses about $20,000 a month of electricity. We were able to offset about 5 percent of that with the solar panel array," Kelson says. 
Bloomington's local government operations make up less than 10 percent of the city's overall greenhouse gas emissions. But of that 10 percent, Rodrigue found that most of the emissions come from moving and treating water and wastewater.
Rodrigue says most of the time, working on the inventory isn't this hands-on. She makes a lot of phone calls to utilities and city departments asking for data and then inputs that data into a computer program called ClearPath, which calculates the emissions.
Even though Rodrigue doesn't have to do the math herself, that doesn't mean the process is easy — every little detail counts. Take air travel, for example.
"We've got a very large student population that probably travels home and we traveled to Indianapolis airport, you know, to fly home," Rodrigue says. "Those emissions need to be counted, even though they're not directly within the city limits." 
This week, the City of Bloomington released the finished inventory. It found that transportation and residential energy use made up about half of the city's emissions.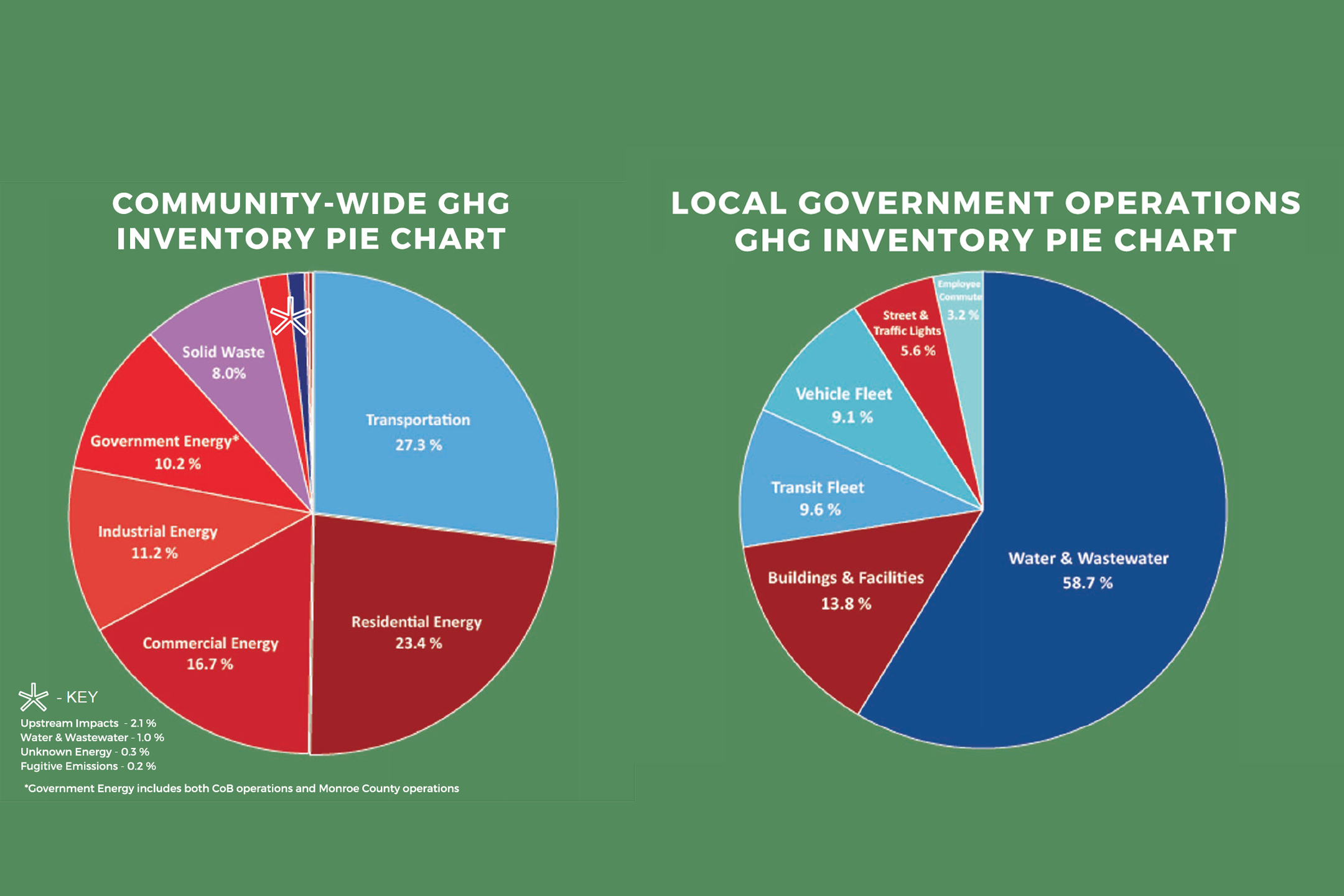 Alex Crowley is the city's director of economic and sustainable development. He says now that the city knows transportation in Bloomington is a big contributor to climate change, the city can take steps to make walking, biking, and public transit more accessible for residents.
"Make it easier for people not to get in their car alone and drive to work alone as so many people do in Bloomington," Crowley says.
Lowering residents' energy use may be more challenging. Lauren Travis is the city's assistant director of sustainability. She says most of the city's power comes from Duke Energy's coal plants.
"So I mean, it's difficult because we have only one place that we source our energy from and a lot of people don't right now I have the option otherwise," Travis says.
Bloomington's goal is to reduce its emissions by 26 percent by 2025. The city plans to use the greenhouse gas inventory to set a new and likely more ambitious climate goal for the city.
The other communities completing greenhouse gas inventories are Carmel, Columbus, Delaware County/Muncie, Evansville, Fishers, Fort Wayne, Gary, Greencastle, Goshen, Michigan City, Oldenburg, Richmond and West Lafayette.
Contact Rebecca at rthiele@iu.edu or follow her on Twitter at @beckythiele.
Indiana Environmental reporting is supported by the Environmental Resilience Institute, an Indiana University Grand Challenge project developing Indiana-specific projections and informed responses to problems of environmental change.