Bartholomew Consolidated School Corporation's virtual commencement ceremony begins this evening.
Despite the coronavirus, administrators, teachers and staff wanted to give students the opportunity to receive their diplomas in front of family and friends. 
READ MORE: How Do You Celebrate Graduates In 2020? Here's How These High Schools Are Doing It
"Not having the chance to walk across the stage was probably the biggest disappointment or frustration of our seniors and their parents and friends and other their loved ones," BCSC Superintendent Jim Roberts says. "So we talked about how could we go ahead and do a virtual graduation run into at the same time that we were going to have traditional graduation ceremonies, but combine it with some kind of memorable experience." 
This week, Columbus North High School looked more like an assembly line at a nearby Cummins engine plant than a traditional graduation.  
North's cafeteria became the stage as graduates moved station to station dropping off supplies and collecting awards before going onstage and receiving their diplomas.
After getting their moment on stage and a picture with the principal, each student received a lawn sign and commemorative coin. But not before following tradition and ringing the school's victory bell.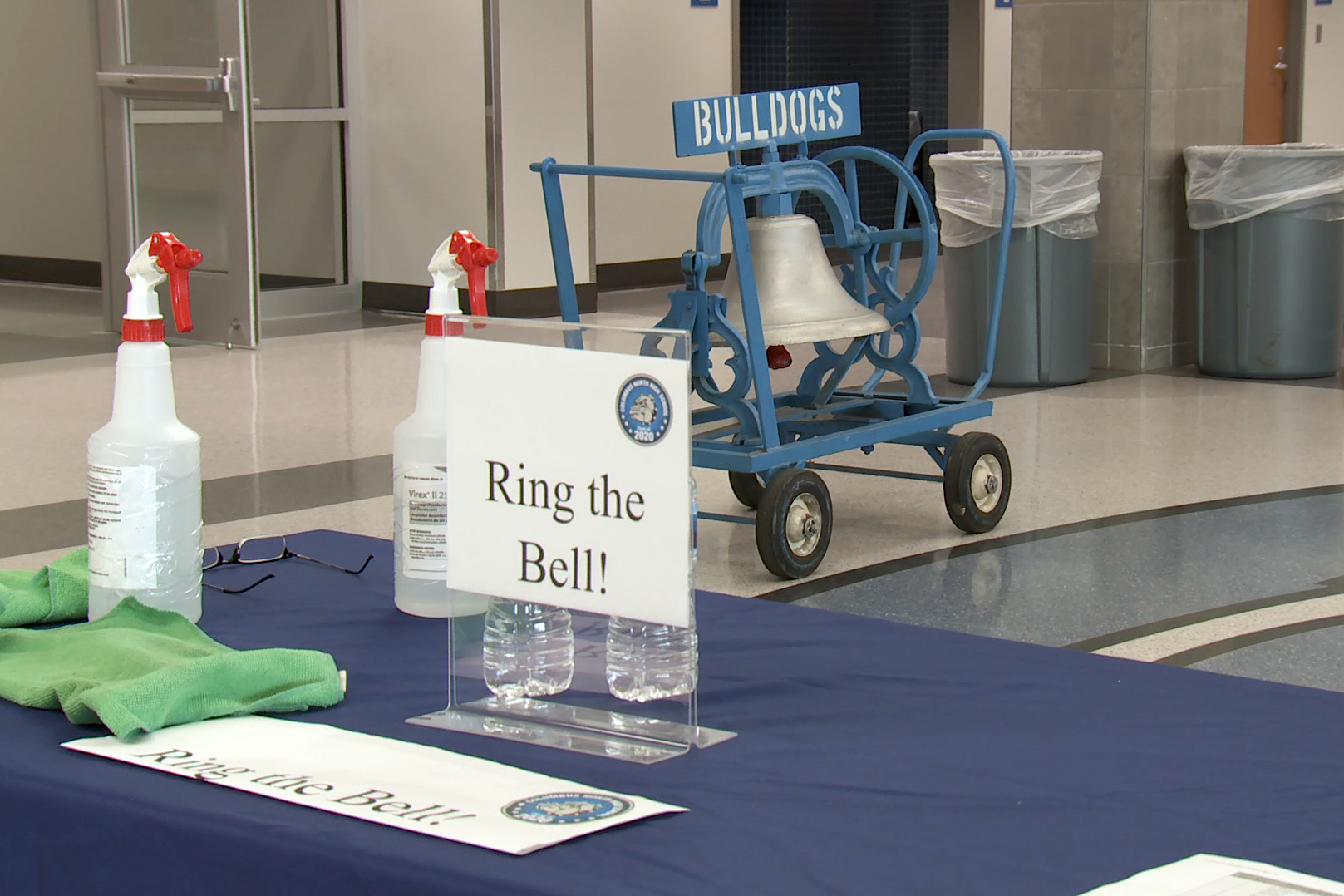 "I did cheerleading and we took the bell out every time the boys and the girls won," Columbus North graduate Hannah Holliday says. "And it was my turn during it, so it was really nice – instead of watching people ring it, I could do it myself."
Each of the community's three public high schools – Columbus North, East and New Tech – created its own version of the ceremony. At North, they scheduled different days this week for students to sign up and come get their diplomas.
Roberts says some even preferred the new way, with each student the star of their own show.
"You have 7,000 people in a place, sitting there for an hour in a very crowded place and then seeing your kid walk across the stage in about eight seconds or less," he says. "And they felt – many felt it was better and have asked about whether or not some of these things could carry over and be new traditions as we go forward."
Holliday admitted she was skeptical at first but was pleased with the final result.
"It's really unique, it's exciting to know that we'll get to think back on this and it won't be the same as what everyone else has done," she says. "I thought the process was really nice. And it still made us feel like we were acknowledged this year."
Roberts says it's hard to see virtual graduations as the way of the future but hopes the unusual ceremony will give students and their families something to remember in what's been anything but a normal school year.
For the latest news and resources about COVID-19, bookmark our Coronavirus In Indiana page here.