Brendan Pickens and his family are diehard Hoosier fans who live near Indianapolis.
You know that by the room of their home that's strictly dedicated to the cream & crimson.
We just grew up a family of Hoosiers. All of our gamedays were spent together watching IU football, basketball, and any other sport we could watch," Pickens says.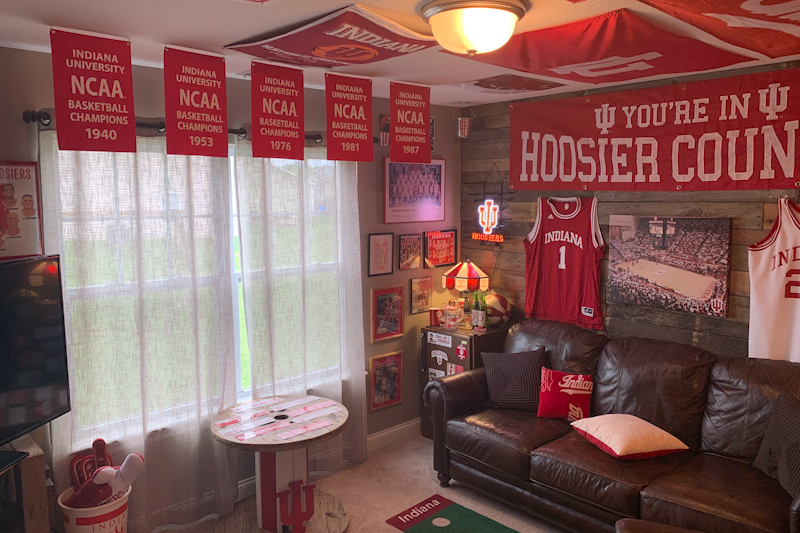 Pickens says IU sports bring his family closer together and gives them something over which to bond and take pride in.
That's why when the IU men's basketball season was canceled in the middle of the Big Ten Tournament in mid-March, his family didn't quite know how to react.
"The next day, we're all sitting around talking about March Madness and my daughter Hadley says, 'March Madness is now March Sadness'," Pickens says, adding that it was almost a depressed feeling, but not just over the men's team.
Being the father of three daughters, Pickens says the family closely follows the women's team, too.
"They were top 20 team most of the season and probably a 5 seed going into the tournament. They could've made a move and done some damage," Pickens says. "I mean it's just kind of an emptiness. You know what could've been."
Ed Hirt, a professor of psychology and brain sciences at IU, studies sports fandom and its psychological effects on people's attitudes.
"We found that it extends not just affecting your mood, but it actually affects your self-esteem, that it really affects how you think of yourself because that team and you are so connected," Hirt says.
This is something Hirt calls BIRGing — Basking In Reflected Glory.
"It's kind of the idea that when your team's winning, it reflects positively on you. So what do we do? When our team wins, we want to say we're No. 1 and we wear identifying apparel showing that we're fans of that team," Hirt says. 
Hirt says these unprecedented times without sports are complicated to examine, especially for rabid fans because there's no winning or losing with which to identify.
"But I think for most people, the big question is, how is that void being filled?" Hirt says. "We're so used to having sports and it's a huge part of our lives."  
For Brendan Pickens, it's been looking to the past and reliving those winning Hoosier moments with his daughter.
"We've got into YouTube a lot to watch old basketball games, so I've been introducing Hadley to Damon Bailey, Calbert Chaney, Steve Alford and obviously Bob Knight," Pickens says. "What I would call the golden era of Indiana basketball and trying to teach her a little bit of history."
With the basketball season unfinished, Hoosier fans are now looking toward football this fall with hopes the season will stay on schedule.
Last season, the football team went 8-5, the program's best record since 1993.
"It would be a real shame to lose this upcoming season. You know the way things are trending, I don't think that's going to happen. But regardless of what occurs, it's going to probably be a very different sort of year," IU sports journalism professor Galen Clavio says.
Last week the NCAA announced football players could come back to train on college campuses in limited capacity starting June 1.
"I think that universities are going to do what they need to do from a legal liability perspective, and from a financial perspective," Clavio says.
Part of that financial impact comes from ticket sales.
In 2019, the football program made $6.8 million from tickets. But that revenue might be lost for this season because the NCAA could consider fanless stadiums and only play the games on TV for safety reasons.
"I think people, in general, are going to be a little bit hesitant about going and sitting in close physical proximity to people," Clavio says.
In a recent poll from Seton Hall, 72 percent of respondents say they would not attend games until there's a coronavirus vaccine and 76 percent say they would be fine watching broadcasts of games without fans.
But Pickens says, as long as the COVID-19 numbers are considered safe enough come this fall, he would love to be back on campus for a game with his family.
"I'm hoping that they open things up once football season starts back up and we can get down there in Bloomington and proceed with life as normal," Pickens says.
For the latest news and resources about COVID-19, bookmark our Coronavirus In Indiana page here.