Bloomington's downtown is rapidly changing as new apartments, hotels and businesses go up.
As the city continues to grow, many wonder what it could mean for affordability.
As part of our City Limits project, we're answering your questions about the changing community.
One resident asked, "What's being done to ensure there is affordable housing among the new apartments and home construction around town?"
We seek out the answer in part one of our series on affordable housing.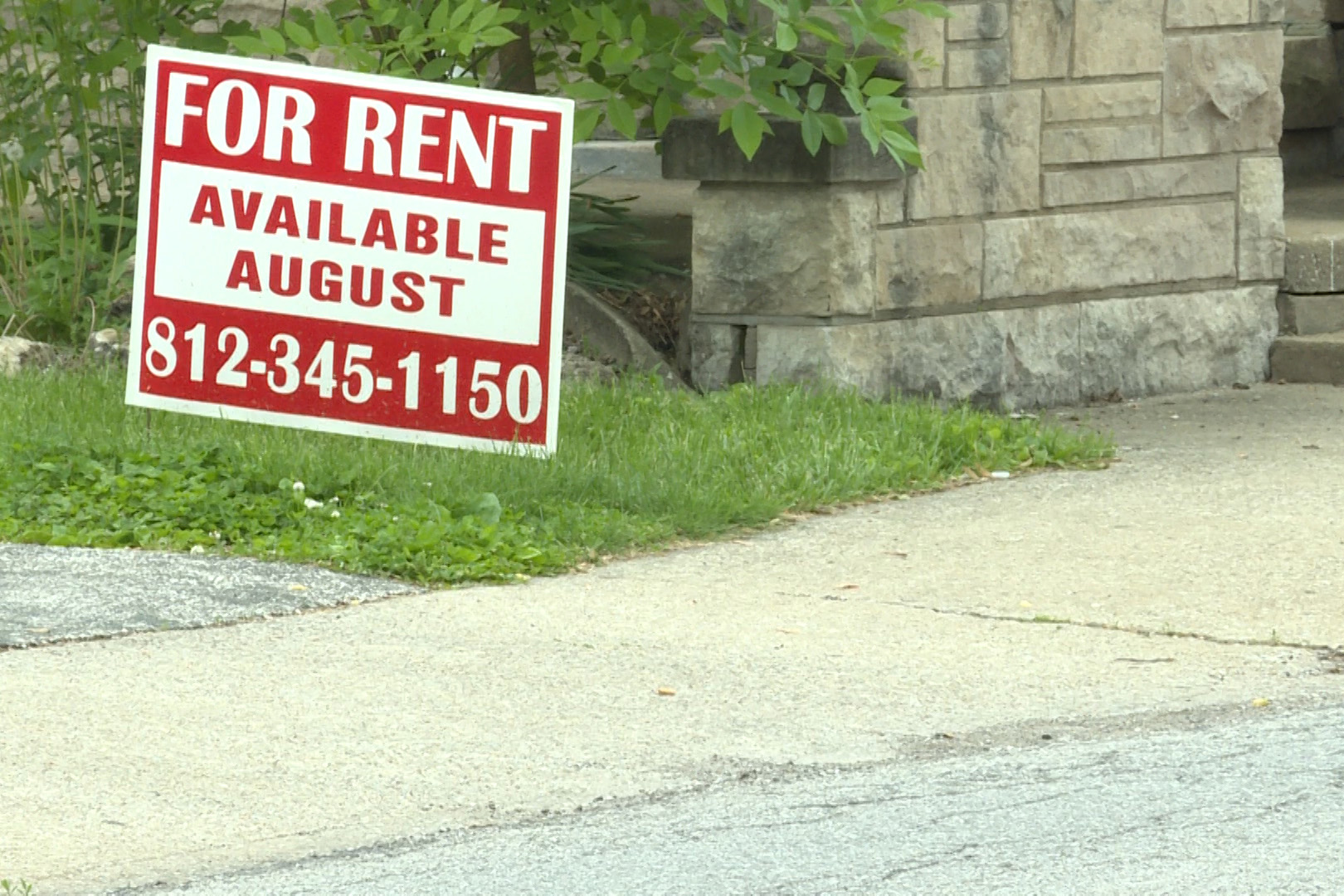 Affordable Housing Supply Doesn't Meet Needs
When Kelly Toto moved her family to Bloomington for a better life, she wasn't prepared for the rent price that would come with it.
"$700 seemed outrageous," she says. "Back home it was like $500 for a whole house."
But Toto didn't have much of a choice other than paying $700 in rent a month because she needed a place to live. She got by for a while, but then her luck changed. She filled out an application for Habitat for Humanity of Monroe County and moved into a home in the Trail View neighborhood in 2016. 
"I cried I think the first year every time I looked around my house," she says. 
Toto took pride in her home, and felt good investing in her family's future. 
The city and Habitat want to give more people an opportunity to own a home in Bloomington, so they announced a new partnership this week.
They're working together to build a new neighborhood southwest of town for up to 50 families.
"Osage Place will offer homes to residents who have earnings between 25 and 80 percent of area median income," Mayor John Hamilton says. 
The city will pay up to $800,000 in infrastructure costs associated with the project. It's the Hamilton administration's latest effort to address the lack of affordable housing in Bloomington. 
Habitat CEO Wendi Goodlett says the need is dire. 
"We have nearly 20 families currently in our program and they deserve a decent place to live today," Goodlett says. 
And, that need is only expected to increase.
The city's 2018 Comprehensive Plan predicts the population will surpass 100,000 people over the next 20 years, which means Bloomington will need more than 12,000 additional housing units.
"I think it's a critical issue," says Deborah Myerson, executive director of South Central Indiana Housing Opportunities, or SCIHO. "We have a housing crisis in this community."
High Housing Costs And Low Wages Hurt Affordability 
SCIHO is a non-profit that focuses on expanding housing options for low and moderate-income households in six counties. Myerson says housing affordability is particularly challenging in Monroe County. 
"There's two ways to lower the cost of housing. It's either to make rent or housing payment less or to increase wages."
Myerson says Bloomington has both problems: high housing costs and low wages. 
Out Of Reach 2018 Housing Study by Indiana Public Media News on Scribd
A 2018 report from the National Low Income Housing Coalition says Bloomington has the most expensive housing in the state, and someone would have to work more than two full-time jobs at minimum wage to afford a fair market rate apartment.
The city is trying to address the problem by increasing the number of affordable housing units available. It's leasing SCIHO land next to Switchyard Park for just $1 so the non-profit can build 16 affordable units. 
"One of the challenges when you build a beautiful new park, you create value all around it," Hamilton says. "Another way to say that is prices go up around a new park like that. And so one of our commitments was to find out how do we make sure we don't gentrify, if you will, or we don't drive the mix of incomes that are there now away from there."
They recently broke ground on the project, which SCHIO will complete in two phases. 
Another affordable housing complex is further along in Bloomington's Trades District. B-Line Heights will serve families at or below 60 percent of the area median income, with two units reserved for those below 50 percent.
The city says that brings the number of affordable units it's added or rehabbed in the past few years to more than 600.
Hamilton says there are other mechanisms they can use to try and increase affordable housing stock. When the city is analyzing Planned Unit Developments, developers can commit to having a certain number of affordable units. Or, instead, they can make a contribution to the city's controversial Housing Development Fund. The city uses that money to help pay for other affordable housing projects in Bloomington. 
Myerson says she applauds the city's efforts to address the housing crisis. But she says the issue is multi-facted. 
"We need more housing supply, we need more housing subsidies for lower incomes, we need to figure out how to build the housing for households that don't qualify for subsidies. So it's really important to look at it I think from a comprehensive mode."
As residents wait for the public and private sectors to address the problem, rent prices continue to increase. That's despite an increase in housing stock fueled by several recent student developments. 
And there's a whole other group that is struggling with housing costs: those who earn well above the area median income. The city's comprehensive plan says more than 80 percent of Bloomington households spend nearly half their annual income on housing and transportation.
"There is a danger that Bloomington could get so expensive that you can become what's called a barbell city where you have really high cost housing and you have really heavily-subsidized housing and you don't have a lot in the middle," Hamilton says. 
Preventing that from happening, experts says, will require a solution that expands beyonds the city's limits. 
We want to know: What questions do you have about how the Bloomington of tomorrow will impact your work, your personal life, your community and your future?
Here's how it works: You submit a question you'd like us to explore about how Bloomington has changed over the past few decades, what you want to see for the city in the future and how ties with IU continue to shape the community.  
So: What do you wonder about how Bloomington is changing and how it impacts your life?
Interested in an ongoing conversation how Bloomington is changing? Join our Facebook group!