The 20th annual Gathering of the Juggalos is headed to southern Indiana this summer. 
This is the first year Indiana will host the music festival. Here's what you need to know about the event. 
What / When / Where
The 20th annual Gathering of the Juggalos will be staged in Lawrence County's Springville, Indiana from July 31 to August 3. 
"A party deep in the woods, in the shady trees, celebrating two decades with the Juggalo homies," says a description of the event on Facebook. 
Officials released a map of the festival setup on Tuesday.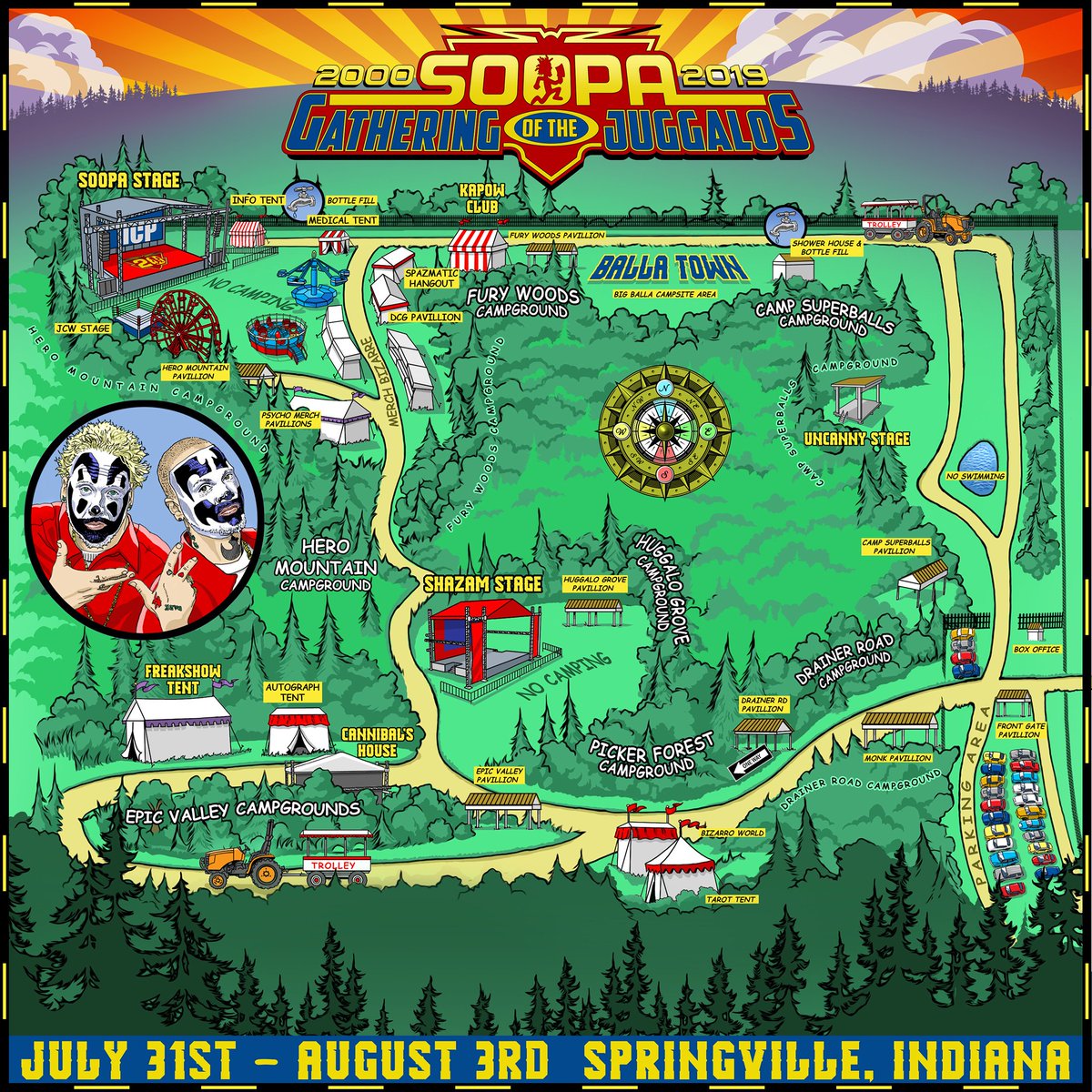 What is 'The Gathering?'
Reporting from The Associated Press
The festival draws some 10,000 people each year and has developed a reputation for unruliness marked by drug overdoses, fights and arrests. 
In 2010, fans pelted actress Tila Tequila with stones, bottles and feces, and a fan was stabbed. One attendee drowned the following year while trying to swim in the nearby Ohio River. And in 2013, a 24-year-old fan, Cory Collins of Harrisburg, Ill., was found dead on the festival's grounds, where dozens of attendees were arrested on drug-related and disorderly conduct charges.
Who are the Juggalos?
Reporting from NPR
The Juggalos are fans of Insane Clown Posse, a rap group that calls itself "the most hated band in the world." The name stems from a 1992 ICP song, "The Juggla," and, according to journalist Patrick Flanary, is a "term of endearment among the fans."
Juggalos often paint their faces to look like clowns, and some sport tattoos of "hatchetman," the logo for Psychopathic Records, ICP's recording label. 
In a 2011 report, the FBI classified Juggalos as a "loosely organized hybrid gang" following violent incidents allegedly committed by fans of the group. Juggalos, in tandem with the American Civil Liberties Union, sued the government in 2014, claiming Juggalos' "constitutional rights to expression and association were violated" by the FBI's classification. The case was dismissed but then later reinstated in September 2015.
And, according to the event website for the Juggalo March, the case has been thrown out for a second time, "meaning we are back to square one from a legal standpoint," the group says.
In 2017 Juggalos held a rally in Washington, D.C. as "a collective statement from the Juggalo Family to the world about what we are and what we are not."