All but one incumbent on Bloomington's city council faced primary challengers Tuesday, but only five prevailed. 
District 1
Kate Rosenbarger beat out four-term incumbent Chris Sturbaum and Denise Valkyrie for the seat. Rosenbarger ran an organized campaign, canvasing the District 1 neighborhoods couched in between the city's downtown and I-69. She stressed inclusivity and transparency, saying she would make herself regularly available to the constituency.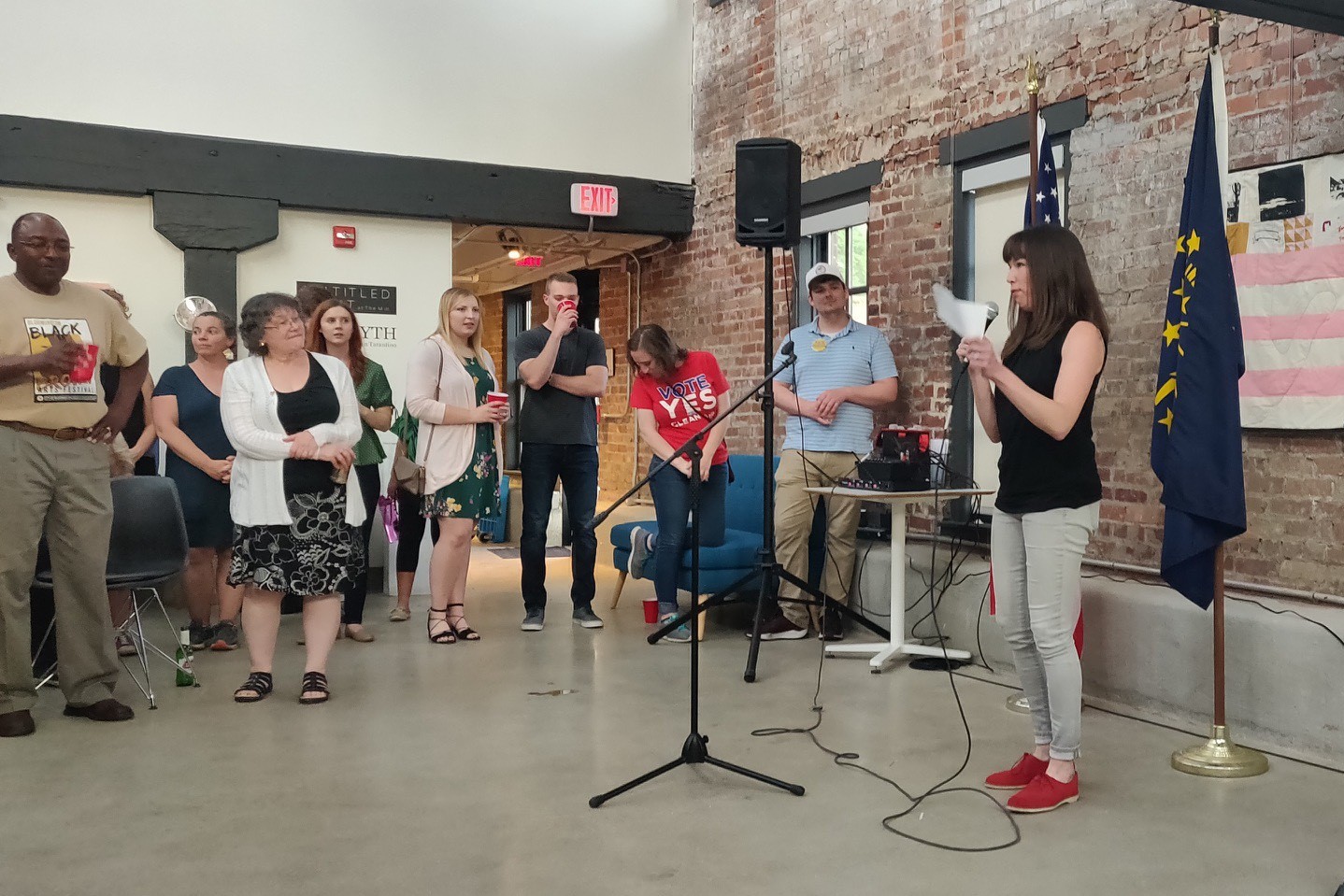 Sturbaum spent his years on the council pushing for historic preservation and emphasizing single family dwellings in the city's historic neighborhoods.
Denise Valkyrie told the Herald-Times that she was focused on the health care, keeping costs down and how to address the vacuum that will be left in the district when the hospital moves to the city's north side.
*Note: Denise Valkyrie is an employee of Indiana University Radio and Television Services, and is not affiliated with WTIU/WFIU News.
---
**Kate Rosenbarger 65.9%
Chris Sturbaum        28.1%
Denise Valkyrie         6%
---
District 2
Sue Sgambelluri edged out two-term incumbent Dorothy Granger and Daniel Bingham to win the District 2 seat. 
Sgambelluri told the Herald-Times that she wanted more robust affordable housing options for students. Daniel Bingham emphasized transparency and urgent action on climate change.
Sgambelluri will go up against Andrew Guenther in the fall. He is the only Republican currently running for a city council seat.
---
**Sue Sgambelluri     42.1%
Dorothy Granger        38.1%
Daniel Bingham         19.8%
---
District 3
Longtime Bloomington resident Ron Smith won the Democratic Primary for the District 3 seat. 
Smith was running against Jim Blickensdorf, who The Herald-Times reports dropped out of the race after it published a story detailing his involvement in the purchase of a Bedford strip club in 1998. The Herald-Times also reported Blickensdorf owed hundred of dollars in parking tickets. 
Allison Chopra currently holds the District 3 seat but is not running for reelection. 
---
**Ron Smith              73.7%
Jim Blickensdorf         26.3%
---
District 4
Council President Dave Rollo beat primary challenger Miah Michaelsen with 65 percent of the vote. Her campaign focused on protecting the vibrancy of Bloomington's downtown and neighborhoods, as well as increasing transparency. 
Rollo's served on council for 16 years. He recently voted in favor of building a new Fourth Street parking garage after repair estimates came in higher than anticipated. Rollo's pledged to protect the character of Bloomington's downtown through adopting a Unified Development Ordinance that include rules for proper scale and architecture.
---
**Dave Rollo            65.2%
Miah Michaelsen       34.8%
---
District 5
Isabel Piedmont-Smith held on to her District 5 seat by a wide margin. The victory over challenger Ryan Maloney marks her third term in representing District 5. Her time on the board has been spent fighting for more environmentally friendly policies and an a strong support for labor.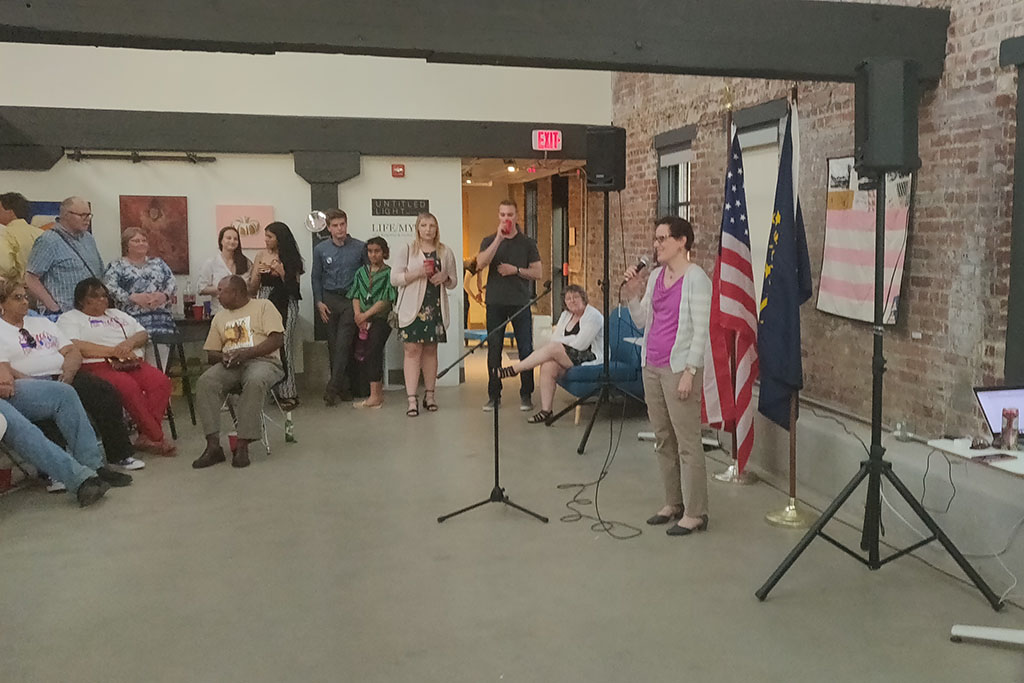 Challenger Ryan Maloney is an Indiana University student who told the Indiana Daily Student he thinks the student population should have a stronger voice in city government.
---
**Isabel Piedmont-Smith     81.4%
Ryan Maloney                     18.6%
---
District 6
Democrat Steve Volan ran unopposed in the primary for his fifth term on the city council. He's one of the council members who questioned the city's purchase of a controversial armored vehicle last year. 
At-Large
Incumbents Susan Sandberg and Jim Sims and first-time candidate Matt Flaherty beat primary opponents Jean Capler, Vauhxx Booker and incumbent Andy Ruff.
Flaherty says his goals are to make Bloomington a more sustainable and equitable place by prioritizing, "research and evidence-based decisions." 
"We are being affected, we are already seenig impacts and those are only going to get more and more severe, so we really need to step up," Flaherty says. 
Sandberg is running for her third term. She's focusing on increasing affordable housing and addressing elder wellness. 
"Sometimes I can influence, sometimes I can't," Sandberg says. "But I am very humbled in the fact that I don't make all the decisions alone. It is a group decision from nine council members who have done their due diligence and have worked hard to earn these seats."
Ruff was running for his sixth term on the council. He and Rollo both served on the city's deer task force and supported controversial controlled deer kills at Griffy Lake Nature Preserve. He says that was one decision that made him enemies on the council, but he has no regrets. 
Ruff says his work on the council made it hard to focus on campaigning for reelection. 
"Between parking garages, scooters, the UDO, the transportation plan and these initiatives forwarded by the administration, it's just been an extremely busy time for the council," Ruff says. 
Sims is running for his first full term on city council. The Democratic caucus selected him to replace retiring council member Tim Mayer in 2017. 
Sims says he is excited to move forward with the council and do what is best for Bloomington.
---
**Susan Sandberg               21.5%
**Jim Sims                          19.6%
**Matt Flaherty                    18.5%
Jean Capler                          16.8%
Andy Ruff                             16.8%
Vauhxx Booker                      6.7%
---
What Happens In November?
Only one Republican council candidate filed ahead of the primary. Andrew Guenther will face Democrat Sue Sgambelluri in the District 2 race in November. 
Republican and Libertarian parties can choose candidates through a caucus or convention by June 30. 
Independent or minor party candidates have until noon July 1 to file a petition with 522 valid signatures from registered residents to be on the November ballot.