The former Feast Restaurant on East Hillside in Bloomington will open under a new name and concept Tuesday.
But, the same chef is behind the project. 
Erika Yochum started Feast with her sister nine years ago. The restaurant was especially popular for weekend brunch, when a crowd would gather on the corner of Hillside and Henderson while waiting for tables. 
But, Yochum was ready for something different. Feast served its final brunch on Dec. 23 to make way for her new project, Oona. 
Many people have asked her the same question: why mess with a good thing?
"Yeah, I agree with you. It's a successful thing," she says. "But, as food is my art and you can't do the same art your whole life. You just want to try something new and do something that expresses where you are as a person."
For Yochum, that means focusing on seasonal, local ingredients. In addition to working with local farmers, she's partnering with other local businesses like Hopscotch Coffee and The Goat Conspiracy to bring different flavors to her menu. 
"We have a lot to offer in Indiana," Yochum says. "I feel like there's a lot of local farmers doing wonderful things and ranchers and roasters. And, I just want to be part of that food story. And, I feel like Oona can kind of be the hub that connects all of that together."
The menu will feature several smaller-portioned, shareable plates. Yochum says she plans to use the seaons as her compass when changing and developing the menu.
She also hopes Oona can help normalize wine drinking. 
"Most people just have a glass of wine with dinner, it's like this 'Oh it's dinner I guess I'll have a glass of wine.' But, we're trying to really pick our wines and make them really boutiquey and interesting, but affordable. So, you can have a glass of wine with lunch."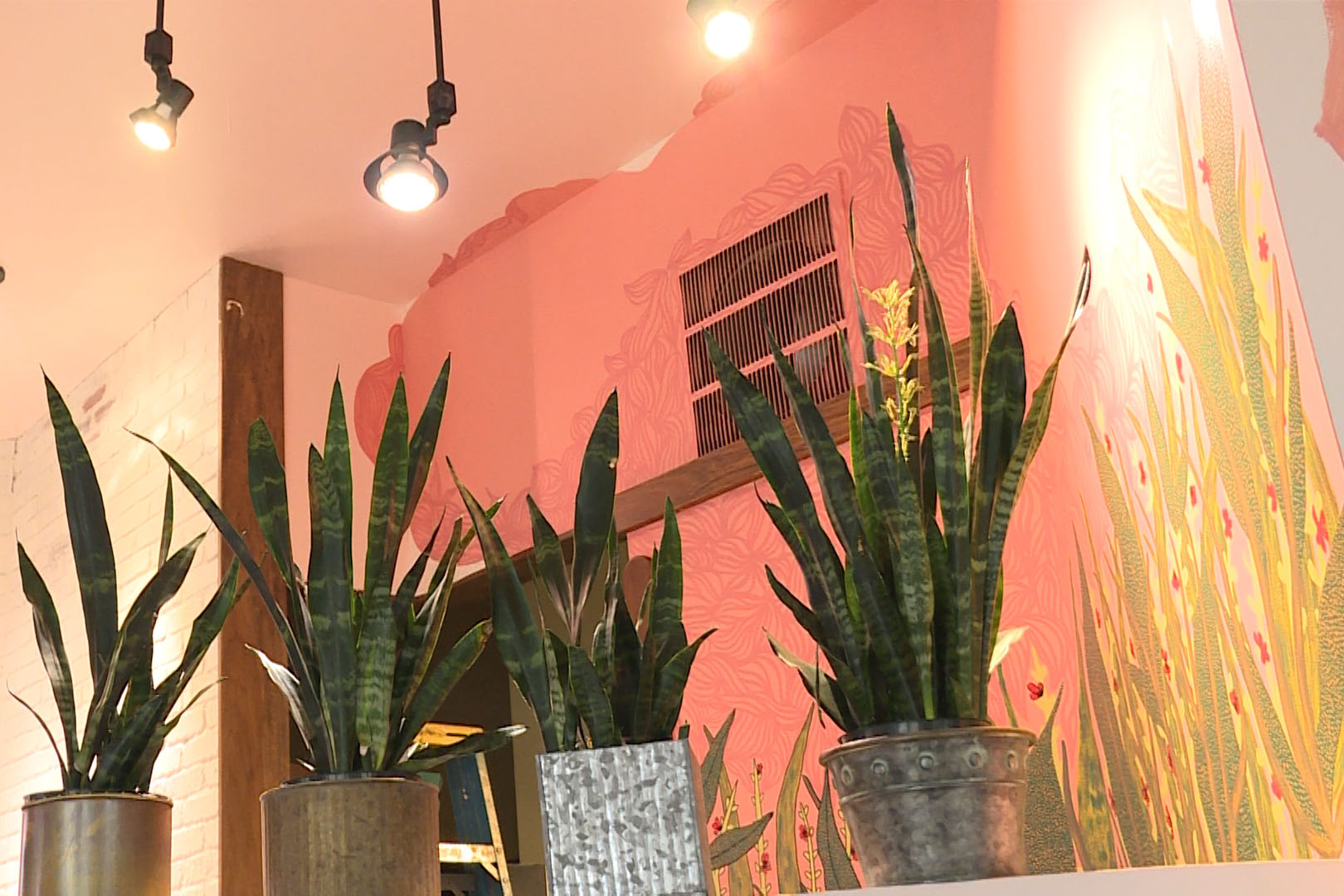 The menu isn't the only thing that's transformed. A bar now stands where the pastry case used to be. The red brick walls are painted white. And, there's a pale pink mural that climbs up one wall and touches the ceiling. The design inspiration came from a dream she had that sparked her idea for the project. 
"In my dream was the word 'Oona,'" Yochum says. "And, it was like a restaurant and in the restaurant there was really pale pink plates."
That dream is now a reality.
Oona opens Tuesday at 9 a.m. The restaurant will serve pastries and espresso from 9 a.m. to noon on weekdays, then transition to an all-day menu. There will be a special breakfast on Saturdays and brunch on Sundays. 
And, fans of Feast can still get a taste of their favorites at Feast Market & Cellar on W. Patterson Drive, which Yochum's sister runs. The restaurant recently started offering brunch from 9 a.m. to 4 p.m. on Saturdays and 9 a.m. to 2 p.m. on Sundays.