Monroe County's social distancing rating of A- last week was affected by Bloomington's large student population and a lag in data, according Spencer Hays, the director of the Indiana Statistical Consulting Center at IU.
Today the score is not as good.
"It looks like the number of cases reported is lagging about a day or two behind what the current date is," he says. "And so the grade assessment, which is based on travel, lags about four or five days behind."
Data company Unacast is providing U.S. states and counties with continually updated grades on their social distancing practices with its "Social Distancing Scoreboard."
Last Thursday, Monroe County scored an A-. Today's score is B-.
"That reflects the data being updated when the data from earlier in the week came in," Hays says. "So without having the numbers from last Monday and Tuesday, the most current data we had was over the weekend where travel was low, which resulted in a higher grade assessment of an A-. When the data was updated to reflect the patterns of travel early in the week, [through Wednesday, April 1] we saw that travel had increased early in the week and that caused the reduction from an A-."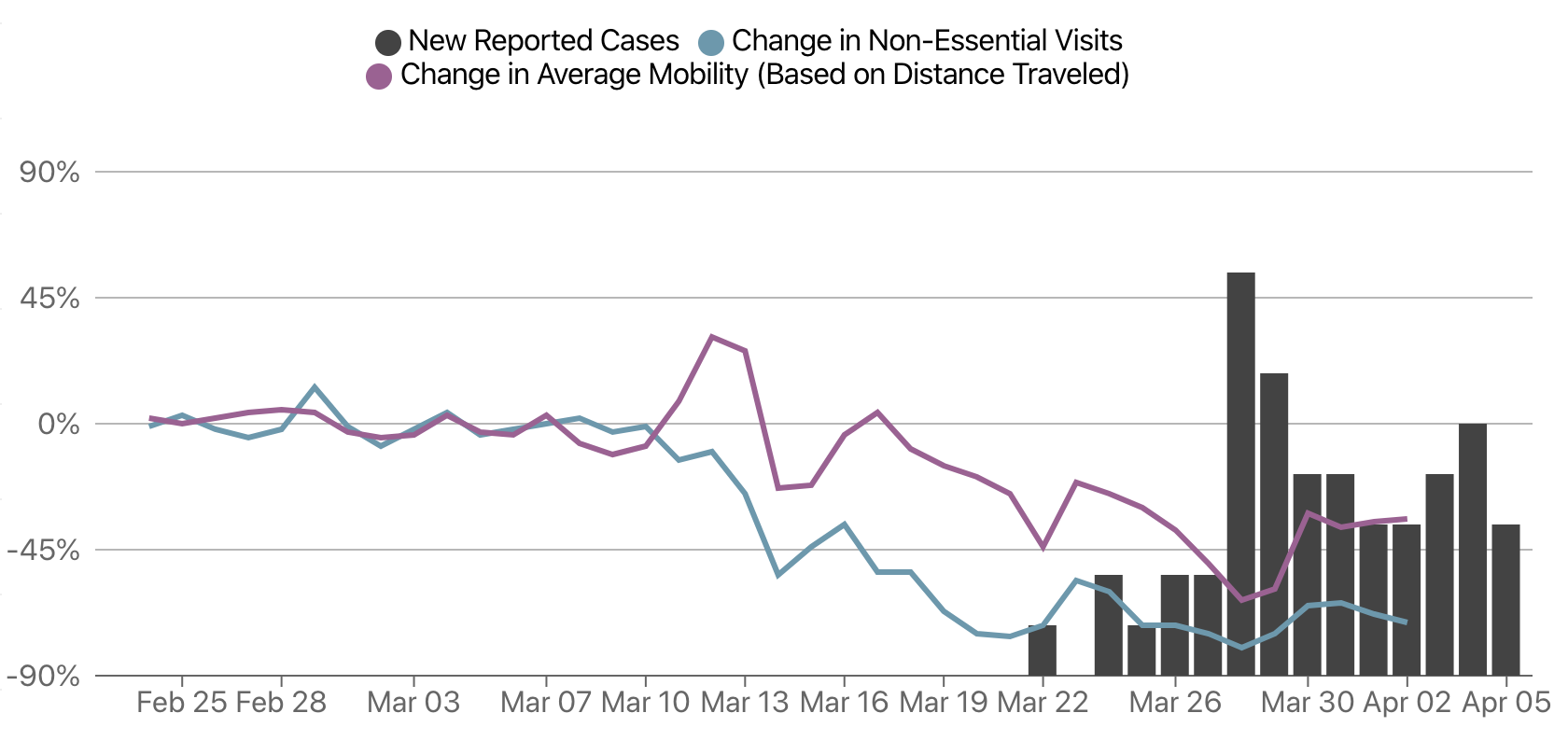 The data show decreases in travel over the weekends and greater travel early in the week. Hays says more information is needed to say why this is the case but guesses it could have something to do with being cooped up at home all weekend. Data for this past weekend has not been input yet.
"We see an uptick in travel due to increased errand running; essential workers are going to be working in higher rates during the workweek than over the weekend," he says. "So I think Mondays and Tuesdays could be an urge to get out and do more, even though we are supposed to be sheltering in place at this time."
Hays says Monroe County's data trends follow major announcements IU has made.
The charts show a large decrease in mobility following IU's announcement that the rest of the semester's classes would be online. With over 30,000 students sent home until fall, mobility in Monroe was bound to drop. IU also essentially shut its doors until next semester, meaning a majority of its employees aren't commuting for work.
The data show large spikes in both essential and non-essential activity on March 23, which Hays says makes sense, since that's when Gov. Eric Holcomb made his announcement of a statewide "stay-at-home" order, so people were out collecting supplies.
Hays says the lower grades affixed to more rural counties shouldn't be seen as an indictment of their social distancing practices, since they often have to travel farther to get the things many urbanites take for granted.
"We're going to see a lot of differences with rural communities, where it's going to require longer travel in order to obtain what's needed for us to safely and effectively socially isolate and socially distance," he says. "So I think it's expected to see more travel required in the more rural areas of the state of which there are quite a few."
Hays says he thinks Unacast's data is reliable and will be helpful for officials in the coming weeks.
For the latest news and resources about COVID-19, bookmark our Coronavirus In Indiana page here.