The resurgence of bald eagles in the U.S. is considered a major success story.
For decades the birds were on the Endangered Species List. In 2007, they were delisted, and since then their numbers have continued to grow.
New federal protections as well as declining levels of some chemicals in the environment have helped. But part of the credit also goes to people who help rehabilitate the birds if something happens to them, and then re-acclimate them to the wild.
An eagle hacking tower, nicknamed Friendship tower, sits on a highly secluded part of Lola and Rick Nicholson's property. Seventeen feet in the air, surrounded by trees and a large pond; not a bad view.
The couple constructed it last summer with the help of a number of volunteers. Duke Energy provided the transmission poles for the tower. 
It has two large wooden cages where eagles come to stay after spending time at a rehabilitation center.
"The raptor centers are starting to feel the impact of birds that are in trouble," Lola Nicholson says. "They used to have zero eagles, then last year they had seven in Brown County that had been injured or sick."
Nicholson is the animal control officer for the Lawrence County Sheriff's Department, and she's been an animal lover her entire life.   
The goal is to reintroduce the eagles to the wild over the course of a week or two. The tower allows the birds to get away from people and soak up the nature.
Nicholson says the tower is the only one currently operating in the state.
A handful of cameras, operating on solar power, surround the tower. They allow the Nicholsons to monitor the birds 24-7, so they can keep them safe.
"They let us know when they're ready. They get very active, they're very flighty," she says. "And when they get to that point and we know they're good and healthy and they're filled up with food, we open the door and let them leave on their own."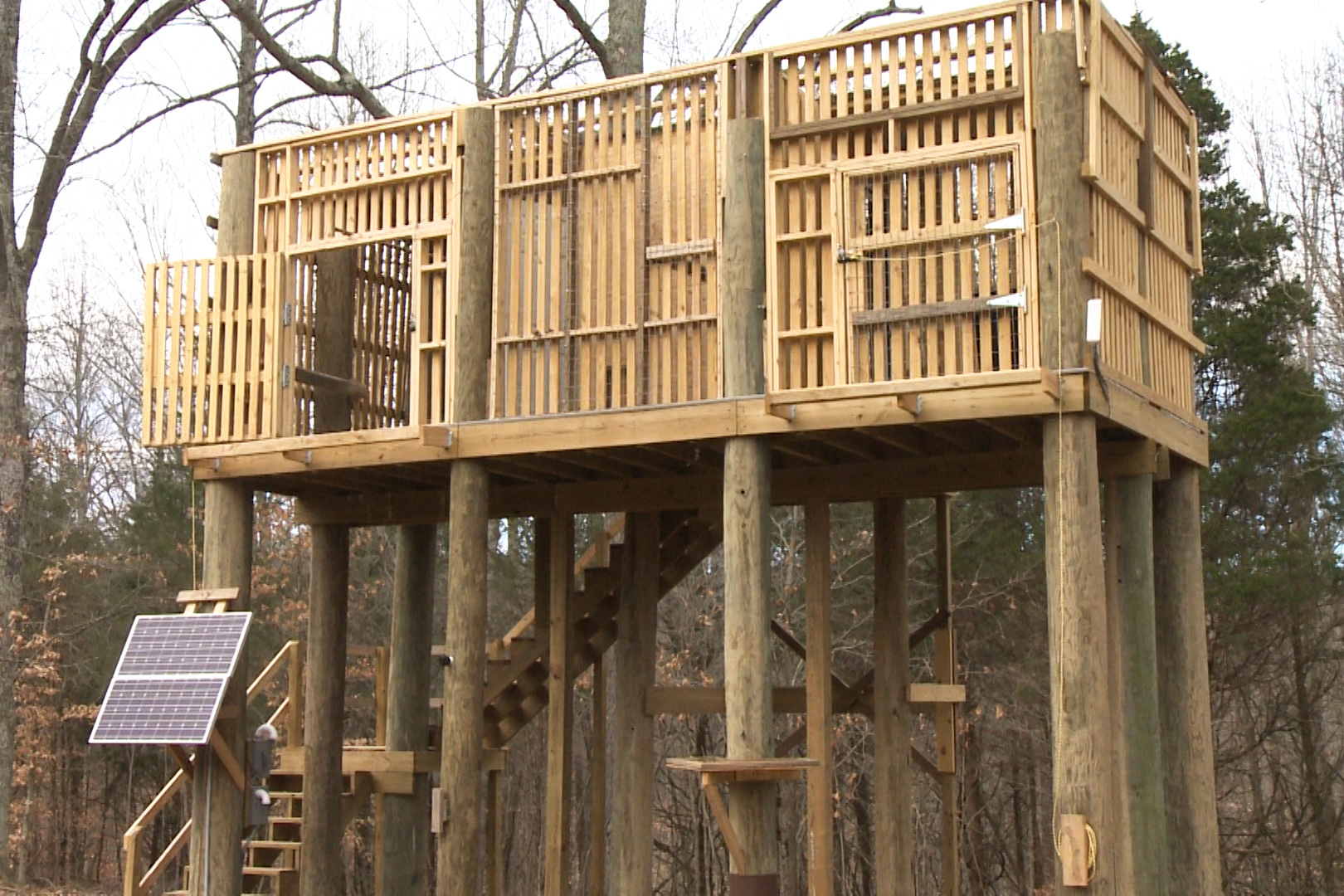 Nicholson says people cause the majority of problems eagles run into, so she feels an obligation to help as much as possible. So far, they've released five eagles and some owls from the tower.
"It makes me cry every time," she says. "People have gotten to the point where they laugh at me because it does, it's such a joyful feeling."
Nicholson says they put out food on perch poles, so the eagles know they have a place to come back to if they still need a little help.
The Nicholsons hope to allow the public to watch the eagles through some kind of video feed in the future.