As part of our Inquire Indiana series, we want to hear your questions about the Hoosier state – then we'll work to find the answers. And, we got a couple of questions about security during the upcoming election.
Gregory Carmack from Culver wants to know if Hoosiers have the right to ask for a paper ballot. He says he's concerned about election hacking.
And, Lucy from Bloomington asked, "Which Indiana counties do NOT have paper ballots?"
We tracked down the answers. 
Which Indiana Counties/Election Districts Do Not Have Paper Ballots?
Whether Hoosiers have access to paper ballots when they vote depends on where they live.
About two-thirds of Indiana's counties only offer electronic voting. Of those, most have paper backups for the system, but 20 counties don't. 
The remaining counties use optical scan ballots, or paper ballots, which voters fill out and machines tally.
Monroe County is among those that offers paper ballots. 
Even before early voting started this week, election officials there fielded a lot of calls from people with concerns.
"I've had a number of phone calls," says Election Supervisor Karen Wheeler. "And, people really want to know their ballot is secure. And, I can safely tell you that Monroe County is doing everything possible to make sure the integrity of the ballot is being taken very seriously." 
There are several steps the county takes to safeguard its election process. Those who vote early won't have their ballots counted until Election Day. Until then, they're kept behind a door that's secured with two combination locks. A Republican and a Democrat have the code to get inside. 
"Anytime we handle a ballot in this office, it's always by a bipartisan team," Wheeler says. "No one takes a ballot and even walks across the room without having a person from another party with them."
When people vote on Nov. 6, they'll insert their ballots into a machine that will tabulate the results. And, that information is stored several ways.
"We actually have three backups," says Bob White, an IT consultant for Monroe County. "The data goes onto the data card, it's housed in the machine until we clear it after the election, and then we also have the ballots we can go back to."
That leads to other concerns for some people about hacking. But, the voting machines aren't connected to the internet. And, the data cards would show evidence of interference if someone tried to manipulate them.
Do We Have The Right To Ask For a Paper Ballot This Election?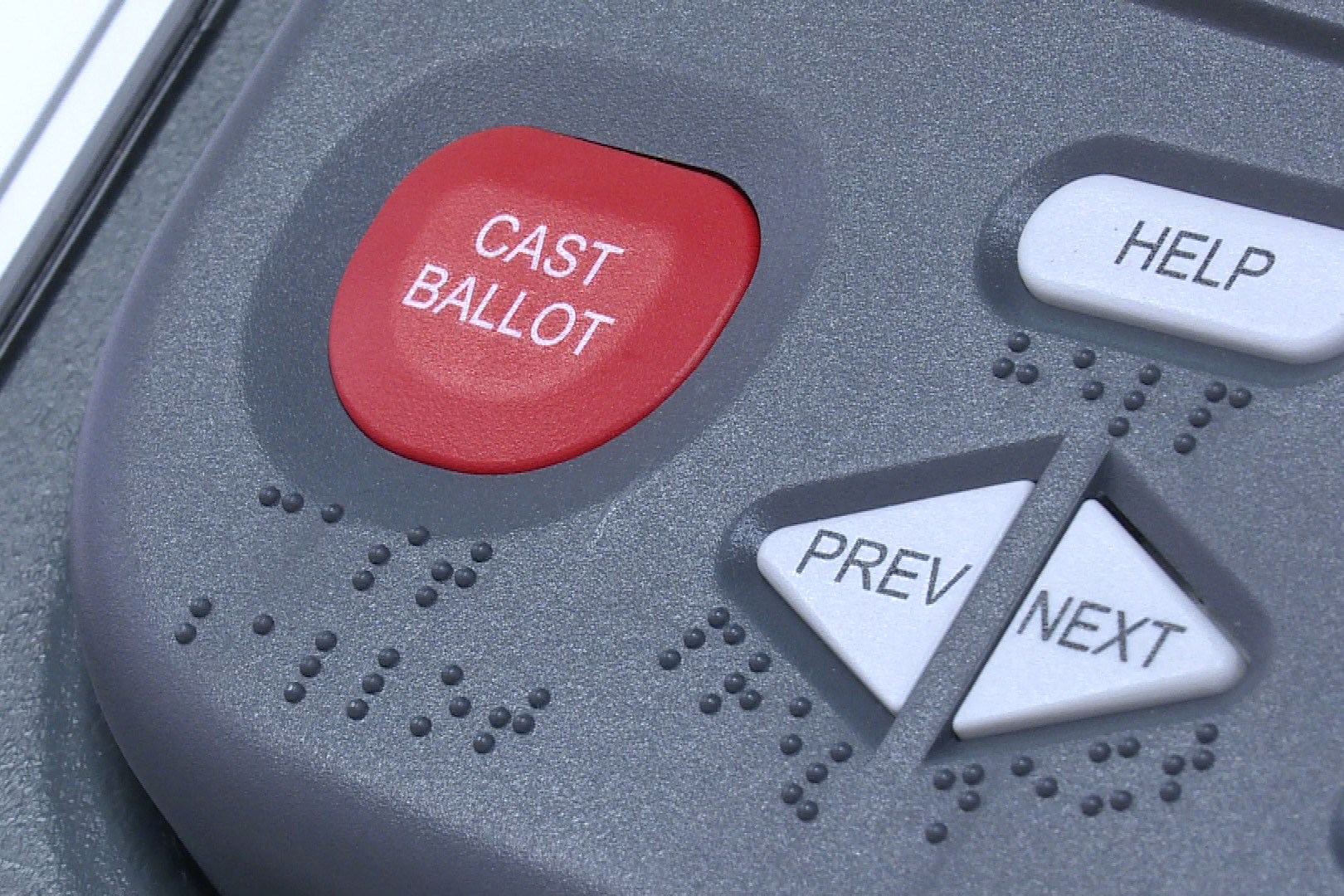 The National Academies of Science, Engineering and Medicine recently released a report that recommends all states use paper ballot machines by 2020, because that ensures there's always a paper trail.
Indiana Secretary of State Connie Lawson says it's something her office is working on.
"So, we'll be talking to our general assembly and our counties about making sure that Indiana can provide that," Lawson says. "But, it won't be in 2018. But, we feel very confident about our machines."
In the meantime, only Hoosiers living in counties that use paper ballots can vote that way. Lawson says Hoosiers can't request paper ballots if their county uses electronic voting machines.
"I think it's important for people to remember we've had more problems reading paper ballots and the way the way the voter intended to vote than we've ever had on any machine that is here in the State of Indiana," she says.  
Hoosiers can check their voting status by visiting IndianaVoters.com.
In addition to having information about whether a person is registered to vote, the website also lists polling locations and which candidates are on the ballot.