At 68 years old, Michael Vollmer looks like he has the physique to run a half marathon.
Vollmer has run in all 42 Indy Mini-Marathons, and he's about to make it 43.
As he pounds the pavement training for the 13.1 mile race, he's been hearing from a lot of people asking him why he continues to do it.
"'How have you been able to do 42 mini marathons in a row?' And my answer that came up years ago is one at a time," he says.
Vollmer's living room is a treasure trove of keep sakes from Mini-Marathons of the past.
But it was his position on the Indianapolis City-County Council that motivated him to run in his very first race.
"Like any politician trying to get some notoriety, I said, well if they are going to have this race, through the 17th district, I should be a part of it," Vollmer says.
He thought about quitting after the first couple years, because the mini used to be held the same weekend as the Indy 500 and the temperature in late May can get really hot.
"It took me three hours over the first two years, mostly because I hadn't run in preparation for it."
 Vollmer had some other near misses due to nagging injuries.
"One was an Achilles that bothered me one year, and another was a back issue," he says. 
But Vollmer's most memorable and emotional marathon was the last race his dad got to watch. Weakened by cancer, he insisted on seeing his son run in person.
"He had my mom wheel him down two blocks to see me go by, and I stopped for a brief time."
He's seen the race evolve over the years. He recalls a time when Indianapolis Motor Speeddway officials didn't want anyone running on the track or eating snacks on it.
"The reason they only had water is because it was two days before the race, and the people who worked at the track, the famous yellow shirts, they didn't want to mess with the track before their big and only event."
Vollmer is one of 6 people left who have run in all 42 Indy Mini-Marathons, a feat that stuns Indy 500 festival CEO Bob Bryant.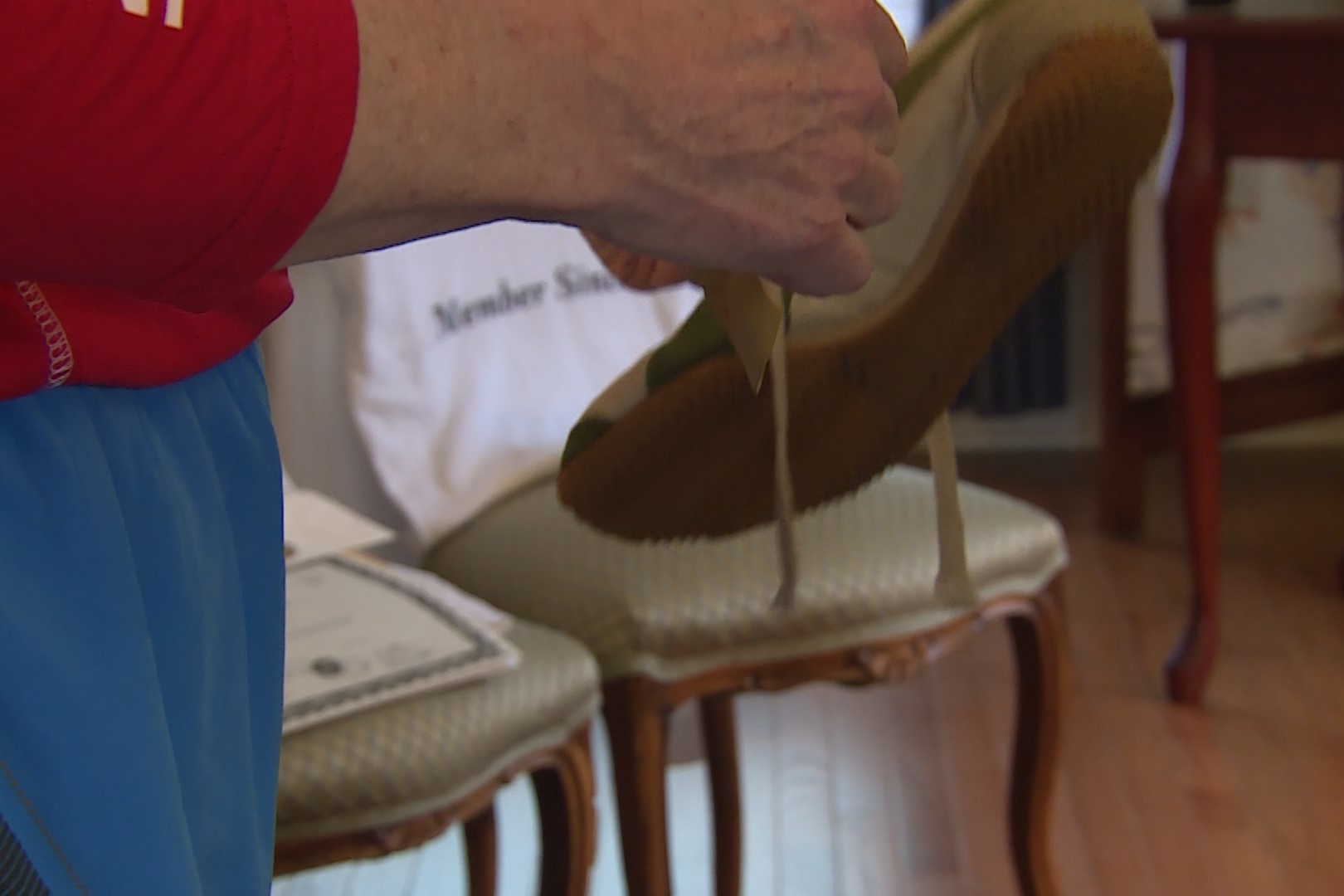 "Anybody who would do anything for 42 straight years, soon to be 43, how do you orchestrate your life around 43 straight years you're available that same Saturday in May?" Bryant says.
Sitting among stacks of race shirts at the festival's downtown office, Bryant says people like Vollmer are helping the Mini-Marathon outlast other races that have come and gone over the years.
"In the landscape of significant runs, we're one of the largest, and have been one of the largest in the world for the half marathon distance," he says. "85 percent of the runners are from Indiana."
But Vollmer isn't sure if he will be able to outlast the other five fellow runners he shares his streak with.  Some of them are in their mid-80's.
"If somebody asks me will I be the last one, if I have to bet my own money I'd say probably no," Vollmer says.
Saturday could be the final lap on an incredible four-decade run, but Vollmer still hopes he won't have to hang up his running shoes any day soon.
The running tradition is something Vollmer will share this year with more than 35,000 other runners. Since the race started, it has swelled to one of the largest half marathons in the country.