The parking lot at Indiana University's Memorial Stadium isn't supposed to be empty this time of year. There's no tailgating or smoke wafting from grills. No fans in red and white throwing footballs waiting for kick-off. Traditions like 'The Walk' will have to wait a few more weeks.
Instead COVID-19 testing signs point to IU's mitigation site inside the stadium. But on a weekday afternoon, a familiar game day sound might get your attention.
The Big Ten postponed football to October due to the pandemic, but a big part of Indiana University's game day isn't sitting on the sidelines. Indiana's marching band hasn't stopped, but is adapting to the new normal.
The IU Marching Hundred is still practicing in its usual outdoor lot providing a little relief to this year's somber reality.
IU Senior Drum Major Jacob Kessler says being around other band members is a big motivator. He said many haven't been able to play their instruments with other people since March.
"It's completely different to be surrounded by your best friends or, or new people, the freshmen, the rookies that you've never been able to talk to before and just socialize and do something you love," Kessler said.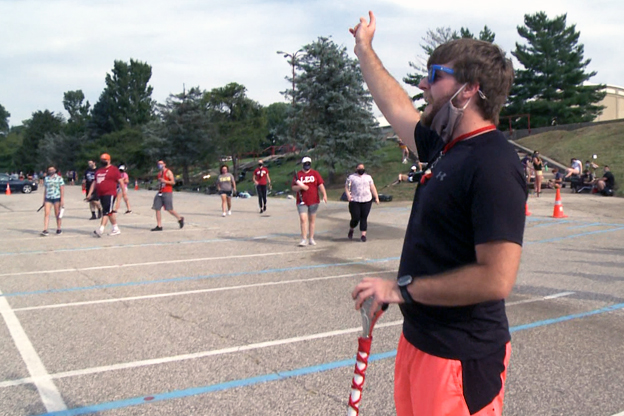 The staff spent the summer researching the science behind aerosols and Kessler says the band feels safe practicing outside. There's an online version of rehearsals too, but so far no one has opted out from meeting in person.
Eric Smedley is in his first year directing the band.
"We go around campus, there's not a whole lot going on. And we thought, well, we can help with that," Smedley said. "We can, at least, you know, have something visual and have some music, you know, we're outside, which is perfect."
The Marching Hundred is a no contact sport of sorts, even thought it's not part of the athletic department. Students get tested just like everyone else on campus.
Band members wear masks with small slits for instrument mouth pieces.
"And there's this kind of an inherent discipline to it, right? I mean, they know they have to stand in this spot, and they don't move around, it's easier to control that amount of people in a marching band setting," Smedley said.
And the instruments have masks too - IU adorned bell covers are new this year.
Smedley has also had to figure out how to conduct rehearsals with 275 band members when the county's health department is limiting outdoor gathering sizes to 150.
"We're just never all doing something at the same time, the most will be that 150 and even then I've got them spread out six and a half feet, side to side and double that front to back," Smedley said.
Associate Instructor Daniel Johnson said the biggest change is showtime. The band won't march and play at the same time. That's to keep each other's aerosol paths from crossing. The music and marching will be recorded separately and edited together for the stadium big screen – and some pieces will be shared on social media.
"We're going to record pregame like you would see at a football game and we're also going to record three halftime shows. And also we're going to do a couple of concerts around campus," Johnson said. "So we'll split the band up into smaller bands and kind of set up at different points in campus and play."
It's mixed emotions for band members who are trying to meet their mental health and academic needs.
Senior year mellophone staff leader Lisa Cary said she feels safe and for someone who is training to be a high school band director, the pandemic has created quite a learning experience.
"I think it's this year shifting the focus to know it's about community health, it's about preserving our health, things of that nature. I think that's that's the biggest shift for me," Cary said.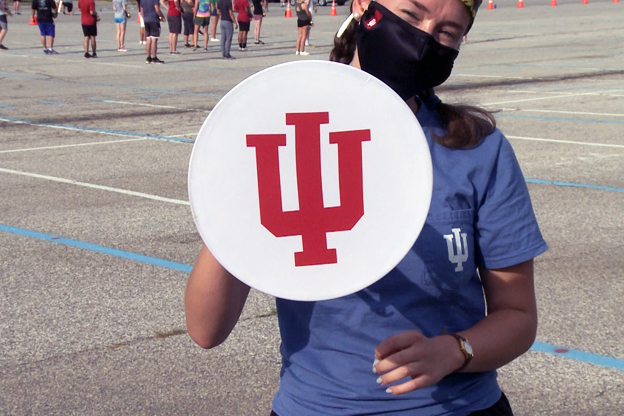 Johnson said it's a change for the staff too.
"It's been different," he said. "But, but the the great thing about this is it's a new challenge. You know, it's a new challenge. One that I don't think anyone as a teacher could have foreseen in their teaching career."
The band is working on the pregame show and started practicing music for their first halftime show this week "Ain't No Mountain High Enough," "I'm Still Standin," and "We Found Love."
They plan to perform through November.
For the latest news and resources about COVID-19, bookmark our Coronavirus In Indiana page here.