Gov. Eric Holcomb is considering allowing some workplaces and businesses to reopen even though confirmed cases of COVID-19 continue to rise. 
That's because there's evidence that Indiana's healthcare system is far from overwhelmed.
The number of people with COVID-19 in hospital ICUs has dropped from over 900 at the beginning of April to less than 600 today. Ventilator use is also down to under 300 cases now. It was over 500 at the beginning of the month. 
Those numbers are from data compiled by the Regenstrief Institute — a nonprofit research organization focusing on health services. It's compiling data in partnership with the State Department of Health and other agencies.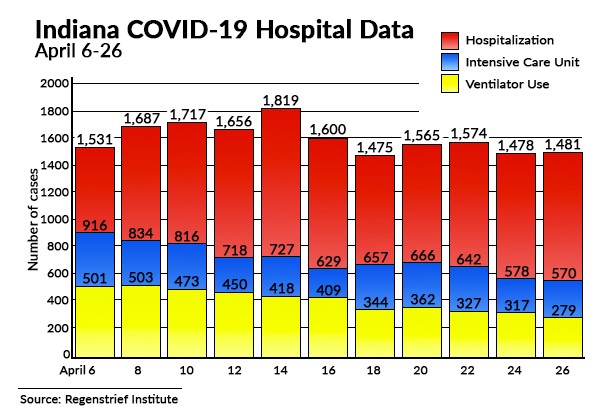 Brian Dixon, the institute's director of public health informatics, says hospitalizations in central Indiana and the Indianapolis metro area have been steadily falling for the past few weeks despite the rise in total cases. 
"Even though cases are going up, those cases may be more mild or asymptomatic people who are not coming into the hospital for treatment," Dixon says. "And so that allows us then, for example, to make recommendations to hospitals that they can proceed with elective procedures."
Gov. Holcomb lifted a ban on elective procedures earlier this month. The governor says he'll announce new changes to the stay-at-home order on Friday. 
A dashboard of data compiled by the Regenstrief Institute can be found at its website. 
For the latest news and resources about COVID-19, bookmark our Coronavirus In Indiana page here.