Audience members continue to be gravely concerned about COVID-19, sending in questions about the state's efforts to combat the virus. One listener recently asked our City Limits Series, "Is the virus showing a consistently downward trend in Indiana? If not, why not? If not, what must we do to achieve that?"
While daily positivity rates aren't as high as they were in April – when one day they reached nearly 32 percent– that doesn't mark significant progress for Indiana in fighting the spread of COVID-19.
One health data expert says comparing July and August's daily positivity rates to April's doesn't paint an accurate picture of Indiana's progress. That's because Indiana has dramatically increased its testing capabilities since then.
Brian Dixon is the director of public health informatics at the Regenstrief Institute in Indianapolis. 
"Back in April, only people who were sick and in the hospital were getting tested," he says. "We were just starting to build our test capacity. Positivity back then was so high because those people were sick and in the hospitals, and were more likely to have COVID-19." 
He says the most important trends to follow are daily average positivity rates, actual numbers of cases, and seven-day average positivity rates.
It is most telling to compare positivity rates from this week to last week, or one day to the next, he says.
From the last week of June to mid-July Indiana's positivity rates began to creep up.
"We have not seen a consistent downward trend in COVID cases in Indiana," Dixon says. "In fact, in July what we saw was an increase in cases, starting from the beginning of the month all the way through until the end of the month."
Towards the end of June and beginning of July, Indiana's seven-day average positivity rate sat between 4 and 6 percent, according to the Johns Hopkins Coronavirus Resource Center. By mid-July to mid-August, the seven-day average reached between 7 to 10 percent.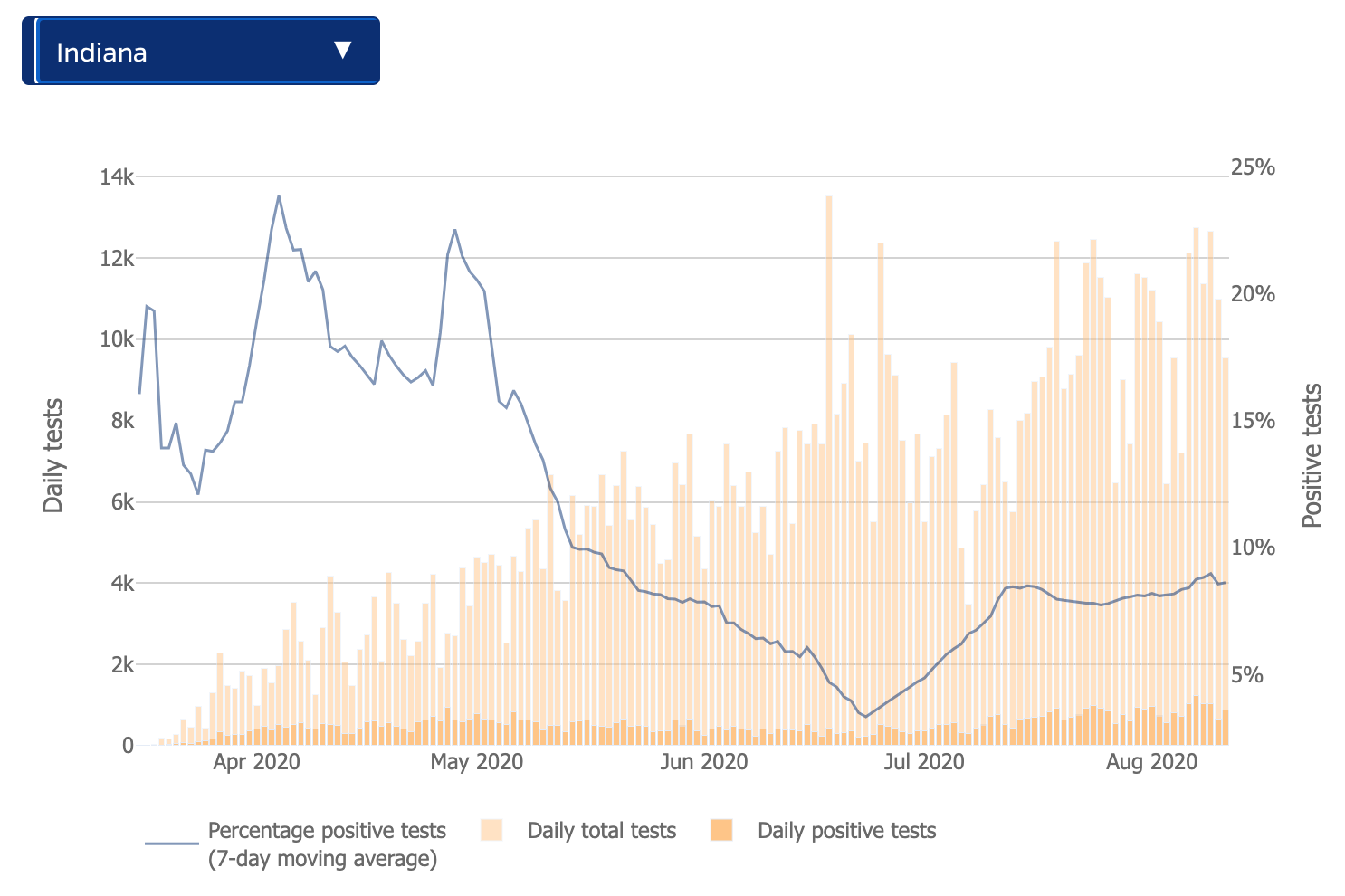 Dixon says he feels cautiously optimistic about Indiana's progress moving forward, as rate increases seemed to stabilize towards the end of July and beginning of August.
But, it's too early to tell if rates will remain that way or increase, as it can take test results anywhere from two days to two weeks to come back and count toward the state's data. 
"Our numbers are often a few days behind. So, we really won't know the full picture for this week until we get to the weekend."
He says July and August's increases can be attributed to relaxing stay-at-home orders. Indiana moved to Stage 4 of Governor Eric Holcomb's five-stage plan to reopen the state on June 12.
Along with relxing stay-at-home orders, Dixon says many Hoosiers went on vaction out of state in July, and could have brought the virus back with them.
Holcomb had planned to move Indiana to stage 5 and have the state completely reopened by July 5, but has pushed that back to August 27th at the earliest.
Though Indiana has loosened up from its March stay-at-home order, the governor implemented a mask mandate in July. 
The mask ordinance is a way of increasing preventative measures, while trying to avoid another state shutdown, Dixon says.
Dr. Tom Hrisomalos is an infectious disease expert at IU Health Bloomington Hospital. He says wearing a mask and following social distancing guidelines is key to preventing further spread.
"It all comes back to the common things that we know work. Those are things like wearing a mask, social distancing, and avoiding large gatherings. If we can accomplish those things, then we have a chance to be successful."
Both Hrisomalos and Dixon say consistency is key, and for these measures to work, everybody has to comply. 
Dixon says it's too early to tell if the state's mask mandate is having an effect, and we should be able to tell in the next few weeks.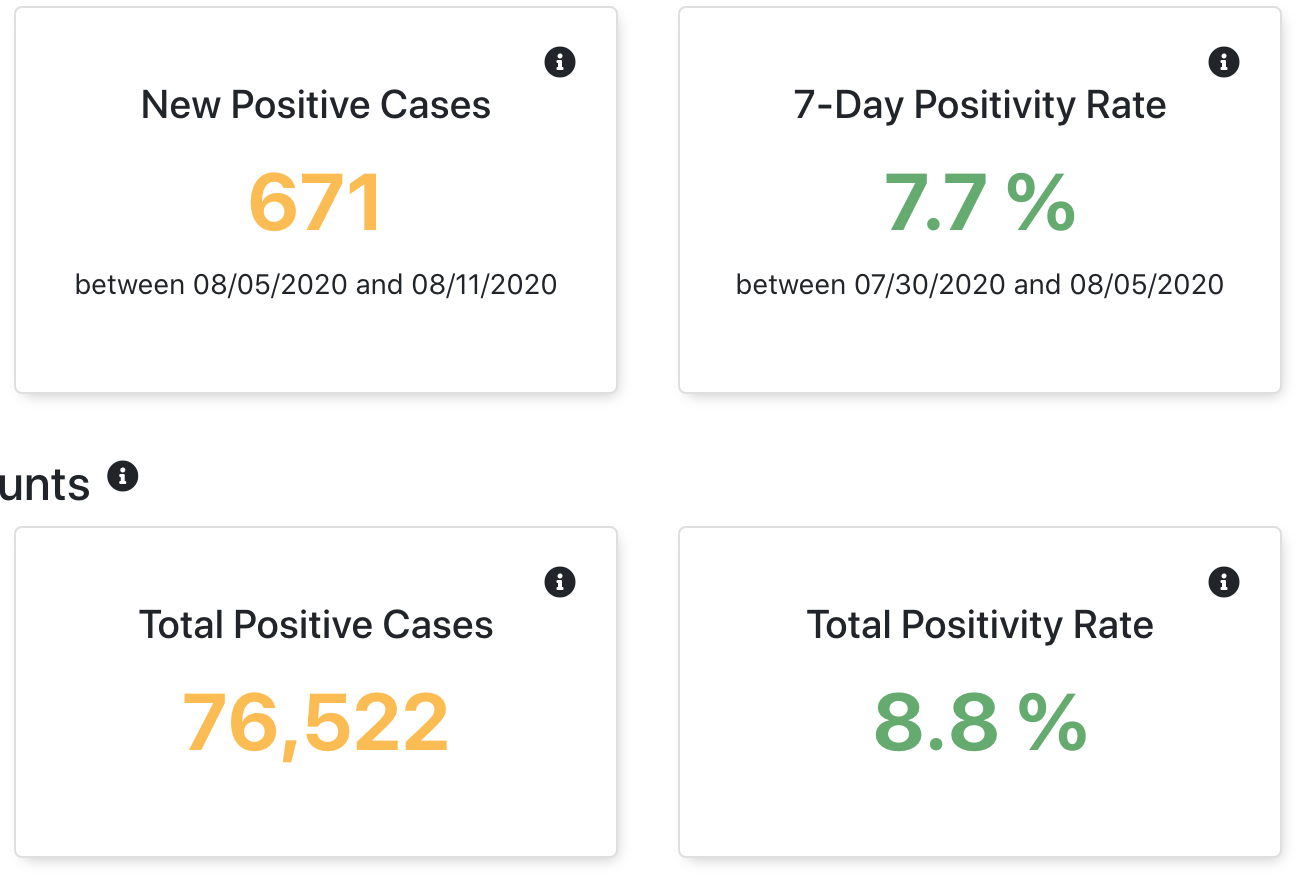 "Many of the more recent policies that were put in place in July have not had a full chance to work yet," he says. "It can take several weeks before we see those effects." 
Indicators to look for that Indiana should remain in its current stage 4.5 or even scale back, would be if hospitalization rates continue to go up in the next couple of weeks, or if new case numbers were doubling every couple days. 
On Saturday, August 8, the ISDH reported 1,036 new positive cases. On Sunday, the state reported 1,048 new positive cases. Monday that number was 673.
Dixon says the World Health Organization recommends that positivity rates be under 5 percent consistently before states consider reopening further.
According to state data, the seven-day positivity rate between July 28 and August 3 was 7.5 percent.
For the latest news and resources about COVID-19, bookmark our Coronavirus In Indiana page here.