Two Saturdays ago I woke up with a fever, sore throat and dry cough. 
As a journalist almost exclusively covering the coronavirus outbreak the last nine weeks, I knew what those symptoms could mean. I also knew what I had to do before returning to work: Get tested for COVID-19. 
On the day my results came back, the State Department of Health reported that a total of 165,448 Hoosiers had received tests. Here's what it took to be one of them. 
SATURDAY
First, you have to get sick. And I did. By Saturday evening I could check multiple boxes: Dry cough, an ever-increasing fever, chills, muscle pain, and one seriously sore throat. I texted our news director to cancel an interview the next day — of a pastor whose church was reopening. I felt relieved my symptoms hit me before I'd gone to the Sunday service. 
Before many testing sites had opened you needed to contact your own healthcare provider to get a COVID-19 test. I moved to Bloomington only a few months ago to join the news team here. And I didn't manage to find a doctor before practices started shutting along with other businesses. But I thought I knew what to do thanks to guidance from local health officials we'd been interviewing: If you've got COVID symptoms and don't have a doctor — no problem. There's a free screening app for that, from IU Health. 
I'm young and in decent health. I did not expect my case to be treated as a medical emergency. Plus, the familiar pain in my tonsils made me think first of strep throat, something I seem to get every year. What I really was after was antibiotics. But I needed to find a doctor first. And if you're showing symptoms shared between COVID-19 and other illnesses like strep, you should not walk in anywhere. You are first a potential COVID-19 case. 
"We would advise that you be quarantined for seven days," an IU Health nurse told me, suggesting I find a doctor to order a COVID-19 test. "If they feel like it's warranted then they can order the test and what they'll do is they'll have you call back through, and then we can schedule the appointment with you to get tested." 
For people like me without a primary provider, IU Health has a hotline for its insurance members. The nurse said someone there would connect me to a doctor. I gave IU Health a call that night. But the person who answered said they probably couldn't get me to a general practitioner until after the weekend. So, I went to bed, waking up every couple of hours as my temperature rose beyond 102 degrees. That's where it leveled off for the next few days until I finally reached a doctor through another virtual appointment. 
TUESDAY
"I did an online screening with a nurse a couple days ago because I've been having a pretty high fever and body aches and this sort of stuff," I told an IU Health doctor, via the same app. "They told me to talk to a doctor about getting a COVID-19 test."
Despite what I took away from the first screening, it turns out IU Health doctors reached via the app also can't write orders for COVID-19 tests. I had to find a general practitioner from outside the screening system if I wanted an official order.
"Through our service here we can recommend you get it done but we don't have an actual order form to give you to get an actual test done. That said, a lot of testing sites now do not require an order," the doctor explained. "All you need to do is roll up in your car or show up on foot to wherever and just give them your symptoms and they can get the test done."
Indeed, I'd been reporting the same information for radio and TV broadcasts: COVID-19 testing sites are opening all over the place — including several in Bloomington. And not all of them require you to obtain an official order from a doctor. Only days earlier, we published a map showing testing sites across Indiana including three in Monroe County: IU Health Bloomington Hospital, Monroe Hospital, and Summit Urology. 
And each one of them had some catch that made me ineligible. 
At Bloomington Hospital, I needed a doctor's note that I had been unsuccessful in getting. Monroe Hospital does not require an official order. But you must be a healthcare or essential worker, and I wasn't sure if that included me. At Summit Urology, walk-ins are welcome but only if they have an upcoming surgical procedure. I didn't. 
Other testing sites in the Bloomington area that seemed like possibilities fell through. 
"If you are calling regarding COVID-19 testing, please listen to this message in its entirety," one doctor's phone prompt said. "Due to overwhelming demand, I am only providing COVID-19 testing patients who are already established in my practice."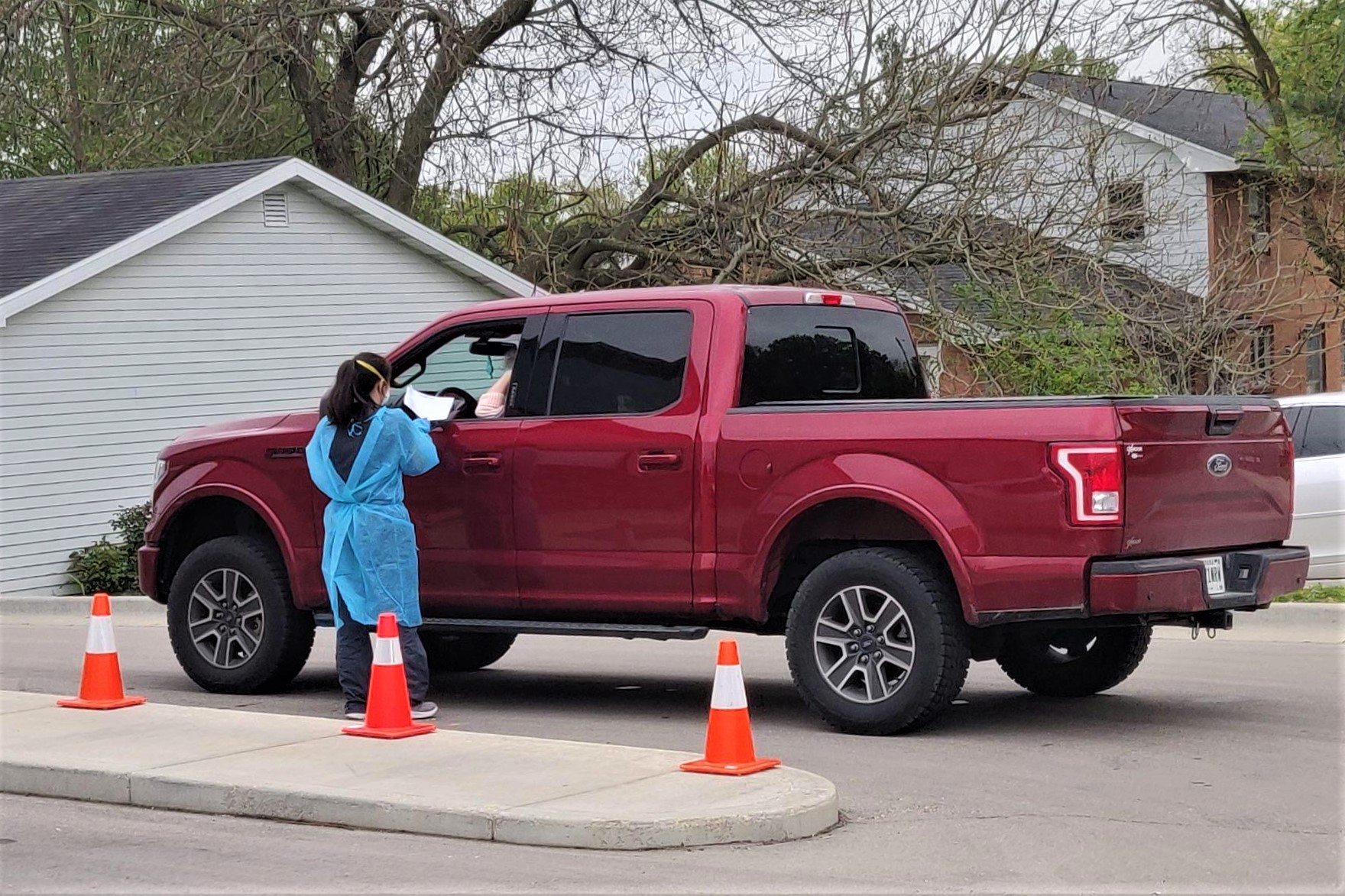 WEDNESDAY
After five days in my apartment waiting to get better, I started to wonder what I should do once the seven-day quarantine ended. I was anxious to get back to work, feeling guilty that my colleagues were covering for me while I sat in bed. But this is not the time to put other journalists – or anyone else – at risk.
In addition, it felt deeply concerning that the guidance I had been working overtime to relay to the public was all but useless when I tried to follow it myself. 
On Wednesday night, I finally got in my car and headed 30 minutes south toward Bedford. I'd heard an urgent care clinic was offering COVID-19 testing to anyone showing symptoms. In retrospect I'm not sure how safe it was to drive. But I also did not know how else to find out if it was safe for others if I left my apartment or visited our newsroom after the seven days. I barely made it before closing time and waited outside. A clinician inside helped me undergo a screening procedure in a video call from my car. After answering a series of questions, the screener suspected COVID-19 and suggested I get tested.
Soon after, a nurse wearing protective gear approached my car. I rolled down the window. "So, it's a nasal swab. It goes up both sides of your nose, OK?" she explained before sticking a thin swab into both nostrils. "I know, it's terrible. I'm so sorry."
It's an unpleasant sensation, but not especially painful. And it's quick. 
Right before the final screening ended, I asked if it was possible to also get a throat culture. The test came back in minutes: Positive for the bacteria that causes strep throat. The same thing it always is with me, plus a lot more drama confirming it this time. I left with a prescription for the antibiotics I suspected I needed nearly a week before. 
FRIDAY
Per IU Health's instructions, I continued quarantining for the rest of the week until the COVID-19 test came back six days after I got sick. It was negative. 
Finally on antibiotics, I am back to work. 
For the latest news and resources about COVID-19, bookmark our Coronavirus In Indiana page here.