Indiana's longest-serving U.S. Senator was known globally for his political accomplishments, but those who were close with Richard Lugar say his best quality was his character. 
Lugar died at a Virginia hospital Sunday, where he was undergoing treatment for a rare neurological disorder called chronic inflammatory demylinating polyneuropathy. He was 87. 
Lugar spent nearly half-a-century working in politics.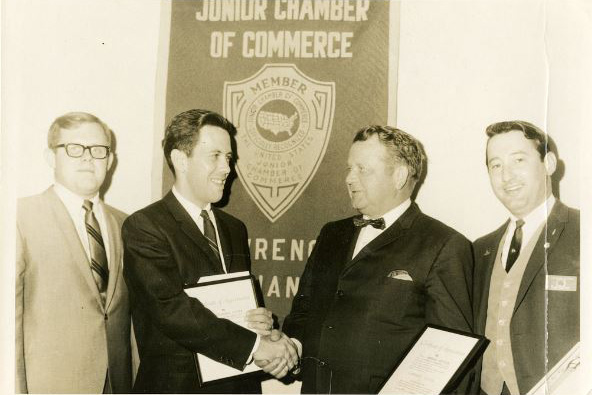 Lugar's Political Career Started In Hometown
Lugar's political career started in the very city he was born. He served on the Indianapolis Board of School Commissioners in the 1960s, playing a crucial role in attempting to desegregate local schools and make sure no students went hungry. 
"He went on the school board and brought the school lunch program to the Indianapolis Public School system," says Jim Morris, a longtime friend of Lugar. "Nonsensical that we wouldn't have our students who were poor and needed that nutrition not participating."
Lugar's work on the school board prepared him to take on a much larger role as Indianapolis mayor. He served for two terms and approached the job in a way no one had before. 
"He had a very unusual sense to see the opportunity of being mayor in its largest context," Morris says. "You can be mayor and be manager of government, or you can be the leader of a community."
Lugar helped push forward the consolidation of Indianapolis and Marion County government, to form what's known as Unigov. And, he spoke about the importance of great cities having great universities. That vision became reality when IUPUI opened its downtown campus in 1969. 
"Neither Dick himself nor any of us here knew how many lives he impacted or how deeply," says Indianapolis City-County Council President Vop Osili."There is no formula to calculate all those who went into public service because of his inspiration. Or the thousands of students who attended IUPUI, built in no small part on his vision. The tens of thousands of Indianapolis school children who benefited from his commitment to school lunch programs."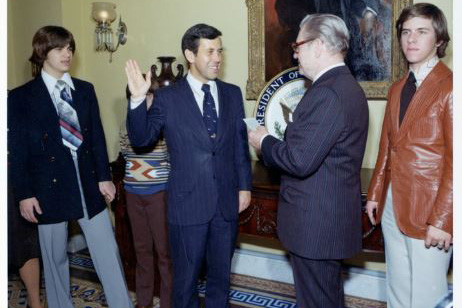 Indiana's Longest-Serving Senator
Lugar's list of accomplishments grew exponentially when he was elected to the U.S. Senate in 1976. It was the first of what would become six terms, making Lugar the longest-serving Senator in Indiana history. 
He was known for his sharp intellect and willingness to listen to others, even when he didn't agree with their views. Many credit Lugar's success in Washington to his bipartisan approach when it came to addressing world issues. 
"He was a Republican, of course, but people like Obama, and Nunn, and others in Washington had a great deal of respect for him because he didn't vote straight Republican," says Gene Sease, Lugar's longtime friend and former president of the University of Indianapolis. "He would take any issue and study it carefully, come out with what was good judgement."
Lugar's most well-known bipartisan effort is one that would change the world forever. He worked with Democratic Senator Sam Nunn to help former Soviet states dismantle weapons of mass destruction and nuclear arsenals. According to the Lugar Center, the Nunn-Lugar program has led to the deactivation of more than 7,500 nuclear warheads. 
"What's particularly poignant about that now is he worked his entire career to try to restrain those weapons, dismantle them, and now our policies are reversed," says Former Congressman Lee Hamilton. "We are actually building new nuclear weapons. We need Dick Lugar's voice more than ever now because we seem to have lost the momentum towards arms control and that is what he was most involved in."
Despite his leadership on international affairs, Lugar never lost sight of who he was representing or where he came from. That's evident from his collection of senate papers on display at the Indiana University Lilly Library. Among the items is a wooden sculpture of Indiana his son made. 
"I knew that that had to go in the exhibition because I feel like the senator was very well-known for being a foreign policy expert, but he loved the state of Indiana, he loved his constituents," says Sara Stefani, project archivist for the collection. "He loved being a Hoosier, he was very proud of it. So, the fact that it's the state of Indiana right there I think speaks volumes about him."
Lugar served in the Senate until 2013, after he lost the Republican primary to Tea Party candidate Richard Murdock. While the loss devastated Lugar and his supporters, he didn't let it define his legacy. 
"I think now in retrospect a lot of people are saying, you know, we need him back," says Republican National Committeeman John Hammond. "Unfortunately, we won't have him back and it's up to us to carry that torch."
Many Hoosiers who've interacted with Lugar say it's not his impressive political career that is his greatest legacy, but his compassion. He had an uncanny ability to talk to anyone and make them feel like someone. 
In the Lilly Library exhibit, there are five volumes of letters Indianapolis wrote Lugar after his two terms as mayor. 
"Everyone sent him these letters thanking him and telling him how much they appreciated his work," Stefani says. "How he convinced him that politics could be real and not just entertainment, showmanship."
Lane Ralph worked for Lugar for more than 30 years. He says the former Senator went out of his way to reach out to strangers. 
"He used to write to spouses and family members of those who passed away, and he would write eight or ten personal notes a day," Ralph says. "He did that for 50 years."
Lugar himself knew he had a unique ability to connect with people. 
"My most effective work really comes in good conversation, listening carefully, finding places where we agree," he told WTIU in 2009.