Daviess County teachers are learning that kids behave the way they do because of how they feel.
The amygdala reset room at Helen Griffith Elementary School is a kid's dream. It's quiet, dimly lit and filled with toys to tinker with. There's all kinds of stuff – exercise bikes, yoga mats, magnetic building blocks and kinetic sand.
Washington Community Schools social worker Kelly Miller gestures to a chair, one of those bungee contraptions that looks like it'll swallow you whole. The kids love it, she says.
And the rooms are good for the kids. They serve as an alternative to more traditional forms of discipline -- the rooms are meant to be a place for students who are struggling to go and calm down.
"So if they're becoming upset in the classroom or at their desk and the teacher can't seem to get them regulated in the room, then this just gives them a place to go where they can work with their teacher privately, without the other students there, so they can have their needs met," Miller says.
Miller says using the rooms means understanding that not all kids have the same needs when it comes to dealing with behavioral problems.
"Dr. Lori says, a lot of times we discipline the kids who need it the least," she says. "So we are using this instead of a punishment."
She's referring to Dr. Lori Desautels, a child counselor and assistant professor of education at Butler University. She coined the term "amygdala reset room," a reference to the part of the brain that processes emotion.
"They're creating a space in their school and they are also preparing their educators to understand how to use that space," Desautels says. "That space is used as a procedure."
Using Desautel's approach, Miller worked to set up five amygdala reset rooms in elementary schools across Daviess County.
Some schools – like Helen Griffith Elementary -- have made an entire room into a reset area. Others have devoted a corner or two to some plush armchairs, books about mindfulness and things to fiddle with.
"We're starting to recognize that behavior is some sort of communication," Miller says. "They're trying to tell us something."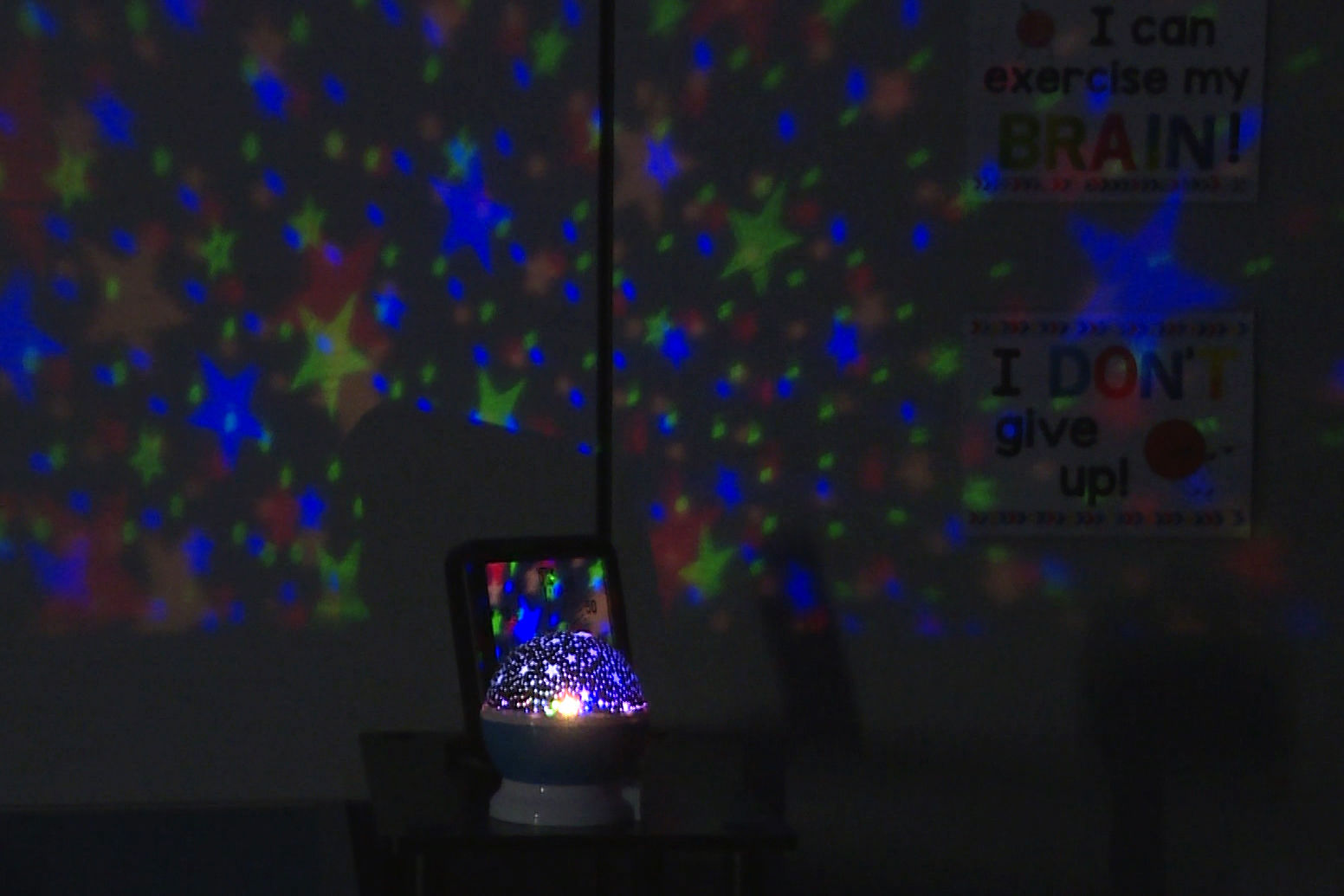 At noon in the amygdala reset room at Griffith, stars dance across the ceiling. It's bright outside, but the shades are drawn and a light projector rotates slowly around. The noise machine hums – thunder. It's an indoor rainstorm, or at least sounds like one.
It doesn't feel like you're in an elementary school. And it certainly doesn't feel like you're in detention.
And Miller says students here embrace it because they know it's not a punishment. They haven't been "bad."
Desautels has authored two books on neuroscience in education and travels around the country to give talks on her teaching philosophy.
In a community center in Washington, she asks teachers and administrators from neighboring districts to consider what it takes to help a student feel comfortable and safe in the classroom.
"How many of us, in the history of being told to calm down, have ever calmed down?" Desautels asks.
Desautels says the key to understanding kids' behavior at school is recognizing how the child's home and family life could be contributing. Research shows that chaos at home often leads to disruptive behavior at school.
"We are seeing more and more children and adolescents who are walking into our schools and our classrooms and districts with significant – what has been termed as adverse childhood experiences," she says.
Adverse childhood experiences, or ACEs, can be anything from experiencing serious emotional or physical abuse to watching parents get divorced.
One or two ACEs don't have many lasting psychological effects, Desautels says. But go any higher and things start to change.
"Three, four, five, six, seven adversities can literally change perception," Desautels says. "It reprograms our stress response systems. It changes behavior. It changes the way we see life."
Studies have shown that as the number of ACEs increases, so does the risk for poor academic achievement or work performance later on in life.
The high levels of stress associated with multiple ACEs can a negative physiological effect, too.
"That brain has become wired in a survival brain state," Desautels says. 
So the purpose of the amygdala rooms is not just to improve students' time in elementary school. It's meant to set them up for success later in life, and to re-wire their brains… again.