The city began its series of public forums Tuesday night on how to redevelop the current IU Health Bloomington Hospital site once the new one is completed sometime in 2021.
READ MORE: What's The Projected Opening Date For The New Hospital?
"This is an opportunity for the public to participate in the initial planning discussions so that we are sure the future development reflects both the needs of our citizens and the ambiance of our City," says Vi Simpson, Chair of the Hospital Reuse Committee says.
Skidmore, Owings and Merrill is the architecture firm that will lead the project. One of its partners Doug Voight says the site presents great potential.
"We see this is an opportunity to build a new hub within the fabric of Bloomington," Voight says. "We're looking at ways of how we can create that next great place to be."
Voight says they've come up with four different themes to follow as the process moves forward:
Land Use & Activities: creating a diverse mix of use and acitivties that support the broader community
Connectivity: increasing accessibility and linkages with the rest of Bloomington
Parks & Open Space: Integrating nature and healthy lifestyles for everyone
Sustainability: Making sustainable living a seamless part of our community
In 2018, the city purchased the 24-acre site in order to start planning for the redevelopment.
Mayor John Hamilton says the city spent $6 million of public money on that purchase.
"We certainly will see more, but it's hard to put a dollar amount figure on at this point, but that's how cities invest for the future," Hamilton says.
Deputy Mayor Mick Renneisen says the project could cost over $100 million over the next decade through both private and public funding.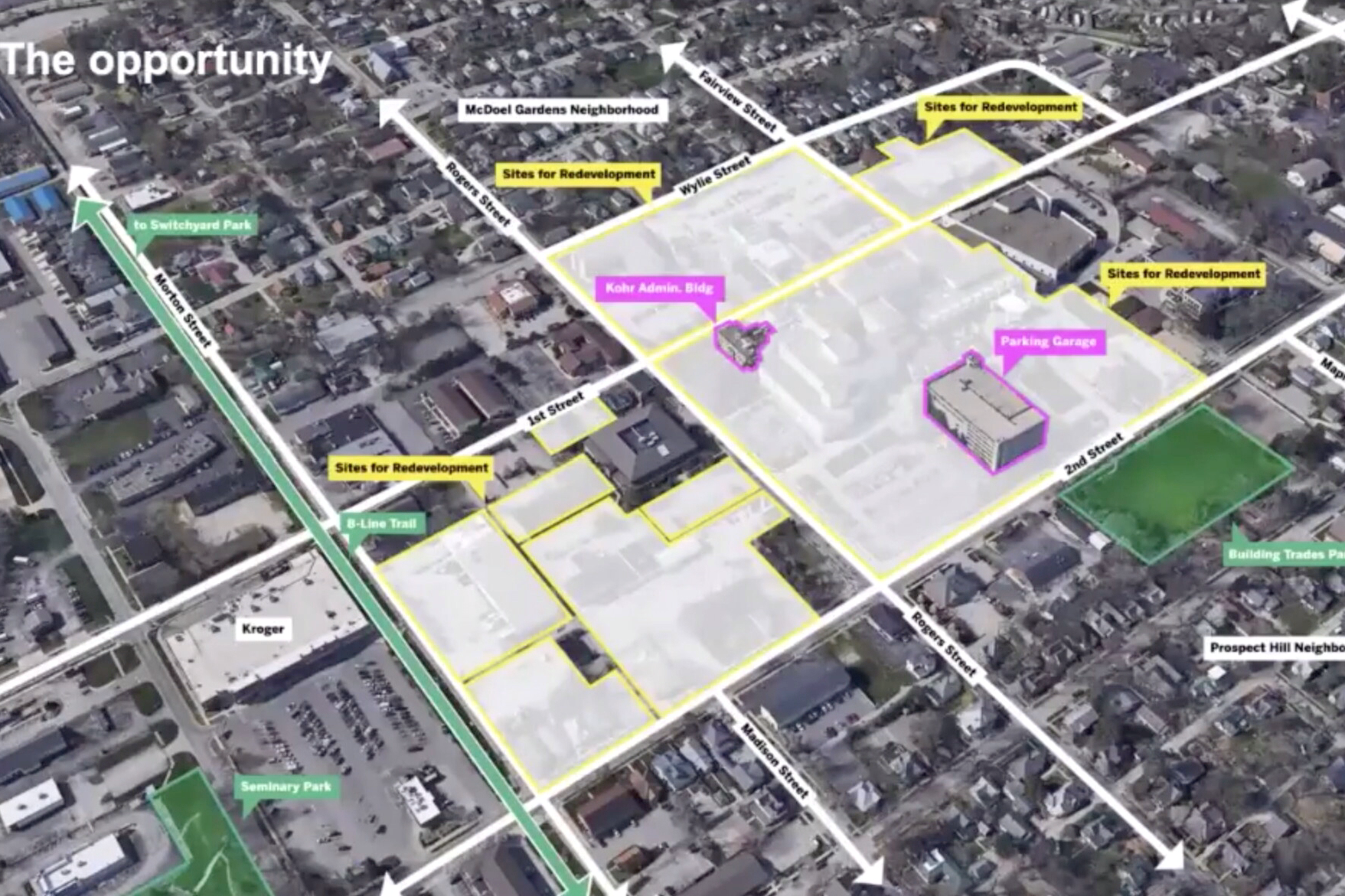 The plan shows the removal of every existing structure on the current site with the exception of the parking garage and the Kohr Administration Building at Rogers and First Street.
"The parking structure, most people felt with all the things that are going around it, would be helpful to have that at least for the foreseeable future," Hamilton says. "But the Kohr Building is just a complicated decision and we're looking for input."
Hamilton says the city could keep the Kohr Building for its historic importance, but it will have to be surveyed and checked for things like asbestos due to its old age.
Members of the public can make suggestions and give feedback, as well as complete a survey, at the project's website. 
The city says it will take the next seven weeks to compile all the feedback and generate several different design options for the next meeting, which will take place sometime in late July or early August.
There will be a total of four public forums, each ranging from 7-9 weeks apart, before a final master plan is completed.
"Our goal is to have a final plan done by the end of the year," Voight says.