A wedding is a special time for a couple, of course, signifying the beginning of a commitment to live their lives together. But what about during a pandemic? Can you even have a ceremony this summer? City Limits was asked to find out.
The answer is yes, you can have a wedding, as long as you limit your guest list to no more than the number allowed at mass gatherings on your wedding date. 
We reached out to Ashley Hill who is a personal trainer and her fiancé Nathan Dixon, an officer in the Indiana National Guard who works at NSWC Crane. 
They got engaged in April 2019 and planned their wedding for May 2020. They had been planning for more than a year. Hill says, "We booked our venue in May 2019 and I had most of our other vendors lined up shortly after. I'm a DIY person, so I've been working on decorations all year."
Hill says they came to terms with the realization they needed to postpone their wedding gradually since March. She says when everything first started, they felt pretty certain the crisis would be over or perhaps they might just need to shorten their guest list. 
"We started listening to the governor's briefs on Fridays and decided from those to officially postpone on April 17, so just about a month before our wedding date," she says."
She says the venue they chose in Bloomington never said they had to cancel their wedding but with the social distancing guidelines now in effect, they felt they didn't have a choice. 
Hill says their vendors were accommodating and everyone they had booked is available for the postponement date in August — except the DJ who refunded their deposit considering the situation. She also says most of their guests were local so the postponement did not cost them any travel expenses. 
Hill and Dixon let their guests know about the postponement in a unique way. 
"We went to our venue and in the same spot, we did our save-the-dates we took a new picture with the new date and some props ... like toilet paper and Clorox wipes," she says. "Then we just posted that on social media … and had our parents get ahold of family we knew didn't have social media."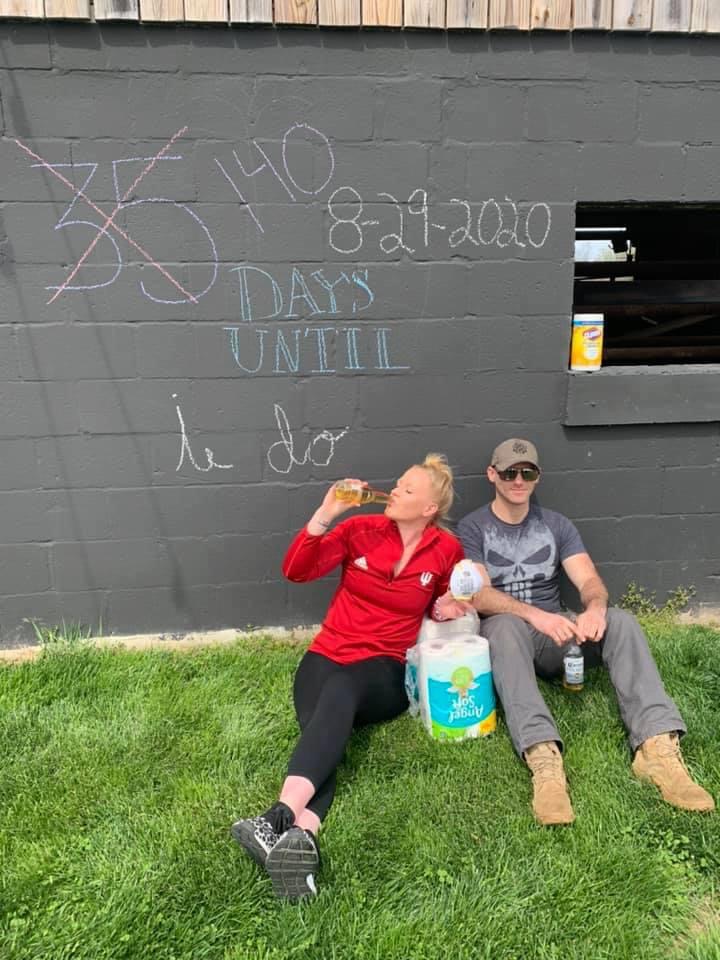 She says while the postponement is disappointing that their guest list is 200 people and they want them all to be safe and celebrate together as planned. "In a million years I never imagined a global pandemic would be the stress of my wedding, but here we are," she says. 
There's no guarantee all 200 will be able to attend in August. Monroe County has limited mass gatherings to 50 people or fewer until June 15 and still recommends they be outdoors. 
So if you're planning to be betrothed this summer and your guest list is large, delaying it to match the size of your guest list may be the best idea. No one wants to upset Aunt Karen.