One of the first milestones in developing Bloomington's Trades District is the renovation of Dimension Mill.
At today's ribbon cutting ceremony, officials roamed the 103-year-old building that will soon be a hub of business startups.
Renovations started in the summer of 2017. The Mill houses shared conference rooms, private office space, shared desks, event areas, podcasting and phone rooms, and a cafe for new entrepreneurs.
Executive Director Pat East says all of The Mill's private office space is leased.
"The types of companies that are going to fit best at the mill are innovation driven companies," East says. "These are companies that primarily have customers outside of Bloomington, that sell to costumers outside of Bloomington and bring in that capital."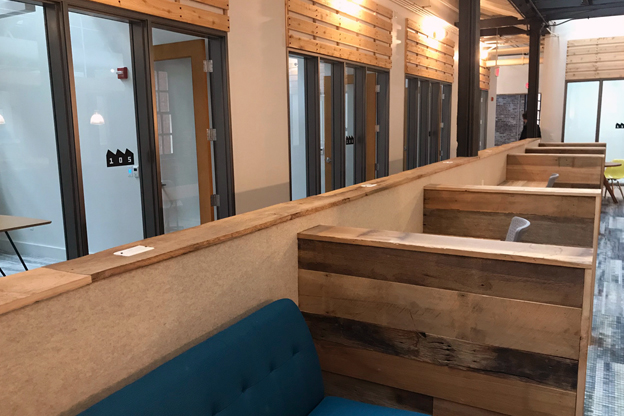 East says the leases are all short-term in the hopes that each business outgrows The Mill and moves to its own space in town.
The space is also designed to promote collaboration. For $185 a month, a freelance worker can use an available desk and have access to The Mill's amenities.
"This is chapter one, this is not the end of the book," East says. "It's not enough that we've opened up this great facility. That is a phenomenal, phenomenal start but we can't rest on our laurels." 
East says the new space has already attracted two businesses from Washington D.C. and Cary, North Carolina.