Bloomington's Redevelopment Commission is postponing a vote on two new downtown parking garages to a special meeting next week.
Plans still have to be drawn for the structures, and the city council needs to approve the project. That led to confusion Monday night over how the redevelopment commission could move forward with the proposal. 
The Fourth Street Parking Garage is slated to close at the end of the year due to safety concerns. City leaders also want to build a 300-spot parking garage in the Trades District, the city's certified tech park.
The new Fourth Street garage would add 200 parking spots, first floor retail space, a public restroom, and a pickup and drop-off area for taxis or ride-sharing services. 
Both garages would include solar panels, bicycle parking, six electric vehicle parking stations, carpool parking, sustainability certification, and a long-term maintenance plan.
Amended details to the plan also call for the parking structures to be able to be converted into office or retail space if the demand for parking decreases over time.
City Council Member Isabel Piedmont-Smith says some council members want to recognize the impact climate change will have over the 50-year garage life span.
"I feel very strongly that while providing for the parking we need now, we need to plan for a future that's going to be very different," Piedmont-Smith says.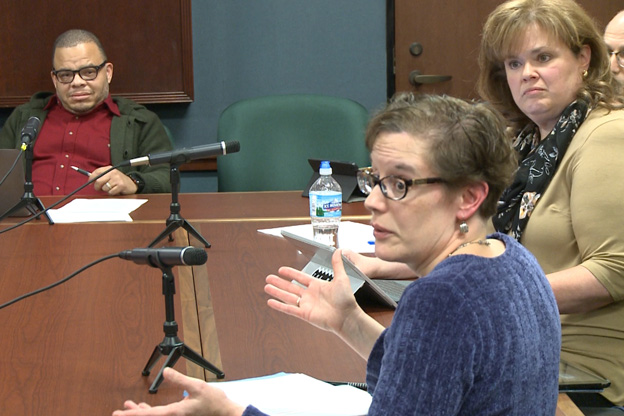 Piedmont-Smith says some council members would also like to see the maximum height of the garage at 70 feet – the same height as the county parking garage on Morton Street.
The garages are estimated to cost almost $26 million. They'll be funded by bonds and TIF funds to be approved by the Bloomington Redevelopment Commission.
The commission postponed the vote on the parking structures until next week to give city council members time to decide how to move forward with the project.
City leaders hope to begin demolition of the Fourth Street Garage early next year, and have the structures completed by summer of 2020.