If you've been down the beer aisle lately, you've probably noticed the growing number of barrel-aged beers.
The popularity of the drinks means there's more demand for used barrels.
That's creating new businesses opportunities for distilleries and turning what once was an underground industry mainstream.
Barrel Partnership Between Upland, Oliver Dates Back 10+ Years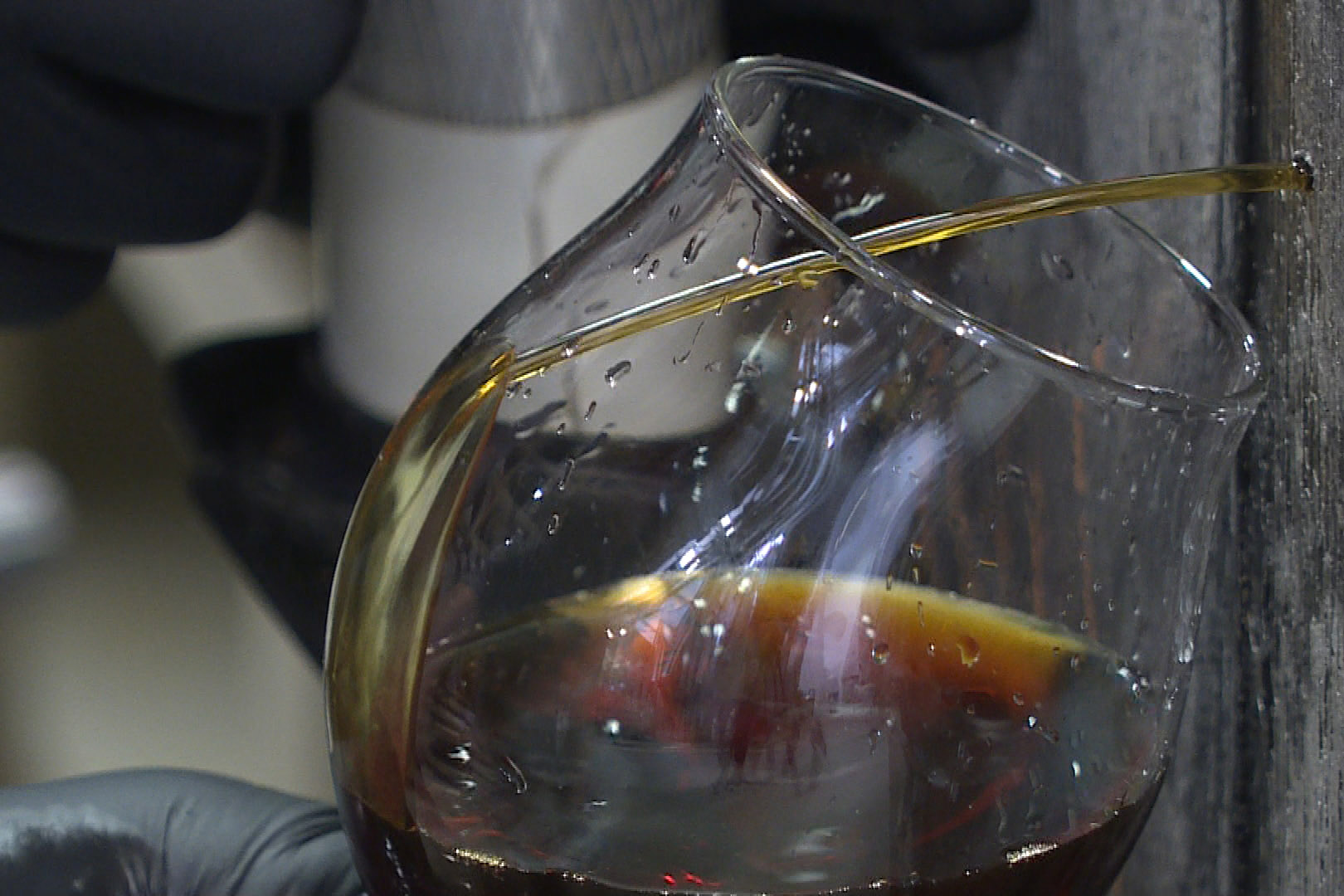 As you step into Upland Brewing's Wood Shop in Bloomington, it quickly becomes clear where the building got its name.
"A lot of our growth has come from our sour program and barrel-aged beers," says Upland Brewing President Pete Batule. "So, this has been something that we've invested a lot of resources in."
Upland opened the facility two years ago to help support its growing sour ales program. And, the many stacks of wooden barrels that line the shop are essential to its success.
The brewery formed a partnership with Oliver Winery more than a decade ago, trading a few cases of beer for a few wine barrels.
Upland started using them as fermentation vessels for sour beers.  
"So, the microorganisms live inside the wood," Batule explains. "And, we need the barrels really to be kind of neutral. We don't need a ton of flavor, we just want a vessel for really amazing fermentation. So that's what's so great about us working with Oliver. They've really extracted the tannins and the flavors out of the wine barrel already."
Upland uses barrels in a different way for its non-sour, or clean beers.
Brewers use bourbon and other spirit barrels to add unique flavors to certain brews, like barrel-aged Teddy Bear Kisses. 
"We will just fill those barrels with fermented beer and let it sit, typically six months to a year," says Zech Allgood, head of Upland's clean barrel-aged beer program. "And, after about six months we'll start tasting them, seeing where they are and making a decision on whether these beers are done yet, or whether they need more time to mellow out and let all the flavors of the barrel blend."
In addition to Oliver, Upland has a good relationship with a few Kentucky distillers, so oftentimes getting a barrel is as easy as making a phone call.
But, that's not the case for all breweries. 
Barrel Broker: It's Like Being A Detective Sometimes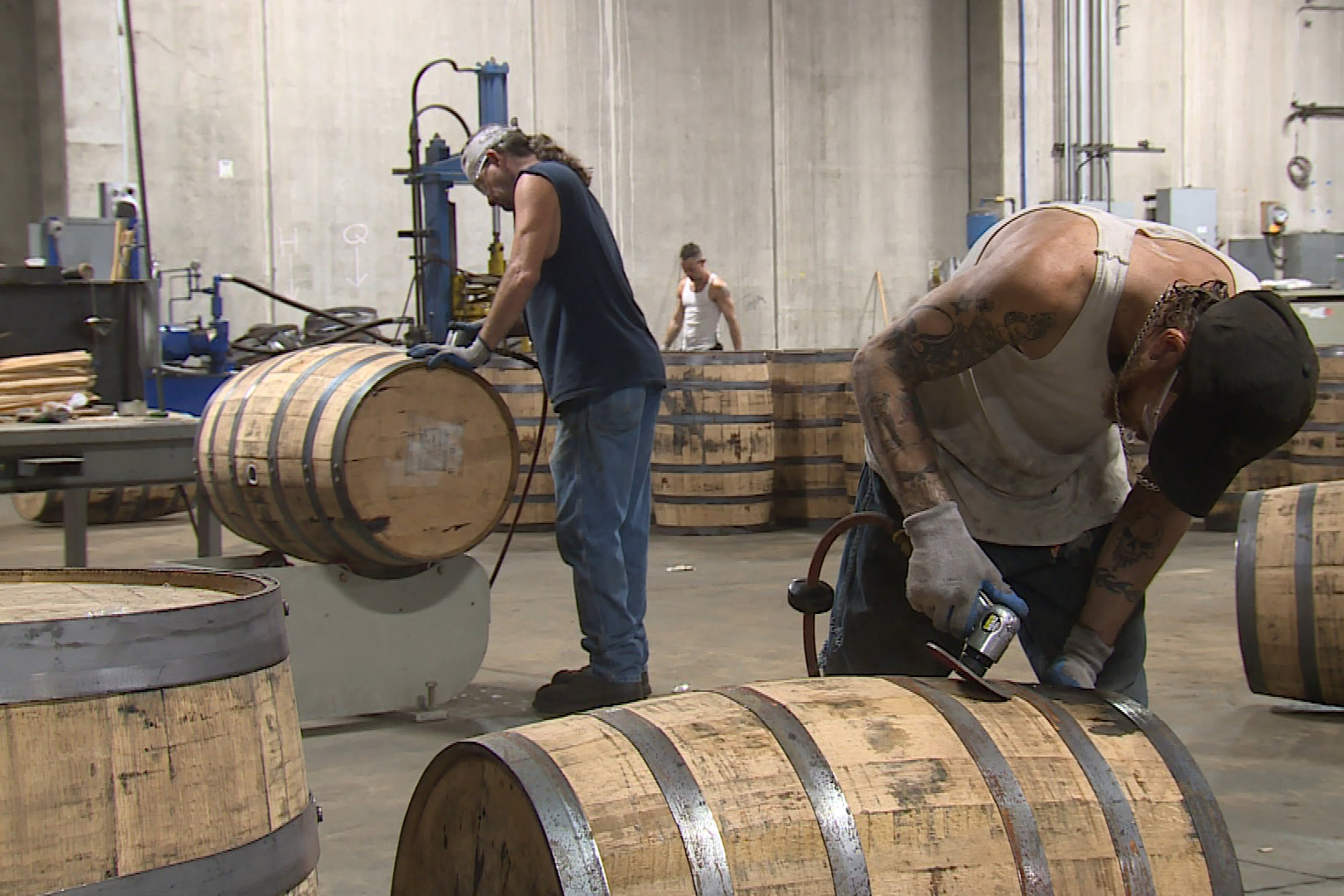 When brewers across the world are looking for barrels, some of them call Noah Steingraeber. He's in charge of national and international craft sales for Kentucky Bourbon Barrel in Louisville. 
"It's like becoming a detective to try and find it sometimes," Steingraeber says. 
He fields a lot of calls from brewers who are looking for specific barrels. It's his job to track them down using his network of industry contacts. And, it isn't always easy. 
"It's kind of funny when I get those requests," he says. "You've got to think 'Pappy Van Winkle 23 year-old,' how many bottles come out of that barrel? It's a pretty small amount. And, it's so hard to find the bottles, let alone let's find just a barrel of it to be reused."
Kentucky Bourbon Barrel gets most of its barrels directly from distilleries. When they first arrive, coopers inspect and repair them. Doing so takes a lot of muscle, as they roll the barrels around, remove damaged wooden staves, and sometimes replace the metal hoops. 
Once a cooper decides the barrel is ready for another use, it's sold. 
And while many of the thousands of barrels in the company's warehouse held bourbon or whiskey, brewers are also on the hunt for other vessels.
"It's interesting to see how it's continued to evolve, not just from bourbon, but into other barrels such as wine, rum, tequila, maple syrup, hot sauce," Steingraeber says. "There's so many different things out there that people like to use."
The cost of buying the barrels can add up quickly, with some running well into the hundreds of dollars. Like with most businesses, it's cheaper to buy the barrels in bulk.
But, that's not possible for many smaller breweries. For one thing, they don't have the storage space. 
That's created an opportunity for more regional and local partnerships between beverage makers.
Hotel Tango Sees Barrel-Aged Trend As An Opportunity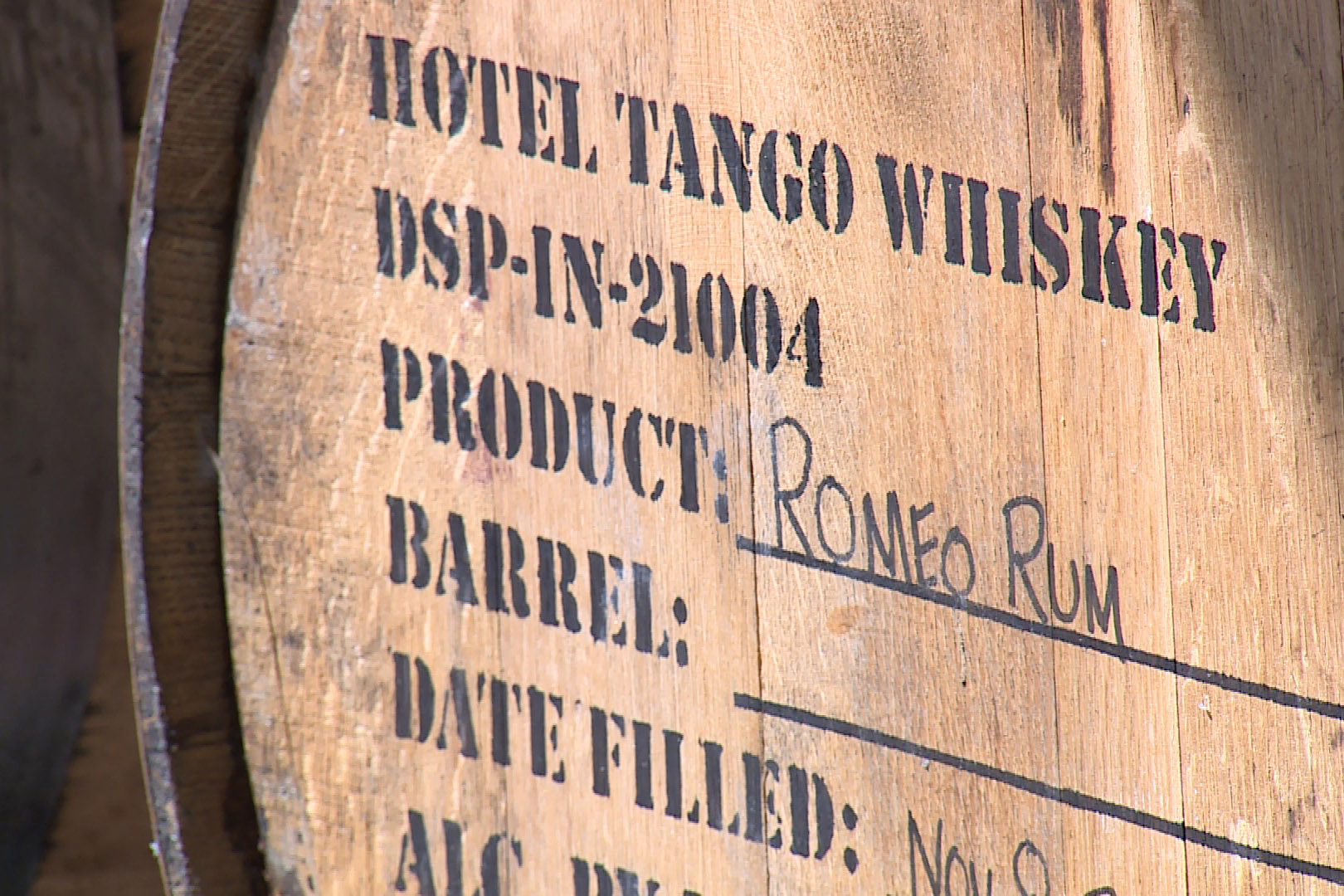 When Travis Barnes founded Hotel Tango distillery in Indianapolis a few years ago, he knew how important it was to collaborate with other local businesses. 
"We learned early on that we didn't have a very big marketing or advertising budget, and this was an easy way to get our name out among folks that wouldn't necessarily have ever heard of us," Barnes says. "I think it's a very 'rising tide lifts all shifts' mentality."
One way Hotel Tango does that is by working with local breweries who want to barrel age beers. They give them used whiskey or bourbon barrels, and then Hotel Tango will sometimes get them back to add a unique finish to some spirits. 
The distillery is getting more requests for their used barrels, which does require additional coordination. And, while that's not something the company planned for, its leaders are raising their glasses to the opportunity. 
"I think it's something that distilleries have to embrace," says Master Distiller Eric Stauffer. "I mean, it is a little bit of additional work. But I think it benefits everyone who gets in that kind of relationship or collaboration."
While barrel aged beers are popular, the Brewers Association says hoppy beers like IPAs are the primary driver of growth in the craft beer industry.