Monroe County Commissioner Amanda Barge says allegations she sexually harassed a county contractor are false. Barge faced her constituents and commissioners at Wednesday's county commissioner meeting.
Barge suspended her campaign against Mayor John Hamilton last week after sexual harassment allegations against her surfaced in an Indiana Daily Student report.
Independent contractor Brandon Drake provided the IDS with emails, text messages and audio recordings between himself and Barge.
Barge read a statement today saying she did not sexually harass Drake and that the article included misinformation and did not tell the complete story.
"As commissioner I think it's important to say, that I suspended my campaign because I needed time with my family, not because I'm guilty of those allegations," Barge said. "I continue to have compassion for everyone involved with this story and this includes Mr. Drake."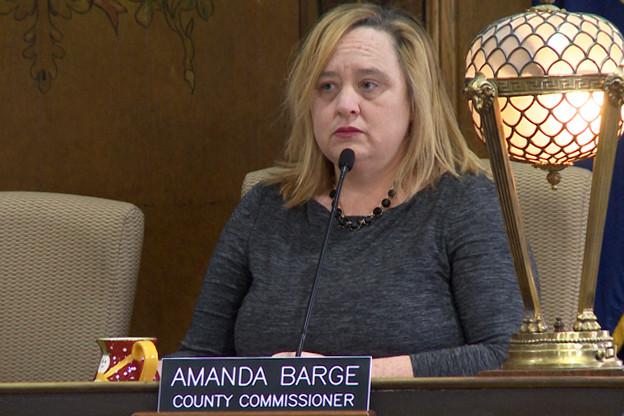 Monroe County Commissioner Lee Jones also read a statement from the county's legal department. The statement indicates Drake never contacted Monroe Co. government about alleged harassment and according to the statement, the county has not received any evidence of illegal behavior by any elected officials or employees.
"The county believes the selected materials, while personally embarrassing to Commissioner Barge, do not support Mr. Drake's allegations of harassment and certainly have no bearing on the county's decision to end its relationship with Mr. Drake," Jones read.
Drake told WFIU in an interview last week that he felt like he had no other option than to turn to a local news outlet to make his story public, in the hopes of holding Barge accountable and sparking change.
Barge also called for Monroe Co. government to have conversations about protection for all workers, including independent contractors.
Monroe Co. Commissioners Statement by Indiana Public Media News on Scribd