The city is partnering with Columbus to spur economic development, the mayor signed the memorandum of understanding on the convention center expansion and the scooters are here to stay.
On this week's installment of Ask The Mayor, Bloomington Mayor John Hamilton addresses these issues and more. Listen to the full conversation with Indiana Newsdesk anchor Joe Hren by clicking on the play button above, or read some of the questions and answers below. A portion of this segment airs 6:45 and 8:45 a.m. Wednesday on WFIU.
This conversation has been edited for clarity and conciseness.
Hren: You just came off the announcement of the city's partnership with Columbus to spur economic development. Why would Columbus want to jump in on something that's based in a Bloomington tech based firm?
Hamilton: We reached out to Columbus and said, hey we're each a small city, what if we do this together? Create some more synergies, they're a deep long manufacturing history there. We of course have IU and the medical and life sciences and Crane and other things. So I'm really pleased we're working together so closely.
I think it's really about trying to link our people and our cultures and our economy. We're both part of the greater Indianapolis economy in a way. We both are really international cities. And with a future that depends upon the new economy. We've got to see entrepreneurial activity - new companies growing and existing companies growing. And I think we both felt there is strength in numbers.
Hren: May I confirm that you've signed the memorandum of understanding on the convention center expansion?
Hamilton: Yes, we are now all aligned, the city, county and we've got a nine member mixture of public and private folks to do this work. The big step we're all aligned on now is to pick an architect by the end of this year.
Hren: How will your office work with the county to move forward on the hotel developer once that time comes?
Hamilton: Well the first step is to get these nine commission members to recommend an architect. Then the city will engage that architect and as that architect is brought on, I think we'll then start naturally looking at where the convention center best go, where does the hotel go and will eventually evolve through that nine member commission.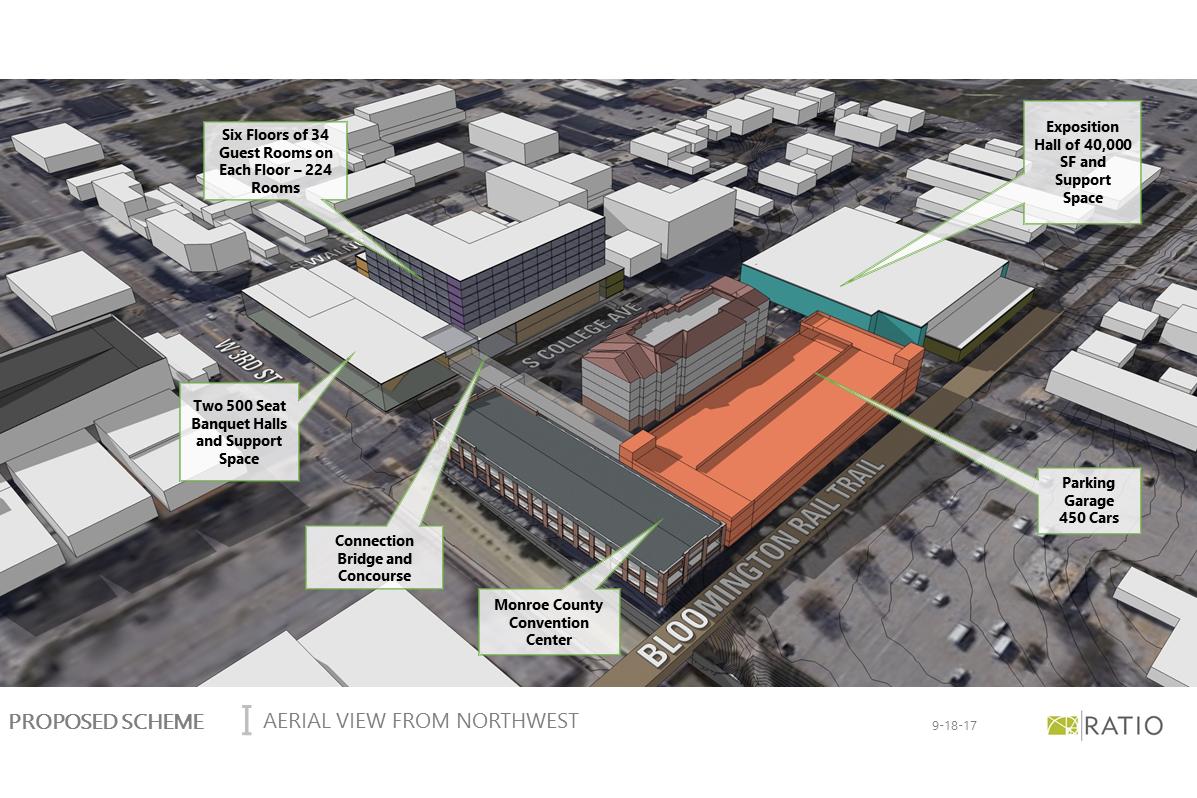 Hren: I want to bring in some listener questions, this is from Cheryl, "The City is in the midst of finalizing a new UDO.  It was my sad experience, visible to all over many months of my speaking during the free speech time at Council meetings and Plan Commission, that the city council and plan commission completely ignored all meaning of INSTITUTIONAL zoning and back planning directors to do what they wanted in illegally zoning many properties. What assurance as a city do we have that the UDO is not just fluff?"
Hamilton: The UDO is basically the city's zoning. It comes after the comprehensive plan which was adopted last year. It's a very public process and that means it's a very messy and controversial process. There is no UDO that will please everyone. It's a really important conversation and we listen to all the voices and then try to reach an accomdation that will move the city forward.
Once it's adopted, the design is it drives most decisions. Particular developments, particular buildings can sometimes say, hey I don't quite fit what you designed here, can I get an exemption or a waiver and that means another process, but we hope that's the minority of cases.
Hren: We have three questions about the scooters. Two are similar from Laura and Rocky. Rocky emails, "When will Bloomington get some regulations written and enforced regarding the electric scooters?"
Hamilton: I remind people they are a mobility option. They can be abused or used like any other mobility option, like a or bike. It's going to take some time getting used to. I do think they add to the mix as to what you can do in Bloomington. 
We're talking with both Bird and Lime to encourage slash insist that they get good behavior from their folks. We've seen improvements as to where some of the scooters are parked. In terms of riding, figuring out how to enforce the sidewalk - they're not allowed on the sidewalk. It's an enforcement and frankly etiquette question. If I see someone riding on the sidewalk, I say, excuse me, you should be in the street. We don't have to rely on police officers to do all this. 
If I see something that's parked in an incorrect way, I can pick it up and move it. Climate change is really important. If we can learn how to get around different ways from big two ton vehicles burning gas is a good thing.
Hren: I'll ask one more quick question from Jared who wants to know what the city will do with the scooters come winter and there's snow and ice on the ground?
Hamilton: That's a good question, I don't think they come with chains and snow tires, but just like bikes, some days will be tough to use a scooter. So we'll see, this is a learning experience. It's a good thing that we're a city where Lime and Bird want to invest and bring millions of dollars of transportation options to us. We didn't spend a dime to get this option here. Now we need to regulate it and I agree with that.