Can Charter Schools Boost Test Scores For Low-Income Kids?
Indiana lawmakers who supported last session's education overhaul have billed charter schools as a better alternative than the state's public schools for teaching low-income students. But state test scores from spring 2011, used as a measure of student performance, show the opposite: Public school students have outperformed their charter school counterparts.
Charter schools tend to serve higher percentages of low-income students. About 60 percent of charter students receive free and reduced-price lunches, for example, compared to just less than 50 percent at public schools.
Yet a StateImpact Indiana analysis of results from the state's standardized test released Tuesday also show passage rates among charter schools with high percentages of low-income students are slightly worse than passage rates in public schools, as the graph after the jump shows.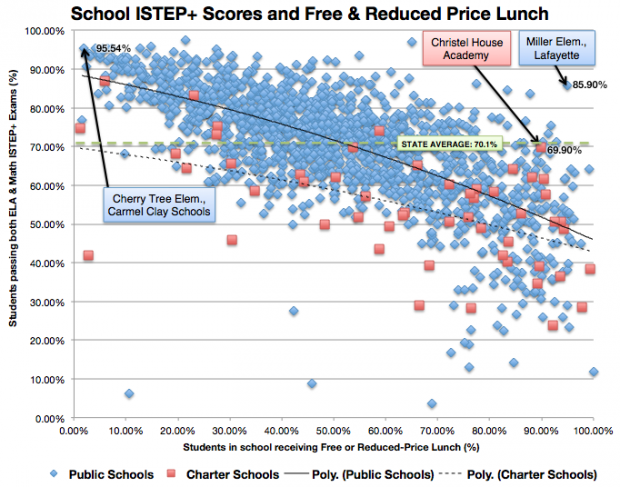 SOURCE: Ind. Dept. of Education School-Level Data, Spring 2011 ISTEP+ Exam; School-Level Free and Reduced Price Lunch Data
The data reflect the charter school environment before Indiana Public Law 91 goes into effect. The law gives charter schools access to more state money while setting standards by which the state can hold charters accountable. It's legislation designed, as Republican House Speaker Brian Bosma put it, "to make Indiana one of the top charter environments in the nation."
But Indiana State Teachers Association president Nate Schnellenberger says he fears giving charters access to state money will create more entities dependent on government support, meaning the state will shortchange failing public schools serving the same low-income populations.
"We think we need to help work with the schools the reason those schools are performing at the level we would prefer, rather than say, 'Oh, well all public schools are failing, let's throw the baby away with the bathwater and create unlimited charter schools,'" Schnellenberger says.
Charter vs. Public in Indianapolis
In Indianapolis Public Schools, roughly 80 percent of students receive free or reduced price lunches, but only 45 percent of students pass state tests. At Indianapolis charter school Christel House Academy, 90 percent of students receive free or reduced price lunches and about 70 percent pass state tests. Principal Carey Dahncke also says it costs $4000 less per pupil to educate students at his school than in Indianapolis Public Schools.
"We're pretty sincere in our desire to be transformational," says Dahncke, who acknowledges his test scores have "a lot of room for growth." Christel House Academy's scores, while enviable among charter schools, are roughly equivalent to the state average.
Schnellenberger says its not fair to cherry-pick top performing charters and compare them against the lowest-performing public schools.
"We think that there are charter schools that have their place alongside public schools, but we think there's been an overemphasis on charter schools to the point that some legislators portray charter schools as the silver bullet to the problems that public schools face," Schellenberger says.
So what do you think about expanding charter schools? Do you think the new laws will help charter schools improve test scores?
Podcast: Play in new window | Download