Background
The ABC's Of The ISTA (The State's Largest Teachers Union)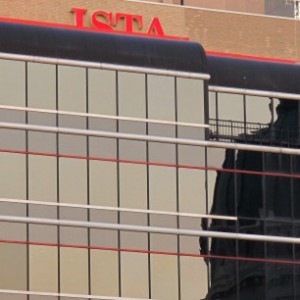 Kyle Stokes / StateImpact Indiana
The Indiana State Teachers Association building in downtown Indianapolis.
The Indiana State Teachers Association is the state-level advocacy branch of the National Education Association. It acts as the umbrella representative of all of the district level teachers associations in Indiana.
On one level, the ISTA is a lobbying organization that attempts to influence the legislature on behalf of teachers and teachers unions.  In recent years, the organization's policy level initiatives have focused on addressing perceived attacks on public employee unions in the form of limitations on the collective bargaining process.
On another level, the ISTA provides a number of services to its dependent unions. This includes comprehensive liability insurance, legal services for teachers involved in a job related disputes and consultation for unions engaged in collective bargaining.
In 2011, the group led a mass protest against legislation that limited the ability of teachers unions to negotiate anything other than wages and benefits. (That legislation ultimately passed.) The ISTA's advocacy efforts often brought the group into direct confrontation with former state superintendent Tony Bennett.
The ISTA is backed Washington Township union leader Glenda Ritz, a Democrat, in her successful bid for state superintendent.