Since 2011, StateImpact Indiana has functioned as an aggregate of education news in Indiana. As a website, it has been a resource for Hoosiers trying to keep up with the ever-changing landscape of Indiana's education system.
In 2016, StateImpact joined a new collaboration. Indiana's NPR and PBS-affiliates in the state came together to support a team of reporters to cover not only Indiana's education policy, but also government, health, business and energy issues. This group is now known to many as Indiana Public Broadcasting.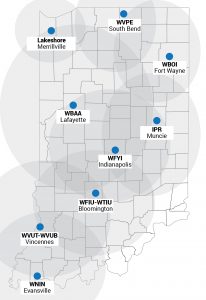 That change has prompted changes with StateImpact. There are no plans to update the project's website, indianapublicmedia.org/stateimpact. That's because local NPR and PBS station partners' websites are home to stories from the Indiana Public Broadcasting team.
These in-depth stories will be available on StateImpact's social media accounts. We'll continue to share these stories, but you'll see them on our partner stations' websites. Expect to see a more active social media presence from StateImpact in the future: find us on Twitter @StateImpactIN and on Facebook at facebook.com/StateImpactIN. Our name will change, but our handles will stay the same for the near future.
Thank you for your continued support.