Five Takeaways From ISTEP+ Scores Release (One Of Them: Girls Win)
As this post goes live, Indiana's state schools chief Tony Bennett is announcing the results of the Spring 2011 ISTEP+ exam, the state's benchmark standardized test. Here are five things you need to know:
(1) Overall scores rose slightly. Here's the big picture: School-level data made public today show an average of 70.1 percent of students from all public schools (including charters) passed both the Math and English Language Arts (ELA) portion of the exam.  Last year, that average was 68.1 percent.  Passage rates increased at 967 schools and decreased at 551 schools.
(2) Tony Bennett's singing sweet music. Since Bennett has taken office as superintendent for public instruction, Indiana test scores have broken their holding pattern at a passage rate of around 65 percent. In 2010, ISTEP scores showed the greatest improvement of passage rates since the test started to be administered statewide. This year's jump would be the second-biggest. (Source: IDOE School Level Data, Excluding Charters and Schools With Missing Data)
(3) Voucher program schools have higher test scores. The 80 schools — as we noted on Friday, all parochial — that have been approved for the program as of last Friday show a higher average than public schools. (Source: IDOE School-Level Data, *Schools approved as of July 12, 2011)
(4) Charter school scores still lagging. Like traditional public schools, charters saw a modest increase in their average passage rates, but they're still behind by more than 15 percent. (Source: IDOE School-Level Data)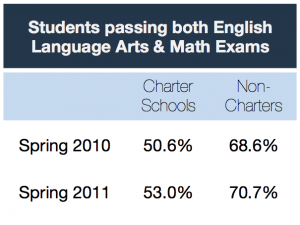 (5) Girls are smarter than boys… er, um, at least they test better. There were only a dozen schools in the state where more male than female students passed at a higher rate. (Source: IDOE Corporation-Level Data)