School Rating System Shows Indiana Has More, Not Necessarily Better Charter Schools
If 2011 was the "most successful year" for Indiana schools under the state's rating system, school-level data analyzed by StateImpact suggest charter schools aren't sharing in the success.
Even though Indiana schools can't earn higher than a C rating without meeting federal NCLB standards, the data show private and traditional public schools' average ratings under Public Law 221 increased between 2010 and 2011.
But as many charter schools earned D's and F's from the state this year as A's and B's, and as the chart below the jump shows, the average rating for charters is now lower than it was when the ratings began in 2005.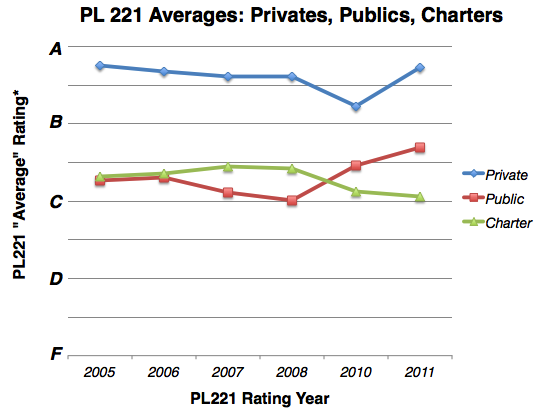 The number of charter schools in the state has nearly tripled since 2005, and Indiana lawmakers greenlighted several incentives to promote the creation of more charter schools during the last legislative session.
Indiana Schools Earning Exemplary Ratings (A's)

Private

Trad. Public

Charter

2011
80.59%
42.74%
27.69%
2010
75.00%
38.65%
30.36%
2008
75.49%
20.13%
37.21%
2007
73.17%
23.47%
42.11%
2006
77.00%
28.03%
46.43%
2005
82.16%
30.17%
22.73%

NOTE: No 2009 rating appears because the state switched the 2009-10 ISTEP+ exam from the Fall to the Spring. ISTEP results determine ratings for elementary and middle schools.
But the number of charter schools earning A's or a B's for "exceptional" and "commendable" performance, respectively, has remained virtually flat since 2006 — and 11 of the 43 charter schools that have opened since then earned F ratings this year.
As state lawmakers focused on boosting charter schools, the data show the greatest growth has been among public schools. The public school average rating was closer to a C (which at the time denoted "Academic Progress") when the state first rated schools in 2005. Now, the average is closer to a B.
Private schools, meanwhile, lap both charters and publics when it comes to their state ratings, overwhelmingly earning A's — in fact, in every year other than 2006 since the state first implemented its rating system, at least three-quarters of private schools have earned "Exemplary" ratings.
11 of the 43 charter schools that have opened since 2006 earned F ratings this year.
So why do these ratings matter?
This year, the state's unprecedented interventions in seven public schools — six in Indianapolis and one in Gary — show the Indiana Department of Education's leadership is serious about holding schools accountable for their performance on state-mandated tests.
Not only that, but the ratings could be the basis for more "proactive" state interventions in the future. As we've reported, state superintendent Tony Bennett wants the state to step in earlier when a school's ratings fall to probationary levels.
Though he has been an advocate for charter schools in the past, Bennett told StateImpact last week he won't give special treatment to underperforming charters, which are beginning to surface in discussions about future state-led takeovers.
Example: Stonegate Early College High School For Science & Technology, an Indianapolis charter, earned an F-rating for the fourth consecutive year in 2011. If Stonegate can't reverse its downward trend in test scores within the next two years, it could become the first charter school the state of Indiana takes over.
So should we be concerned about charter schools? Or is it the state's rating system that's flawed?