O

ur

T

own:

M

artinsville

Martinsville, Indiana—a small town with a big reputation is the focus of WTIU's 2008 OUR TOWN production. The "City of Mineral Water" is the hometown of legendary basketball coach John Wooden, sanitariums featuring healing waters, outstanding high school academics and athletes, an aerospace industry and much more.

WTIU explores these subjects and more in the fifth installment of its OUR TOWN series. The documentary on Martinsville explores the history of the city including the mineral water, floods, reputation, current industry, famous people and the future. Included are segments on Albert 'Doc' Merritt, John Wooden, Twigg Aerospace, Form-Tec, The Candy Kitchen, Grassyfork Fishery and the Morgan County Cancer Center. The documentary also explores the city's future and how I-69 will impact it.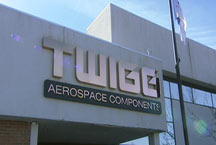 Martinsville is home to some unique industry. Twigg Aerospace was created in the 1950s to manufacturing jet engine components for the aerospace industry. Formed by the Twigg Brothers, the company has a strong emphasis on family and has a workforce where 40% of the people are related.
Another unusual industry is the Grassyfork Fishery. In the early 1900s Eugene Shireman inherited a farm which was too wet to be of much use as a conventional farm. He decided to try his hand at raising goldfish and started with 200 fish. Goldfish are copious breeders and Shireman found a ready market for his fish in department stores, pet shops, novelty stores, drug stores and florists. As the operation showed continued success, Shireman bought up surrounding "worthless" farmland and expanded his operation until he earned the reputation of being the largest goldfish hatchery in the world.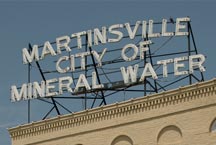 But the best known industry in Martinsville's history was its water. Mineral water was discovered in Martinsville in the late 1800s by Sylvanus Barnard while he was drilling for natural gas. His discovery helped Martinsville become home to some of the nation's leading health resorts. At one time, Martinsville had 11 different sanitariums. People in search of physical or mental comfort patronized the sanitariums, all of which were based around Artesian mineral water springs, which is still thought by many to possess tremendous healing properties.
Residents say the sanitariums were a combination of "Holiday Inn and hospital." People believed the waters were therapeutic and they attracted all of the entertainers of the day including Al Jolson, Fred Waring and Knute Rockne.
The sanitariums are also credited with bringing Albert "Doc" Merritt to Martinsville. Merritt, a black man, came to town to work as a porter at one of the facilities and ended up becoming one of the most important men in the town's history. Doc opened what amounted to the first Boy's Club in town to keep kids out of trouble and provide them with structure.
"The thing that makes Doc Merritt special is not just that he was an African-American man in Martinsville providing that service to people, but he chose to take all of his free time and money and run a 'stay out of trouble club' for young boys in the community," said Jeff Main. "Most people estimate that 2000 boys or more found a home away from home with Merritt. He treated them like his own kids. He taught them the same kind of ethics and morals and rules to live by that he wanted."
Mayor Phil Deckard said Merritt, who ran his club for more than 40 years, "had a large, kind compassionate heart. He gave a start to many people in this area. Martinsville celebrates Doc Merritt with a gala dinner every year. It grows every year with more people wanting to be involved. Martinsville is a kind, gracious community and we want to let that be known.
But with all of the positive accomplishments of Martinsville and its residents, the town still holds the reputation as being a community with racist leanings. Community leaders say the stories are hurtful and frustrating to them. "The media has been a part of fostering an erroneous reputation that Martinsville houses the Klan," said Mayor Deckard. "With all of our research, we've found that was never the case. It has never headquartered here. We have a policy of welcoming people. Martinsville is a great community and I think anyone who comes here will find the arms of the citizens extended. We welcome everyone."
Many residents say Indiana University is at least partially to blame for perpetuating the reputation. They say they hear professors telling students to stay away from Martinsville and many residents, from doctors to principals, believed what they were told. But after getting to know their neighbors, they say Martinsville is no more racist than any other southern Indiana community.
"This is a community that is desperate to be treated like any other community," Main said. "We want to be the best community we can. We need to constantly look for ways to improve ourselves."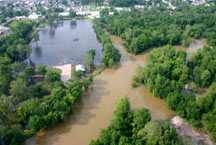 Residents recently were challenged to do just that when floods caused disasters in early June 2008. Stores, factories, homes and restaurants were flooded and very few people had flood insurance. But just as they did when tornadoes struck the town in 2002, residents came together and helped each other.
Bob Nelson, owner of the Sergeant Peppers Restaurant, said the parking lot at the shopping center "was a lake. When the wind would blow, we had whitecaps. The water came in, the mud came in and it was thigh high deep."
"There were 250 people in churches and shelters and on top of that everyone had people in their house. The spirit was touching," said Brad Shields, general manager of Form-Tec & Shields Products. "The spirit of this town is phenomenal. You knew it would be there. If you ever want to prove the mettle of people, we came through with flying colors."