James E. Counsilman was born December 27, 1920, in Birmingham, Alabama. By the time Counsilman was born, his parents' marriage had dissolved. His father, a circus barker, left the family to follow his trade. Jim and his older brother, Joe, moved to St. Louis with their mother. The Counsilman boys taught themselves to swim in a local fish hatchery while their mother ran hospital boarding houses downtown. Jim eventually found an indoor pool at the Forest Park YMCA, and there coach Ernie Vornbrock noticed Counsilman's natural talent in the water. The two trained regularly after school.
Counsilman's high school career was coming to an end before he began to think about plans for the future. The national meet was held in St. Louis the year after Counsilman graduated and he competed in several of the events. Ohio State swimming coach Mike Peppe saw Counsilman swim and was impressed by his performance. After a brief conversation with Peppe, Counsilman was soon on his way to Ohio State to swim for the Buckeyes.
Counsilman adapted quickly to the college classroom and collegiate swimming competition. He set world records in the 50-meter and 300-yard breaststroke events early in his collegiate career. The summer after his freshman year he was working at the Cuyahoga Falls swimming pool. While there, he met a girl named Marjorie. A romance was sparked and the two saw each other sporadically when Jim went back to school in the fall.
In 1943, two weeks before the AAU meet, Counsilman was called to serve in the Army Air Corps. He had enlisted with the promise that his call-up was at least a year away; however, World War II interrupted his chances for a national title. Though the war was beginning to wind down, new troops were still being called. Counsilman was assigned to fly the B-24, a bomber also known as the "Liberator." Shortly after he went off to training, Jim sent for Marge. The couple married in June of 1943.
Though Counsilman was frustrated with the interruption at what seemed to be the peak of his swimming career, he adapted to pilot training well. His navigator, Ray Pittman, describes

Counsilman as a natural leader and one of the best pilots he'd ever seen. Pittman says, "He could put a wingtip about four feet from the other plane and he'd hold it right there." Counsilman's wife, Marge, believes his time in the military honed his leadership skills. His leadership would be put to the test.
In January 1945, Counsilman and his crew were sent to Italy to join the Fifteenth Air Force in bombing industrial targets such as fuel refineries and factories. One mission was almost fatal. Counsilman's plane was hit by a piece of flak, cutting the hydraulic line. The damage disabled the brakes and forced Counsilman to crash land the plane in Yugoslavia. Counsilman safely returned every member of the ten-man crew to the base. The Distinguished Flying Cross was awarded to Counsilman for his bravery in action.
After the war, Counsilman returned home to Marge, and a month later he was back at Ohio State as swimming team captain. Counsilman began to meet coaches and professors who were experimenting with new training methods and applying science to sport. Counsilman earned a Masters degree at the University of Illinois where he also was an assistant coach. He then went to the University of Iowa where he earned his doctorate in physiology. James E. Counsilman, Ph.D., was shortened to "Doc" by his friends and family. The nickname followed him to a coaching job at Cortland State University in New York, where he was also a professor.

In 1957, Doc Counsilman moved his family to Bloomington, Indiana, and was assistant coach of the Indiana University men's swimming team. He also coached swimmers at the Indianapolis Athletic Club. In 1958, Indiana University named Doc Counsilman head coach. The history of the program was mediocre and Doc was challenged with building a strong swimming and diving program. First he needed a diving coach. He found one in a champion diver he knew from his days at Ohio State. Hobie Billingsley became Indiana University's first diving coach.
Counsilman and Billingsley hit the ground running. Their first challenge was how to draw recruits to a program with an average record and poor facilities. Counsilman recruited several swimmers from the Indianapolis Athletic Club where he had been coaching. The second recruiting obstacle was beginning to solve itself. Royer Pool was being built and construction was on track for completion by 1960. Hobie and Doc were struggling, but remained optimistic. However, there were still more difficulties on the horizon.
In 1960, the I.U. football program was put on probation, which at that time affected all school sports. All university sports were prohibited from c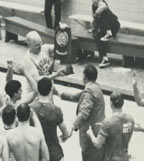 ompeting in the national collegiate championships. Instead of looking for other jobs, Counsilman and Billingsley took on the challenge. Relying on their reputations and the blind trust of young athletes, the coaching team recruited a handful of talented swimmers. In 1961, Indiana University won its first swimming and diving Big Ten Championship.
Doc combined his expertise in physiology and psychology to apply techniques to the sport of swimming that had never before been attempted. He used underwater filming to observe swimming stroke mechanics. His observations disproved previously held beliefs about what forces are at work in fast swimmers. His findings on lift versus drag are still being studied today. Counsilman also was an inventor. He developed a pace clock which allowed swimmers to keep their own time during interval training, a training method popular in track and field that Counsilman discovered also worked well with swimmers.
When the NCAA ban was finally lifted, Doc's Hoosiers were ready to show the country that they weren't just the best in the Big Ten, but they were the best in the nation. In 1968, Indiana University won its first NCAA Championship, setting off a string of six consecutive NCAA wins. There wasn't a team in the country that could compete with Indiana. Doc had successfully built a team of

gold medallists and world record holders the likes of Charlie Hickcox, Jim Montgomery, and Mark Spitz.
In addition to coaching Indiana University to an eventual 20 consecutive Big Ten wins, six consecutive NCAA wins, and 12 national AAU wins, Doc's success extended to the international arena. Doc was head swimming coach of the two most successful Olympic men's swimming teams in 1964 (Tokyo) and 1976 (Montreal). In 1976, the U.S.A. men's swimming team won 12 of possible 13 gold medals and brought home over two-thirds of all possible medals.
During his time at IU, Doc had also been a professor in the Department of Health, Physical Education, and Recreation. Advanced Theory of High Level Performance was his most popular class and was standing room only at times. With Marge's help, Doc wrote several articles and books on his research findings. In 1968 The Science of Swimming was published. The book explained complicated scientific principles in language that anyone could understand. Coaches still use this book as a reference.

In 1979, Doc carved yet another spot in the record books, this time for a very personal accomplishment. He swam the English Channel at age 58, and became the oldest man at that time to successfully complete the swim. The English Channel swim is considered to be one of the most difficult human feats. What made the swim even more difficult for Doc was that four years earlier he had been diagnosed with Parkinson's Disease.
Doc retired in 1991 after serving as men's swimming coach at Indiana University for 33 years. After his retirement, the university dedicated the Counsilman Billingsley Aquatic Center to the coaching duo that built the Indiana aquatic dynasty.
On January 4, 2004, James 'Doc' Counsilman died in Bloomington, Indiana, after having Parkinson's Disease for many years. He is survived by his wife, Marjorie.