Background
Started in 2001 during the Presidency of George W. Bush, No Child Left Behind is a broad-based reform effort designed to address topics ranging from technology improvement, to teacher licensing provisions, to mental wellness training.  These programs were made possible through competitive, one-time federal grants.
The law also requires states to create an assessment model which must be approved by and reported to the United States Department of Education.  In the case of Indiana , Public Law 221.  The data collect through "No Child Left Behind" is compiled into reports and presented to Congress.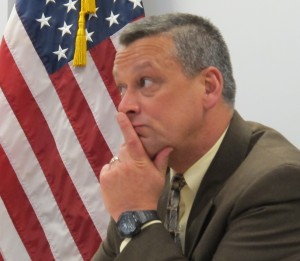 Kyle Stokes / StateImpact IndianaState superintendent Tony Bennett presides over an Indiana State Board of Education meeting in December.
In November, Indiana education officials filed an application for a waiver from key goals of the No Child Left Behind act. In February, federal officials approved that request — according to press reports.
You can read the request in full at the bottom of this page. But what does this all mean?
No Child Left Behind's yearly progress goals are no more in Indiana. NCLB mandated that all schools meet yearly progress goals in their test scores. But with the federal government's waiver, Indiana schools no longer will required to meet these goals. Instead, state officials are setting what they call an "ambitious and achievable" goal of their own: Every Indiana school must earn a state letter grade of an A — or failing that, improve two letter grades to earn no worse than a C — by 2020. In short, while schools will still  Indiana's letter grading system is now the accountability law of the land.
Screenshot / IDOEA chart from p. 50 of Indiana's application for an NCLB waiver spelling out the state's projections for school letter grade distribution by 2020. ("AMO," by the way, stands for "Annual Measurable Objectives.")
Indiana has approved regulatory changes to prepare for the change. As part of the plan, the State Board adopted new metrics for determining Indiana's school letter grades. The essence of the new grading system was spelled out in the waiver application. The document reads both like a primer on Indiana's efforts to overhaul education in recent years, and like a game plan for big changes to the state's education policy that are still to come — including a more aggressive timeline for state intervention in failing schools.
In the absence of NCLB's progress goals, Indiana's letter grades are now the only accountability measure that matters. Under No Child Left Behind, all Indiana schools were required to make "adequate yearly progress," or "AYP," towards an ultimate goal of 100 percent of their students being proficient on math and reading exams by the year 2014. Indiana education officials feel their "growth model" — which assigns schools letter grades based not only on pure statewide test passage rates but on the number of students improving their exam performance — is a better way to hold schools accountable.
The waivers provide relief from 'No Child' goals now widely viewed as unattainable. Many now believe NCLB's goals of 100 percent proficiency in math and reading by 2014 are unattainable — and U.S. Secretary of Education Arne Duncan says more than 82 percent of the nation's schools would have been penalized for failing to make progress towards those goals this year. Though Indiana education officials had wished the U.S. Congress would approve changes to provide relief, the Obama administration has decided to act unilaterally to do so — in a move that some have argued breeches executive power.
The waiver plan is not without its critics. See: our post about how civil rights groups fear the waivers undo No Child Left Behind's signature achievement: focusing national attention on achievement gaps.
The letter grading system that replaces NCLB/AYP is not without its critics. See: our post on the concerns critics voiced at a state hearing on the letter grade system, reworked to replace 'No Child.'
Here's the application Indiana sent to the feds in November. (Read the U.S. Department of Education's response here.)
[documentcloud url=https://www.documentcloud.org/documents/266586-indiana-esea-flexibility-request-nov-14.html format=normal sidebar=false ]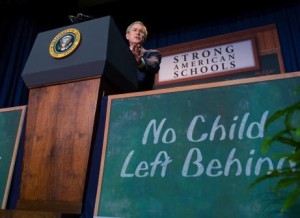 Saul Loeb/AFP/Getty ImagesPresident George W. Bush speaks on No Child Left Behind in 2009.
With the Obama administration considering reforms to The No Child Left Behind Act, we thought we'd help everyone by going back to square one. What is NCLB? What does it do? And what will the reforms mean?
So, start with the name…
The first thing to understand about No Child Left Behind is, when it was passed in 2001, the law pretty much meant what its name suggests: no child should be failing tests on basic skills taught in schools — that is to say, every child should be passing state tests on math, reading, and science.
"Every" meaning ev-uh-ry child — the law called for 100 percent of all students to be proficient at thes skills by 2014.
How was the law supposed to make everyone proficient?
This is the part where we have to talk about "AYP," which stands for adequate yearly progress.
NCLB gave the states control how they would measure whether a student was "proficient." States got to write the standardized tests. They got to set the standards. But once states set those guidelines, the feds required that schools and students have to make continuous improvement towards 100 percent proficiency.
To hold states to that requirement, the feds required them to make AYP — adequate yearly progress — effectively requiring states to make sure test scores, year over year, are always going up. The federal government set timetables for each state to make sure they were on track.
If 100 percent proficiency is the carrot, adequate yearly progress is the stick. Just look at maybe one of the most important sections of the law: Section 1116 (b)(7) — it provides for districts overseeing schools who don't make AYP two years straight to "replace the school staff who are relevant to the failure to make adequate yearly progress," overhaul curriculum, or let parents send their kids to another school in the district.
How has NCLB fared? What do people think of it?
That's a tough question, with varying answers. Consider on one hand that U.S. Secretary of Education Arne Duncan claimed this year that 82 percent of schools wouldn't make AYP. Duncan has campaigned for changing the law using this statistic. Is that number correct? Probably not, but proficiency levels are still far from the 100 percent goal.
Republicans have maintained the bill is a good starting point for reform. As Indiana Gov. Mitch Daniels recently told MSNBC, "We needed accountability in education. We came off decades in which the education establishment said, 'Just shovel in some more money and shut up.'" Teachers unions, on the other hand, have been critical of the law since it was signed. They've found allies in outspoken critics like Diane Ravitch, who argues NCLB places too great an emphasis on test scores.
Very few stakeholders will defend NCLB as perfect — the best many people will say about it is that the law was 'well-intentioned' or a 'good start'. But from right and left, there's currently a pretty broad consensus that NCLB won't be replaced, just revamped.
What will the 'revamp' look like?
It would be easier to say if Congress weren't deadlocked over so many other issues. Duncan had called for Congress to offer a plan to improve NCLB by the beginning of the 2011-12 school year, but Congress hasn't drawn one up yet.
In place of a legislative plan, the Obama administration has offered to waive some of the requirements of NCLB — and dozens of states have already lined up for the waivers. (This, by the way, has made the legislature mad. Lawmakers say the Executive is acting beyond its constitutionally-defined powers.)
What will the waivers entail? We'll know when the Obama administration releases details on them in September 2011.