Debate Watch: Education Still Largely Taking A Backseat
Republican presidential hopefuls have already had two chances to present themselves to the nation via televised debate – and they haven't yet said much of substance about the future of education.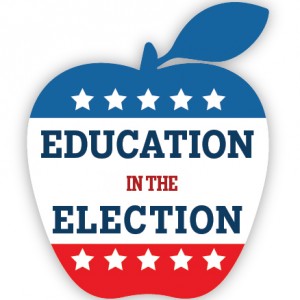 Earlier this week, it was Democrats' turn.
Five candidates took to the stage Tuesday night – Lincoln Chafee, Hillary Clinton, Martin O'Malley, Bernie Sanders and Jim Webb – a much smaller group than voters have seen from the crowded field of GOP contenders. And some thought that would mean the candidates could address a wider range of issues – including education.
But while Los Angeles Times reporter Joy Resmovits voiced confidence the candidates would likely touch on higher education and preschool efforts, she also predicted viewers wouldn't hear much about the K-12 realm:
It's much easier to talk about the need to expand pre-kindergarten — who doesn't love stumping for adorable 4-year-olds? — than toughening rules around how teachers are hired, evaluated and fired. Clinton in particular has been vocal about the issue.

Another personal issue that speaks to voters without the weird politics of K-12 education is student loan debt and how to alleviate it. College tuition and student debt have increased significantly, posing a gigantic financial problem for many would-be students and their parents. Both Clinton and Sen. Bernie Sanders (I-Vermont) have called for a bigger role for federal government in making higher education less of a strain. Clinton released a plan to largely eliminate debt, and Sanders released a plan for the government to make college tuition free for everyone.
And that's largely how things played out.
Host and CNN correspondent Anderson Cooper did ask candidates a question about one of the education-related topics they've been talking up most on the campaign trail: college affordability. Here's a quick summary of their responses, from Education Week's Alyson Klein:
[Sanders] talked up his plan to make public colleges free for all students. Sanders said a college degree these days is similar to what a high school degree used to be 50 years ago. That's why it should be free, he said.

Clinton, the former secretary of state, has said Sanders' plan would allow billionaire (and Republican presidential candidate) Donald Trump's kids to get a free pass to college. Clinton touted her own college access prescription, which would call for lowering interest rates for graduates, enticing states to hold down college costs, and calling for more transparency when it comes to college graduation rates.

"The hardest thing about going to college should not be paying for it," she said.
Clinton also talked about her plan to encourage states to provide in-state tuition to undocumented immigrant students known as "dreamers." O'Malley pointed out that under his leadership as governor, Maryland had passed legislation to do just that.
Other than that, most of the other mentions of school came in passing, or eventually devolved into discussions about social security and immigration.
The difference between Bernie and Hillary on college costs was serious and important. Too bad CNN cut it off.

— David Leonhardt (@DLeonhardt) October 14, 2015
So far I'm hearing several mentions of "common ground" but none about"common core" or k-12 education #RadioTalksDems @WNYC #DemDebate

— Beth Fertig (@bethfertig) October 14, 2015
Are there consequences for leaving education largely out of the discussion so far?
Michael Hansen, a blogger for the Brookings Institution, points out that school-related issues make headlines just as often as any other domestic or foreign policy matters – and have just as much weight for the future of the country:
Though we who work in the education policy industry have gotten used to our darling issues taking a back seat in these debates, it's still a little surprising given recent news events (e.g., Duncan's resignation, the Umpqua Community College shooting) that would presumably make for good prompts to discuss issues central to providing a quality education for the next generation.
Huffington Post blogger Richard Fowler graded each candidate on their stance on various issues, including education. Sanders led the pack with an A; Clinton received a B, and O'Malley followed closely behind with a C. Neither Webb nor Chafee received a grade.
The next chance Democratic contenders will get to present their ideas onstage will come Nov. 14, when they appear in Des Moines, Iowa for a debate hosted by ABC. The GOP candidates will square off for their third debate on CNBC Oct. 28 – that debate will focus on economic and financial issues including jobs, taxes and the deficit.