School Corporations Still Asking Voters To Approve Referenda, But Pace Has Slowed
The number of Indiana school corporations seeking property tax increases spiked after the funding formula changed in 2008.
Indiana lawmakers intended to make school finance more equitable when they decreased revenue from local property taxes and replaced it with additional state aid, generated from a one-cent sales tax increase. But then the economy collapsed and the per pupil funding amount stagnated, says Larry Deboer, a Purdue economist who studies property taxes.
"So pretty much all school corporations in the state are hurting for revenue, and I think that has probably caused those who think they can pass a general fund referendum to go forward and try to pass one," says Deboer.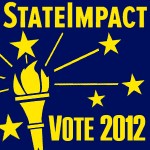 Six school corporations pursued general fund referenda in 2009, the year after the school funding formula changed. Twenty did so in 2010. Some school finance experts began to predict an ever-increasing number of general fund referenda.
"Prior to that, in the five years before that, we'd maybe seen half a dozen all together," says Deboer.
But then the number of school districts asking voters to approve a property tax increase to cover operating expenses like programming and teachers salaries dropped off to six in 2011. The same number of corporations have pursued general fund referenda this year.
"One hypothesis is all the school corporations that figured they could pass one of these things has already put 'em forward," says Deboer.
Success has been mixed — voters have approved 19 of the 37 proposed general fund levies. But school districts have
fared better in more recent elections
. In May, all three ballot initiatives passed. Compare that to November 2010, when just four of 11 general fund referenda passed.
Three school corporations are seeking property tax increases next month. Bartholomew County is trying to expand its pre-kindergarten program. Hamilton hopes to make up for a shortfall in revenue caused by shrinking enrollment. Mount Vernon wants to pay down interest on loans from the state's rainy day fund. Bartholomew County and Hamilton are appealing to voters for the first time, but voters denied Mount Vernon a 12-cent increase in November 2010.
Referenda go off the tax register after seven years, so Deboer says it's possible Indiana will see another round of school districts seeking levy increases starting in 2016.
But Hamilton Superintendent Jon Willman sees a property tax as a short-term fix. He says if referendum passes and the school corporation can get enrollment back above 500 — where it was just a few years ago before the economic downturn and open enrollment — he won't have to ask voters for more money down the road.
"I don't have to add 100 students tomorrow," says Willman. "But if we can grow the school 10 or 15 students a year, that would solve a lot of our problems."