Indiana Schools Struggle To Teach Latino Students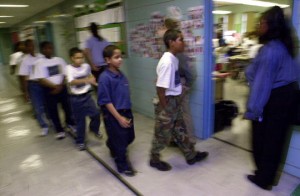 Chris Hondros/Getty Images
Along Indiana Highway 6 as it passes through Ligonier you'll notice a downtown that looks very different than it did ten years ago.  Once-abandoned store fronts now advertise weekly sales and daily lunch specials.  Another difference? All the signs are in Spanish.
Ligonier is experiencing a revitalization because of an influx of Latinos coming here for agricultural and manufacturing jobs.This demographic change, while good for the economy, has been difficult for the West Noble School District.  Especially as district officials have been forced to revise their curriculum plans to meet the needs of students who don't understand English.  Still, advances have been made.
Click Here To Hear The Audio Of This Story
Principal Brian Shepard says the district has come a long way from where it was ten years ago when the first Latino student enrolled here.
"At that time we had no EL classes." said Shepard, "She was in my room and do what you can Brian.  And you go down to first grade and you got the picture books and you pointed to kite and you said kite and she repeated kite."
Shepard says the most important thing a school can do is bring parents into a child's education.  This can be a problem, especially in the immigrant community where many adults received a limited education in their home country before arriving in the US.  He says districts that are really serious about teaching Latino students need to find ways to reel parents into the school building.
"We make this building the most accessible that we can." said Shepard, "Whatever we can do to get parents in the door, we do."
In addition to remedial classes, the district also provides these kindergartners in-home tutoring and supplemental assignments.  As they progress they're integrated into classrooms with their native English-speaking peers.
Rebecca Martinez Reed is a child psychologist and professor at Indiana University.   She's helped a number of historically non-Latino school districts, including Ligonier, absorb an influx of English-Language-Learners or ELL students and understand their needs.  But coming to this understanding is rarely easy, and Martinez-Reed says often when teachers can't reach a non-English speaking student, they assume the worst.
"And almost in every circumstance, the referral question, which is the reason why they're calling a school psychologist in, has been 'can you tell me if the child is mentally retarded.' And in every situation, the child has not been mentally retarded," Reed explained. "The child has not spoken your language as a native speaker."
Further exacerbating the problem, Ligonier Elementary has no native Spanish speaking teachers.
According to Reed, there are simply not enough people with these skills who are willing to come teach in rural schools.
"A lot of people can go to Mexico for a summer and say I'm bilingual", said Reed, "but you have very few people who are truly native Spanish speakers and truly good at English."
Many districts, including Ligonier have filled the gap by hiring foreign-born Latino support staff, such as secretaries, teacher's aides, and tutors -positions that don't require a degree.
Still, Reed credits Ligonier for building a community where Spanish speaking students feel like they belong. It's true, of course, that there's still a lot to be done — such as closing a 16-percent achievement gap that exists between Latino and white students.
But that's about the national average.  Not bad for a district with a limited number of resources.  And much better than say California or Connecticut, where the achievement gap is more than 30-percent.
Podcast: Play in new window | Download