Monroe County health officials are receiving and administering about 800 COVID-19 vaccines a week.
The Monroe Convention Center is hosting the vaccination site at no charge to the county. The site has been taking appointments since early January on Mondays, Wednesdays and half-days on Saturdays with hopes to expand once more vaccine becomes available.
Bloomington resident Richard Wilson showed up for his second shot Wednesday. He says it was a little difficult to register because all the time slots were booked.
"I feel very relieved, and my wife is younger than I am and hers isn't until March 31 and I wish she already had it," Wilson said.
Parking is available behind the Courtyard Marriott hotel. At the lobby, greeters take your temperature and show you to a registration table.
County Health Administrator Penny Caudill says the vaccine is free but showing your insurance card could get the county reimbursed for administration fees.
Five temporary cubicles are set-up to administer the shot and make a return appointment.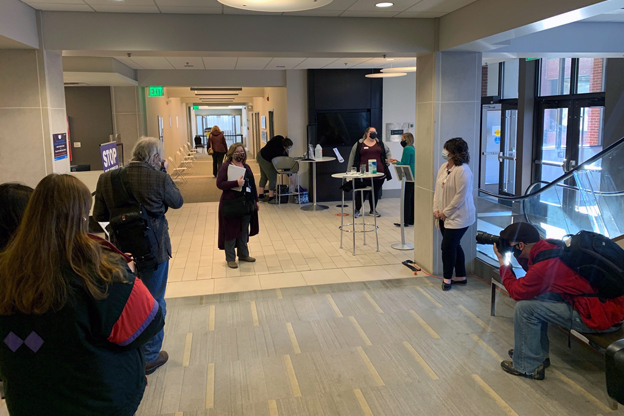 READ MORE: Indiana Cracks Down On Clinics Violating COVID-19 Vaccine Eligibility Guidelines
County sites are using the Moderna vaccine and hospital sites are using Pfizer. Vaccines also are available at local Kroger stores. The Moderna vaccine can be stored for 30 days in a refrigerator, while the Pfizer vaccine must be kept in ultra-cold storage.
The process takes about 30 minutes, including a 15-minute wait time to monitor for adverse reactions.
IU Health Clinical Manager Amy Meek says most people are relieved to get the vaccine.
"The most common side effects are really just a sore arm, could get a low-grade fever, a little bit of achiness, but that's just your body making those antibodies," Meek said.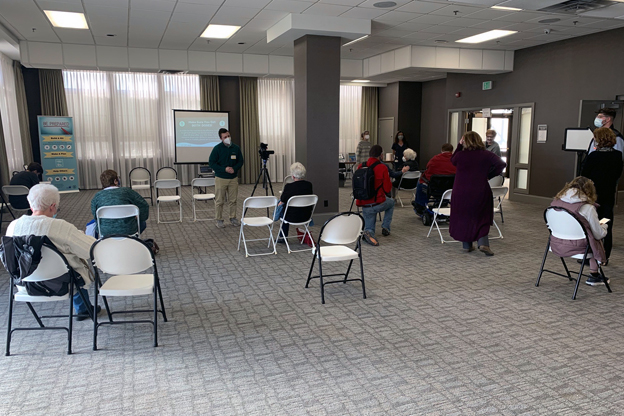 A weekly stand-by list is available online; about 1,400 were registered Monday. But Meek says only a couple doses are left at the end of each day.
She says once the weather improves and age restrictions decrease, they hope to set-up drive through clinics and outreach pods to serve gaps in the community. IU officials also will offer facilities as a public site once more vaccines become available.
But Wilson says if it's your turn to get vaccinated, sign up.
"Don't wait, do it," he said.
The latest group of people eligible through the state's vaccination order is age 60 and up. Registration is at OurShot.in.gov or by calling 211.
For the latest news and resources about COVID-19, bookmark our Coronavirus In Indiana page here.