The wine industry is experiencing a rapid increase in supply costs. Bloomington-based Butler Winery is adapting by changing its bottles and evaluating the price of its wines. 
Shipping and packaging costs are increasing, specifically for wine bottles. Butler Winery founder Jim Butler said the increase has been substantial. "Bottles have gone up another 18 percent, so that's 35 percent since the first of January. And that's if you can get them," Butler said.  
He said that at the start of the year, a pallet of bottles was roughly $1,000. Now it is closer to $1,200.     
Purdue University Professor Amy David studies supply chain management. She said glass bottles take a lot of energy to manufacture and transport because of their weight.    
Higher energy costs are reflected through the cost of the bottles.    
"If you're talking about your $3 bottle of wine from Trader Joe's, you see again that increasing the shipping costs can really, really change the price point for an item like that," David said.  
Other wineries in the area have raised their prices about 7 percent. Butler said his winery is looking at that range for its next batch of wine, which is about a year out. "The wines that we have in-tank now, those are paid for. So there's no increased cost on those. It's the wine that replaces it this fall; that's unknown."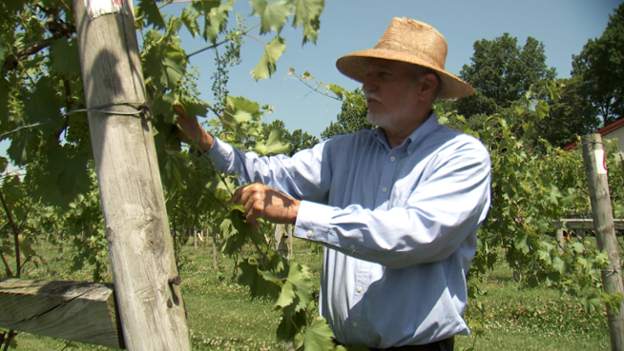 The next batch's price will be dependent on continued cost increases across the board. Nearly every part of the process has been impacted somehow by inflation and supply chain issues.    
Butler says the largest factor will be the cost of fruit in the fall. The winery imports some varieties of grapes, blackberries, and blueberries.    
In the meantime, customers will see a change in the kinds of bottles the wines come in.    
"North American bottle production has been overstretched. So we're not making Blue bottles. We're not making brown bottles. We're basically making just a couple of basic bottles," Butler said.  
Butler said the winery is also struggling to get certain bottle shapes.
Despite all of the production challenges,  Butler said the company is in a manageable position. He anticipates higher local traffic this summer for families wanting to have an affordable travel experience.    
He called the winery "an affordable luxury", a place where people can come and have an experience without killing their pocketbook.